A social enterprise in Dublin says they prevented 9.5 tonnes of paint from being incinerated last year by recycling it into new paint products.
Dave Kavanagh is the paint programme manager at Rediscover Paint, which is based in the Rediscovery Centre in Ballymun in Dublin. The Rediscovery Centre is the national centre for the circular economy.
"People or businesses would normally 'make, take and discard' but the circular economy's way of operating is to 'make, take and reuse'," Dave explained.
"What we do at Rediscover Paint is we go to various recycling centres and take back water-based paint to our workshop, we mix it up, recycle it and then sell it back to the community for a nominal fee. We're giving that paint a new lease of life."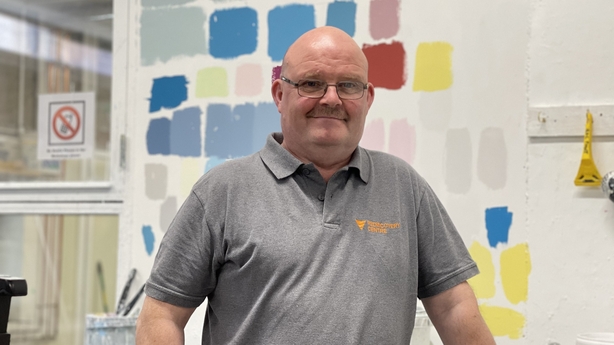 In 2016, 2,000 tonnes of waste paint was exported from Ireland for incineration at an estimated cost of €600,000, according to Maeve Thornberry & Associates, RDC study 2017.
Dave currently has approximately 3.5 tonnes of paint at his workshop ready to be recycled. "The carbon footprint in this country is huge. A lot of this paint would typically be sent to Germany for incineration. Our goal is to take as much of that paint out of that situation and environment as possible.
"Last year we collected 9.5 tonnes of paint from various sites that otherwise would have been incinerated. It's very rewarding to know we are helping."
Dave says "it feels amazing" when he sees Redisover Paint branded paint tubs at the recyling centres they collect from.
"It shows the message is getting out there and people are doing the right thing and it's about educating the public to do the right thing with recycling and upcycling.
"What people should not do when discarding paint is put it down the sink or into bins. Down the country we've had paint found in rivers where it goes back into the water table destroying fish and wildlife and all that's good. By bringing it to the recycling centres it could end up in one of the social enterprises recycling paint and not be wasted."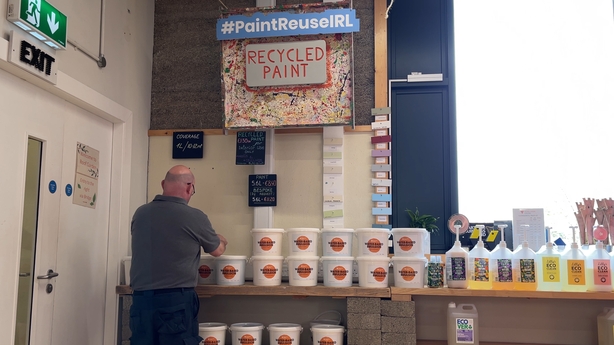 Daves says his "passion for paint" started as a young boy when his father showed him how to paint and decorate. His passion for recycling came through working in the construction industry.
"I worked in construction for 40 years and during that time, the amount of waste I saw on sites was incredible," he said. "When I was brought here to work in the paint programme, it felt like I'd come home. I'm so passionate about recycling and educating people that recycling is the way forward. This is not rehearsal, it's the real thing, if we don't get this right, we're in trouble."
Rediscover Paint is part of the Paint Re-Use network, a collective of groups recycling paint around the country. There are currently six members nationwide, but they have plans to expand it further.
"Our goal is to facilitate those members with technical and practical information to set up paint networks within their social enterprises," he said. "We'd like to get more set up around the country and maybe in the long-term have a national brand where we're all producing paint under the same label.
"We have our own 16 colours that we replicate all the time and it's €1.50 per litre for those, and then for bespoke colours, it's €2 per litre. It's good quality, inexpensive paint, dare I say 'cheap paint' but that would be an insult to the manufacturers of the paint we collect."
In our 'Climate Heroes' series of reports, we shine a light the people who are stepping up to protect our environment and tackle climate change. While these people come from all walks of life, they share a common purpose to improve the world around us.