A Dublin mother has called for scrambler bikes to be banned after her toddler was run over while walking in the park.
Sarah Lewis said her three-year-old daughter Holly was lucky to be alive after she was struck by a scrambler bike in Seán Walsh Park in Tallaght on Friday afternoon.
The toddler suffered a broken shoulder and cuts to her face.
Ms Lewis said she was walking in the park with her mother, daughter and newborn son at the time, and described seeing two males riding a scrambler bike.
She said her mother had remarked that the bike was going to hit somebody.
Ten minutes later, she said the bike came from behind them and went "straight into Holly".
Ms Lewis said the riders tried and failed to stop the bike.
"It went into her from behind," she said. "It knocked her face down into the ground and the bike went over her back, shoulder and head."
She said the riders got the bike up and left the scene without saying anything.
"I feel very lucky she's alive, I don't want to think about it."
Gardaí and an ambulance attended the scene and Holly was taken to Tallaght hospital to be treated for her injuries.
Ms Lewis said the paramedic told her that Holly was lucky to be alive.
"Holly has been fine, even in hospital she was running around playing. I couldn't believe it. I'm very much in shock, it's hard to deal with," she said.
"I feel very lucky she's alive, I don't want to think about it."
Ms Lewis has now called for these type of vehicles to be banned.
"To think she could have been killed by one of these bikes, they need to be banned completely," she said.
"You do see them around, they're a nuisance. I hate the sound of them and it seems like some of the people on them don't know how to use them properly".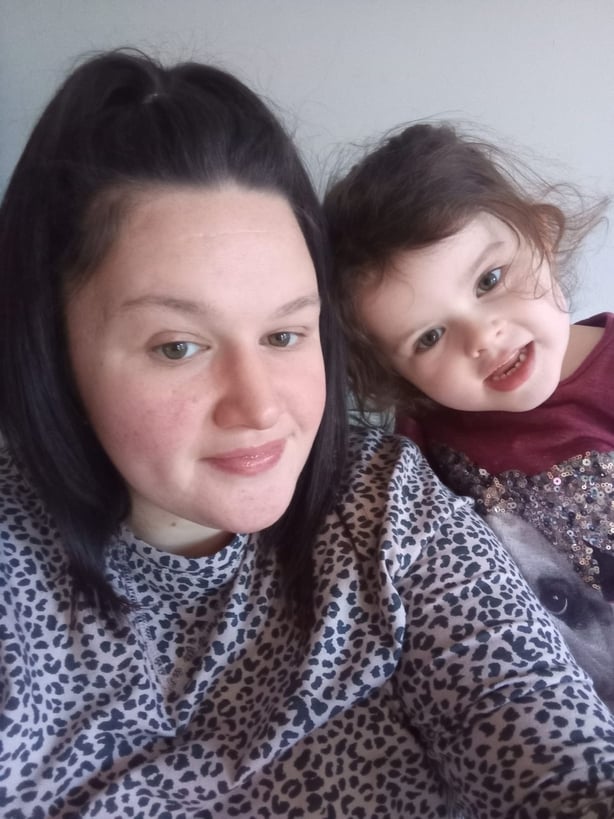 The mother of two said she wanted to highlight what happened to show how dangerous they are.
Gardaí in Tallaght are investigating the incident.
Campaigners say that the regulation of scrambler bikes is a grey area.
Independent Councillor Mick Duff said the use of scramblers are a "regular feature" in the area, which he said is "scourged" by the bikes.
New legislation to address the danger posed by these bikes and similar vehicles like quads has been progressed, but is still before the Oireachtas.
The Department of Transport said that the new laws would give gardaí extra powers to seize and dispose of vehicles where necessary.
They would also mean their use can be legally restricted and that people using scramblers in a dangerous way in any location could be prosecuted for dangerous driving.
The Department said it is anticipated the legislation will complete all stages in the Oireachtas "in the coming months".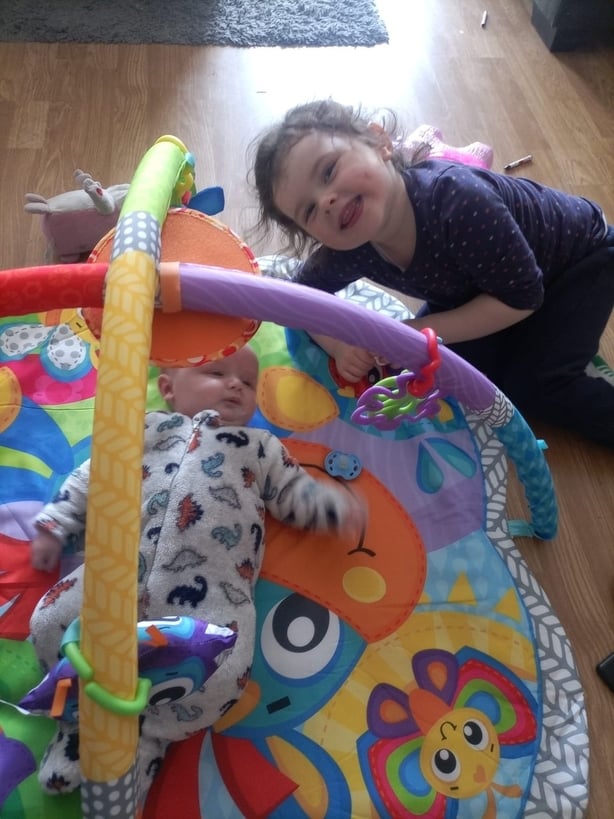 Meanwhile the Department of Justice wished Holly a "swift recovery" in what it said was "undoubtedly a frightening incident".
The Department said it would not comment on the specifics of Holly's case while its under investigation by gardaí, but said the "anti-social use of scramblers is completely unacceptable" and that "this incident highlights the dangers involved".
In a statement, it said that while gardaí have a "fundamental" role in addressing the problem, community-based intervention and diversion programmes have also been set up.
Such programmes give young people with an interest in these vehicles an opportunity to learn motor cycle skills and maintenance, as well as education and personal development activities.
"It aims to divert young people away from the illegal and antisocial use of vehicles like scramblers and quad bikes, instead channeling the interest in such vehicles into a positive and responsible activity," the statement said.
The Department of Justice said it hoped that the "combined approach" of increased garda powers and these community programmes will "have a significant impact in tackling the problem."