Thousands of people have attended vigils across the island of Ireland in memory of two men killed in Sligo.
Aidan Moffitt, 41, and Michael Snee, 58, were found dead in their homes in the town earlier in the week.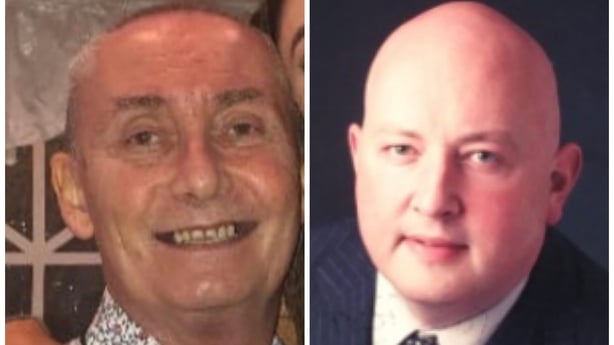 Scenes at the vigil in Sligo town today were replicated all over the island, with more than 30 events organised in towns and cities on both sides of the border. More vigils are being held in the next few days.
Many of the gatherings were organised by local LGBT groups.
Hundreds of people gathered in front of the Town Hall in Sligo to pay tribute to the men. Several speakers addressed the crowd, including the mayor of Sligo Arthur Gibbons.
We need your consent to load this rte-player contentWe use rte-player to manage extra content that can set cookies on your device and collect data about your activity. Please review their details and accept them to load the content.Manage Preferences
Bishop of Elphin Kevin Doran came to pay his respects. He said he had met with the families of both men and that their grief was hard to describe.
The bishop said they knew them in so many different ways as "beloved sons, brothers, brothers in law, uncles".
Dr Jamshaid Sulehri of the Sligo Leitrim Islamic Cultural Society said the Muslim community is "devastated".
He said he wanted to show solidarity by attending the vigil.
"We stand shoulder to shoulder with them on behalf of all the Muslims in Sligo and Leitrim."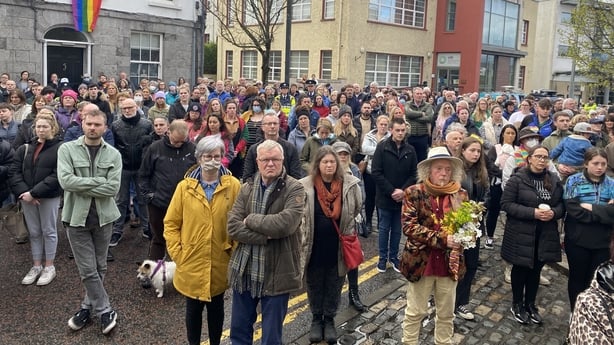 Aoife McKiernan said she attended the vigil because "Sligo's heart is broken at the moment and we wanted to come together to support the families and the LGBT community."
Candles and flowers were laid on the steps of the building as the event, which was organised by Sligo Pride, drew to a close.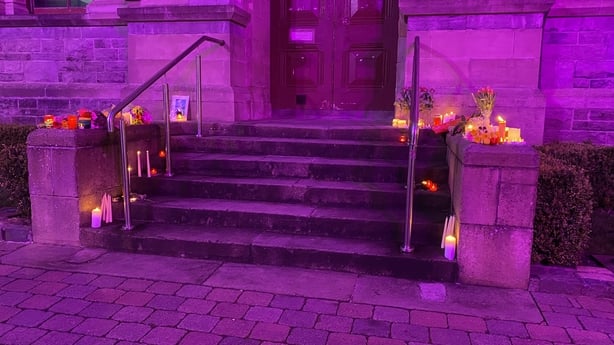 In Dublin, a large crowd assembled at the gates of the Dáil to hear speeches in tribute. A choir sang as scores of rainbow flags were held aloft.
At the Belfast vigil there was a minute's noise to symbolise a need for the voices of people in the LGBT community to be heard.
Mr Moffitt was a prominent businessman and a Fine Gael activist while Mr Snee worked as a care assistant.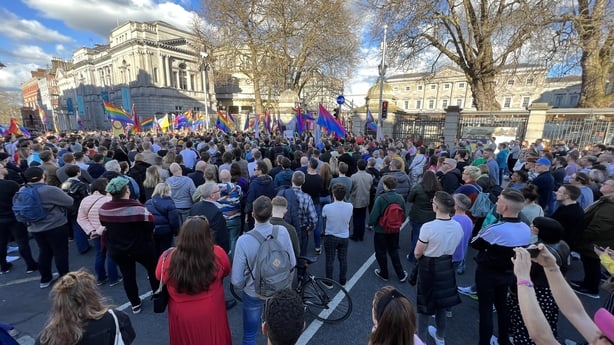 Both have been described as well respected and liked in the local community. Their funerals will be held on Monday.
Sligo Pride had asked for a "sombre and respectful" vigil in memory of the two men, asking those attending to dress in black and not to bring any large Pride flags.
In a statement in advance of the event, it said it was "a time of mourning".
A pride flag is being flown upside down outside Sligo Town Hall and at half-mast as a mark of respect.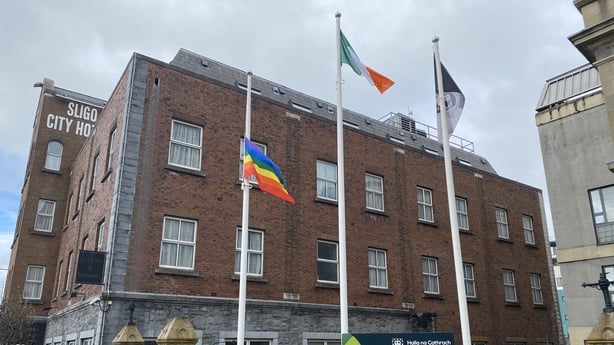 Speaking on RTÉ's Today with Claire Byrne, Chief Executive of LGBT Ireland Paula Fagan said they expected a big turnout at the vigils. She said that in total 35 vigils were being held around the country.
Ms Fagan said there is a "deep sense of loss" in Sligo and further afield following the men's deaths.
She added the vigils are a chance for people to gather to remember Aidan and Michael and to offer solidarity and support to their families and friends.
In addition to the vigils, mourners can also sign a book of condolence at Dublin's Panti Bar.
In Waterford, several hundred people gathered in John Robert's Square. Many carrying flags and banners, the crowd heard a number of speakers as well as poetry as they remembered Aidan and Michael.
A minute's silence was also observed, and followed by applause at the end of what was a solemn event, organised by a number of local support groups.
Around 100 people also attended a vigil in Derry this evening.
They gathered at the city's Peace Garden at the side of the Guildhall.
There were two speeches expressing support for the two men's families and then a minute's silence.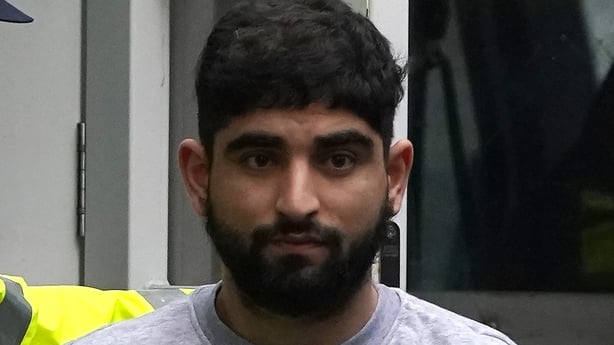 22-year-old Yousef Palani, with an address at Markievicz Heights in Sligo, has been charged with the murders of the two men.
Mr Palani is charged with the murder of 41-year-old Mr Moffitt at Cartron Heights in Sligo on 10 April.
He is also charged with the murder of 58-year-old Mr Snee at City View Apartments in Sligo on 12 April.
He faces a third charge of assault causing serious harm to Anthony Burke, arising out of an incident in Sligo on 9 April.
He appeared before Sligo District Court yesterday and is due to appear in court again next week.
---
The full list of vigils can be seen below:
Belfast - 15 April at 6pm at City Hall
Cork - 18 April at 6pm at Bishop Lacey Park
Carlow - 15 April at 6pm at Liberty Tree Fountain
Dublin - 15 April at 6pm at Dáil Éireann
Galway -16 April at 7pm at Eyre Square
Galway - Loughrea 15 April at 5pm at The Long Point
Kerry - Tralee 18 April at 7pm at The Square
Kildare - Newbridge 15 April at 6pm at Liffey Linear Park
Kilkenny - 15 April 6.30pm at Town Hall
Laois - Portlaoise 15 April at 6pm at Laois County Council Plaza
Limerick - 18 April at 6pm at Arthur's Quay
Louth - Drogheda 15 April at 6pm at Tholsel
Louth - Dundalk 15 April at 6pm at Town Square
Mayo - Ballina 20 April at 9pm at Tom Ruane Park
Sligo - 15 April at 6pm at Town Hall
Tipperary - Clonmel, 15 April, 7.30pm at Main Guard, O'Connell Street
Tyrone - Omagh 15 April at 7pm at Omagh Courthouse
Waterford - Friday, April 15, at 6pm at John Roberts Square
Westmeath - Mullingar, 15 April, at 6pm at Mullingar Park
Wexford - 15 April at 7pm at Wexford Quay
Wicklow - Arklow 18 April at 6pm at Arklow Bandstand
Wicklow - Blessington, 16 April, 6pm at The Square
Wicklow - Bray, 15 April, at 5pm at Bray Bandstand
---
Additional reporting: Conor Kane, PA