Arts organisations are seeking clarity from the Department of Social Protection around the accessibility of disabled artists to the Basic Income Scheme announced by the Government last week.
The pilot scheme will enable a random selection of artists to receive over €300 per week over the next three years.
Disabled artists say that by categorising the income as self-employed - retaining their disability support is not protected or guaranteed under the scheme - and this has been a problem for decades.
Artist Emilie Conway said that while it is well known that the arts is a precarious field of work, if you add a disability or a chronic illness to that, it is "precarity squared".
"What happens in this State is that rather than receive, consistent, secure support to meet the cost and impact of a disability; it's means tested so that if an artist earns over €140 a week from their work, or if they win an Arts Council award, or a commission or a bursary, or basically have success of any kind you can lose your disability supports," she said.
This has resulted in artists being unable to develop their art because they fear losing their supports.
"It's a choice - either do art or take care of your disability - and that's not a reasonable choice," she added.
"It is not sustainable, legitimate, or safe because then you are practicing as an artist and unable to meet the needs and cost of your disability. And as we know, if you neglect your health, it will sabotage you."
Ms Conway points out that many disabled people are creative because they live primarily, in a non-disabled world, but rather than run the risk of losing their disability supports, some disabled people in the arts refuse to be paid.
Isolde Carmody spent a decade in that situation, until two years ago she decided to start accepting pay for her work and claim it through the Revenue system.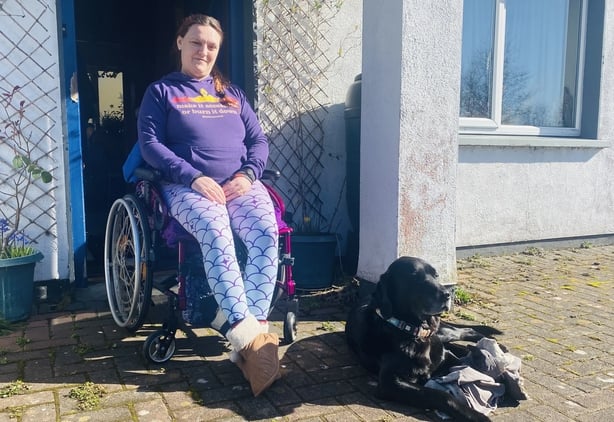 "So, I'm claiming it all as taxable income, but I'm not going through the rigmarole of informing the social welfare office, and I'm saying this publicly, they can come and audit me if they like and then can put me back into poverty and put me back into a situation where I can't afford to do any of this work because of the impact that it has on my fundamental day-to-day living," she said.
Isolde, who lives in Leitrim, is one of the leading members of the Undercurrent dance company. She uses a wheelchair and has a guide dog. One of her greatest obstacles is travelling to do her work.
She cited a recent example of a dance project on which she was trying to work with her colleague and co-founder of the dance company Kate Wilson, but was unable to get to the studio despite trying to arrange it for months.
The train in Carrick-on-Shannon goes to Sligo and Dublin. She cannot get to Sligo before 12pm, and she cannot get home after 5pm. Given that performance work mainly takes place in the evening, she is limited when it comes to public transport.
"I don't have the personal assistance hours. I don't have the appropriate transport. And yeah, it's just proving utterly impossible," she said.
Late last year, the Indecon Report on the Cost of Disabilities, published by the Department of Social Protection, said there were significant additional costs faced by disabled people not being met by existing programmes or by social welfare payments.
The stark analysis showed that the actual costs faced by individuals with severe disabilities on average range from €9,600 to €12,300 per year, and for those with limited disabilities from €8,700 to €10,000.
It pointed out that along with the additional costs incurred by individuals with a disability, there were unmet costs faced by many.
The research said that individuals with a disability faced enormous challenges in living independently and faced a high risk of poverty and social exclusion.
It recommended measures to address the additional costs of disability should be based on a multifaceted approach involving increased cash payments, enhanced access to service provision and specific targeted grant programmes.
That report was published and people were surveyed long before the current rising cost of living.
Dept of Social Protection 'needs to lead'
While Minister with responsibility for Disabilities Anne Rabbitte is leading a taskforce to look at this, Isolde Carmody and Emilie Conway believe that Minister for Social Protection Heather Humphreys, Minister for Arts Catherine Martin and Minister for Enterprise, Trade and Employment Leo Varadkar need to work together to streamline the issues that affect them.
They are astounded by the lack of joined up thinking between the departments, however, and say the Department of Social Protection needs to lead on this matter.
Isolde points out that there are just over 1,000 people on the blind pension in this country and changes that get made to disability allowance, which is not taxable, do not automatically apply to the blind pension, which is taxable.
Recently, the Department of Social Protection announced that 'Catherine's Law', which allows for PhD students to take up bursaries and not lose their disability allowance, has been extended to people on the blind pension.
This was broadly welcomed, and arts organisations point to it as a good example of a policy that could be echoed in relation to disabled artists.
Maureen Kennelly of the Arts Council suggests the 'Catherine's Law' model would be a good starting point, to see if it could be adapted into the arts arena.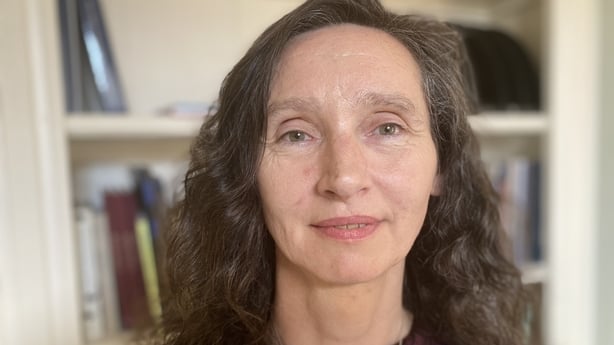 While the Arts Council has invested in support for disabled artists in recent years, Ms Kennelly said they are aware of barriers which deter artists with disabilities from availing of those supports.
"We're really keen to work with our own department and various departments to try and remedy that, because it's really important to us that the arts landscape is truly representative of Irish society and that a young person growing up with disability has a role model.
"When we do not have a truly representative number of artists with disabilities present in the artistic landscape, that means that we are going to deter artists of the future truly being a part of the arts and Irish society."
Last week's announcement by the Government about the Basic Income for the Arts pilot scheme was widely welcomed by the arts community.
Asked at the press launch if the disability allowance would be affected, Minister Martin said her officials had worked closely with Minister Humphreys who had been "a very good supporter" of the pilot scheme.
"We now are in a position where the department social protection will treat the earnings from the basic income as earnings from self-employment. So, for schemes such as the disability allowance, they would have income disregards.
"They should be able to hold on to those supports, so the income disregards weekly for disability lines would be €350 this is €325," she said.
Clarity sought over means testing and reductions
However, further clarity is being sought from the Department of Social Protection about how it could impact disabled artists because even by categorising the income as self-employed, retaining disability support is not protected or guaranteed.
Disabled artists argue that all disability payments, like the Blind Pension and Disability Allowance, are means-tested payments, and so retention of these disability supports will be subject to the means testing of the "self-employed income" resulting in reduction of supports.
They have called for the precise nature of this means testing and applicable reductions to be made clear, to know if, given the cost and impact of disability, the scheme is safe to participate in or if it will leave them with no support.
Aideen Howard is Director of the Ark Children's Cultural Centre and a member of the National Campaign For the Artist steering committee.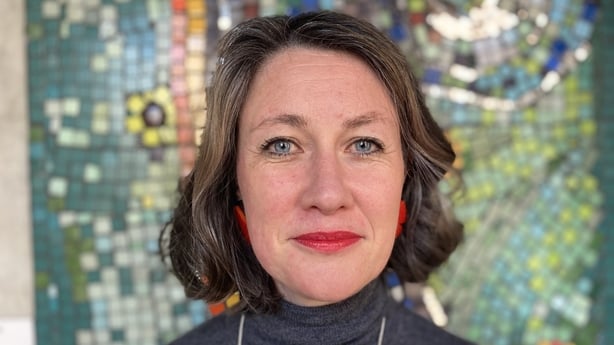 She says there are double standards at play.
"On the one hand, the State is doing great work implementing the public sector duty, which is to say, treating citizens of the State equally and following policies and procedures to do so and the Arts Council and arts organisations are implementing their policies in order to be more equal, transparent and inclusive. But on the other hand, it seems that some of the existing regulations within the social protection system are actively working against that."
The NCFA wants a review of the impact of those regulations on disabled artists how they are prevented earning their living in the arts let alone, thriving in the sector.
"The complexity I suppose for disabled artists is that it is not clear exactly how they're going to be able to participate in this scheme, and whether at the same time they will be entitled to retain a pension or a disability, or indeed any of the other benefits that are associated with those payments."
While she offers high praise to officials at the Department of Arts, and Minister Catherine Martin for getting the pilot scheme over the line, she notes the invaluable data that will result from it and which should reflect all of society.
The NCFA has called on the Department of Social Protection to "interrogate the issues" and establish how artists can participate in the basic income trial.
"Because if it is not equally available to all, the data that will be gathered through the scheme will be compromised".
In response, the Department of Social Protection said the Disability Allowance and Blind Pension were means tested payments and structured to support recipients to avail of opportunities to pursue employment, be that self-employment or insurable employment.
It has pointed out that when a person commences employment, they can avail of an income disregard of €140 per week. In addition, 50% of earnings between €140 and €350 are also disregarded for the purpose of the means test.
Income from the pilot basic income scheme for artists will be treated as income from self-employment and as a result the disregards above will apply.
It said the extent to which the income earned through the scheme announced by Minister Martin last week will have an impact on a person's Department of Social Protection payment will depend on both the means test for the particular payment they're claiming and their individual circumstances (for example whether the person and / or their spouse / partner have other means).
The department said it is committed to enabling people with a disability to work and said "a number of improved measures" had been introduced in recent years in that regard - including those in receipt of a Disability Allowance or Blind Pension continuing to receive their full allowance or a reduced rate depending on their earnings when they take up work.
The department said it "regularly reviews its supports and schemes" to ensure they continue to meet their objectives.
"Any proposed changes to schemes have to be considered in an overall policy and budgetary context," it said.