A new Basic Income for the Arts pilot scheme will see 2,000 artists and creative arts workers to receive €325 a week.
A basic income for the arts was the number one recommendation of the Arts and Culture Recovery Taskforce Life Worth Living Report, which was set up by Minister Catherine Martin in 2020 to examine how the sector could adapt and recover from the unprecedented damage arising from the Covid-19 pandemic.
Minister Martin said the scheme is a recognition that artists' income can be precarious which can have an impact on their creativity.
She said the income is not a social protection support but a payment for artists to carry out their work.
The Government has described it as "a transformative initiative for the arts and creative practice".
The scheme will open for applications on 12 April.
Taoiseach Micheál Martin said over the course of the pandemic the arts took on a new significance and artists, writers and musicians had a challenging time with venues closed and audiences kept away.
He said that "at this time of greatest challenge their output was never more highly prized".
Mr Martin said that as a society "we need to invest in that which sustains us, without artists dedication to their practice we would be much poorer as a people, and this is what the basic income pilot scheme is about, the recognition of time spent on creative practice."
The Chair of National Campaign for the Arts said she hopes the eligibility to qualify for the basic income will be broad and that the final selection is randomised, rather than on a competitive basis.
Speaking on RTÉ's Morning Ireland, Angela Dorgan said: "I think today marks probably the most momentous indication of how Ireland values its artists, probably since, you know, the establishment of the Arts Council who celebrate their 70th birthday this year."
Around 2,000 artists and creative arts workers are to receive €325 a week under the new Basic Income for the Arts pilot scheme, launch today @projectarts more @SineadCrowley @rtenews pic.twitter.com/C9pgkGhr19

— Paul Deighan (@PaulDeighano) April 5, 2022
She said the eligibility criteria should be easy to get through and she hopes that there will be "multiple boxes to tick" in terms of eligibility.
Ms Dorgan said that most artists live under the poverty line and work in cycles.
She explained that if an artist has a successful project during the three years of this pilot scheme they will pay a high tax on those profits.
"If you sell that brilliant painting or that album you made goes to number one, you pay 40% tax on the first euro you make from that," she said.
Ms Dorgan said if artists are able to concentrate on their work that should enable them to increase productivity.
She said the scheme could ultimately pay for itself in terms of taxpayer incomer and return to the exchequer through increased productivity.
---
Scheme described as 'game-changer' for artists
Edel Meade is a songwriter and musician whose album 'Brigids and Patricias' was critically acclaimed.
However she told RTÉ's News at One Programme that as an artist trying to earn a living is hard.
We need your consent to load this rte-player contentWe use rte-player to manage extra content that can set cookies on your device and collect data about your activity. Please review their details and accept them to load the content.Manage Preferences
"As somebody who has spent the last two years creating work - creating my album - and I'm currently touring to promote this album, I can barely get by. I'm scraping by. This is the reality of something that has been critically acclaimed," she said.
She is welcoming the new basic income for the arts pilot scheme.
"This is so, so important and so much needed," she said.
"This has the potential to be a game-changer for artists in Ireland. People don't buy albums the way they used to. People don't pay for CDs. People aren't coming out to gigs and supporting them they way they did before the pandemic. So this is so needed," she says.
"The creative industries have been totally ravaged by the pandemic"
The show 'The Patient Gloria' was a big hit at the Edinburgh Fringe Festival. However like many productions, it was cancelled because of the Covid-19 pandemic.
Actor and dancer Liv O'Donoghue plays the part of Gloria.
"The creative industries have been totally ravaged by the pandemic," she said.
"People really struggled to make ends need while the industry was shut down and while our theatres were dark. So this is going to be a great way to get things moving again and give people the opportunity to get back to work properly."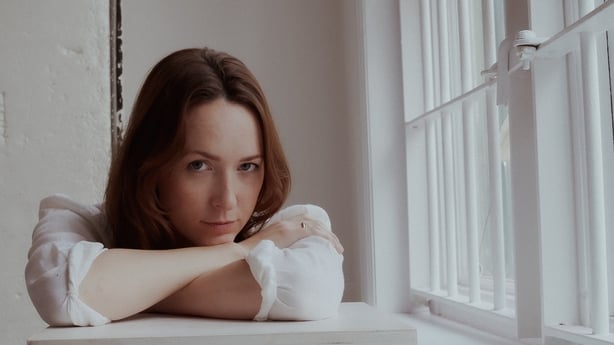 She says at the moment people are really struggling: "Ireland is not a cheap place to live, Dubln is a very difficult place to live if you don't have proper income, so having that security and allowing people to just live with dignity for a start," she says.
Ms O'Donoghe said a lot of people will say it is money for nothing and it's really not.
"Artists have been working for nothing for a really long time and you know if you are going to be an artist in this day and age you work hard for it: you study hard for it.
"There are an awful lot of people who are working full time for really minimal income at the moment so this will be an opportunity just to pay for that time that is already being invested in the arts in Ireland."
Reporting by Sinéad Crowley and Helen Donohue