Less than half of the accommodation pledged by the public is likely to be suitable for people fleeing Ukraine, the Cabinet has heard.
To date there have been 20,719 offers but the Government is planning on the basis that just 40% to 50% of these properties will be used.
More than 18,600 people from Ukraine have arrived here since 25 February.

The forecasted number of arrivals is in the range of 26,000 to 32,000 by Easter weekend.

Ministers were told that there is a risk to current capacity for both short-term and emergency accommodation.
Given the high volumes of arrivals, arrangements are being finalised to transfer the reception operation from Dublin Airport to CityWest.
The Department of Public Expenditure has estimated that if all arrivals need emergency hotel accommodation, then the cost of each cohort of 10,000 refugees would be €500 million each year.
The current rolling seven-day average of arrivals is running at 580 per day, and the proportion of those seeking accommodation has risen to 81%, compared to 74% a week before.
Up to Sunday, 10,885 Ukrainian arrivals had sought accommodation here.
Nearly 4,000 rooms with 9,800 serviced accommodation beds have been sourced in recent weeks to cope with demand.
An estimated total of 1,800 Local Authority emergency beds can potentially be made available.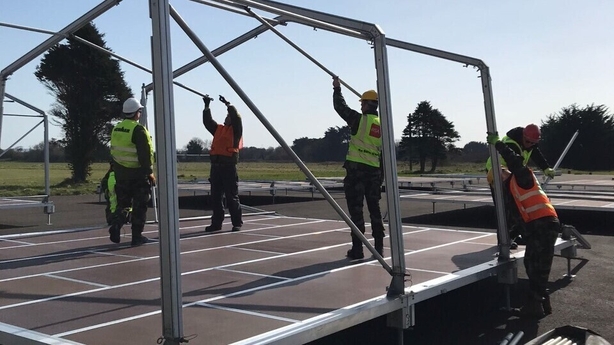 The Defence Forces have prepared tented emergency accommodation at Gormanston Camp should the need arise.
Long-term, the Government is looking to refurbish and re-let some 2,500 vacant Local Authority units.
It is also "exploring options" for the restriction of short-term lettings of second or additional private homes in cities and large towns.
There is also likely to be changes to the Fair Deal scheme, to free up 8,000 unused private homes, on a voluntary basis for rental without financial penalty.
Emergency provisions in the Planning Act are also like to used to activate planning permissions on zoned or unzoned lands.
The Department of Education said that a total of 2,038 students from Ukraine have enrolled in schools here so far.