The funeral Mass of Irish cameraman Pierre Zakrzewski - who was killed in Ukraine - has taken place in Dublin.
Mr Zakrzewski was working for US network Fox News in Horenka, on the outskirts of Kyiv, on 14 March when his vehicle was hit by Russian shelling.
His colleague, Ukrainian producer Oleksandra Kuvshynova, also died and British reporter Benjamin Hall was injured in the incident.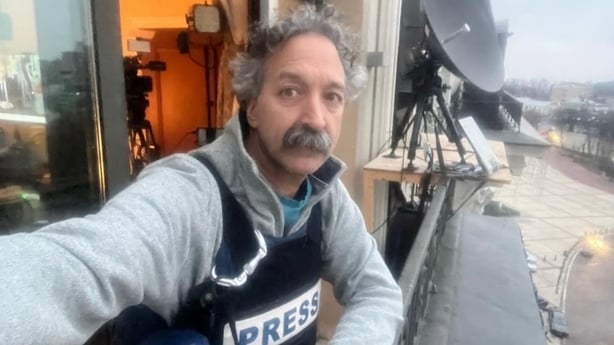 Mourners attending the funeral service at the Church of Our Lady of Perpetual Succour in Foxrock heard how Mr Zakrzewski was an inspiration to family and friends.
His brother Stanislav described him as someone who refused to be constrained by traditional education, who had instead taught himself about the world and politics through travel.
He said his brother's "thing was meeting people from all over the world."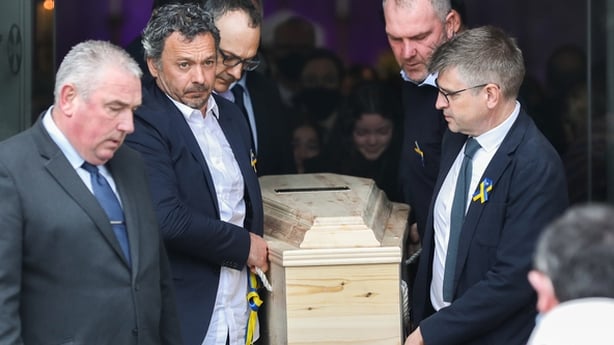 Stas said Pierre was "highly inspirational to his friends and family; he has taught us to think outside the boundaries and that nothing is impossible. We all love you Pierre and your spirit will live within us all".
His school friend, Ronan Hingerty, said Mr Zakrzewski was an exceptional human being, that it was not what Pierre had acomplished in life but it was "how he made us feel" and that he "brought hope and light to the darkest places of the world, trying to make our world a better place, by exposing bullies and tyrants".
"We were at our best when we were with him."
Mr Zakrzewski's nephews and nieces presented gifts in the church, including a camera, a toy motorbike and his favourite foods a saucisson and a packet of Tayto.
Both the President and Taoiseach were represented at the funeral, the Minister for Foreign Affairs Simon Coveney, American Ambassador to Ireland Claire Cronin and Labour party leader Ivana Bacik were also in attendance along with representatives from the Ukrainian, Polish and French embassies.
We need your consent to load this rte-player contentWe use rte-player to manage extra content that can set cookies on your device and collect data about your activity. Please review their details and accept them to load the content.Manage Preferences
In his sermon, Father Kieran Dunne told mourners that Mr Zakrzewski was a "truth-teller full of empathy, generous of heart".
Fr Dunne said "truth telling is a work of love and love always comes at a price and what a terrible price."
He was a "lovable person, well-regarded", a "proud Irishman" and a "storyteller" who wished to "encounter people truly and without ego and to truly present their stories and their uniqueness to the world", Fr Dunne said.
Tributes from family members, colleagues and friends painted a picture of a man who was full of energy and passion for travel, photography, politics and story-telling.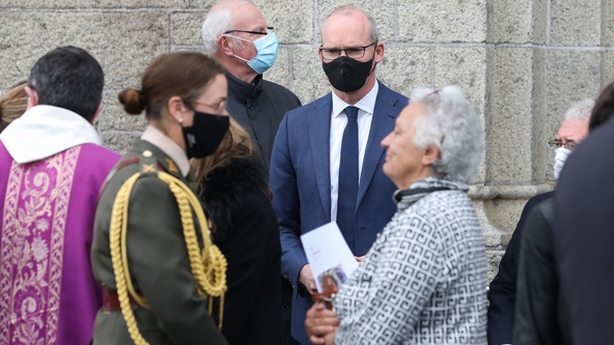 'The lifeforce of a man who brought hope and light to the darkest places'
A colleague at US network Fox News Tim Santhouse said: "His qualities were endless, his altruism boundless."
He said the cameraman was just as happy covering a NATO summit as a conflict - as long as he could climb a building to find the best spot to place his equipment.
He added that Mr Zakrzewski spent much time on the phone, including to help people escape Afghanistan after the Taliban takeover.
A framed black-and-white photograph of the journalist, sporting his distinctive thick moustache, was placed on top of the white coffin during the funeral mass.
As a war photographer, Mr Zakrzewski covered conflicts in Iraq, Afghanistan and Syria for Fox News, according to a memo sent to employees by Suzanne Scott, chief executive of Fox News Media, after his death.
The 55-year-old journalist grew up in Leopardstown, south Dublin, and held both Irish and French citizenship.
Several other journalists, including Brent Renaud, an American documentary film-maker and another veteran of covering war zones, have been killed in Ukraine since the conflict began more than a month ago.
With additional reporting by PA