An Irish cameraman working for Fox News, Pierre Zakrzewski, has been killed outside Kyiv in Ukraine, the US network said.
Mr Zakrzewski, who grew up and was educated in Dublin, was killed alongside Ukrainian journalist Oleksandra Kuvshynova when their vehicle was struck on Monday by incoming fire in Horenka, outside the capital.
Their colleague Benjamin Hall was wounded, according to statements from Fox News Media CEO Suzanne Scott and the Committee to Protect Journalists.
Mr Hall, a Briton who works as the network's State Department correspondent, remains hospitalised in Ukraine, Ms Scott said.
"Pierre was a war zone photographer who covered nearly every international story for Fox News from Iraq to Afghanistan to Syria during his long tenure with us," Ms Scott said.
"His passion and talent as a journalist were unmatched."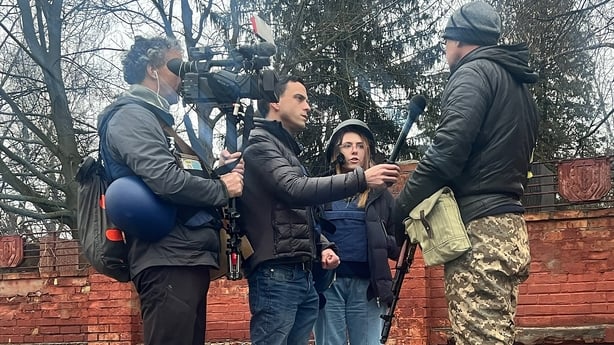 Ms Scott said that Ms Kuvshynova, 24, worked as a consultant for Fox News in Ukraine.
"She was helping our crews navigate Kyiv and the surrounding area while gathering information and speaking to sources," Ms Scott said.
"She was incredibly talented and spent weeks working directly with our entire team there, operating around the clock to make sure the world knew what was happening in her country."
Fox News said Mr Zakrzewski had played a "key role" in getting the network's Afghan freelance associates and their families out of the country after the US withdrawal.
It said he was given an "Unsung Hero" award at the company's annual employee Spotlight Awards in December.
In yesterday's attack near Kyiv, we have lost a beautiful brave woman - Oleksandra Kuvshinova - Sasha. She loved music and she was funny and kind. she was 24 years old. She worked with our team for the past month and did a brilliant job.
May her memory be a blessing pic.twitter.com/QGzqV3Fy5D

— Yonat Friling (Frühling) (@Foxyonat) March 15, 2022
Mr Zakrzewski had been working in Ukraine since February.
St Conleth's College in Dublin said it acknowledged the passing of its past pupil with "great sadness".
After leaving St Conleth's in June 1984, Mr Zakrzewski studied Arts in UCD, and soon travelled all over the world with his work.
He was based in London for the last number of years, but often visited Ireland to meet his many friends.
Mr Zakrzewski is predeceased by his father, who was from Poland and worked as an architect.
He is survived by his wife Michelle, his mother, who is French, and his five siblings. Two of his brothers and his mother still live in Ireland.
President Michael D Higgins said the "indiscriminate killing of civilians, including journalists, must be brought to an end".
In a statement on Twitter, he said he had offered his deepest sympathies to Mr Zakrzewski's family and expressed his sympathy to the International Federation of Journalists on the loss of a colleague.
March 15, 2022
Taoiseach Micheál Martin said he was "deeply disturbed and saddened" by the killings.
"My thoughts are with their families, friends and fellow journalists. We condemn this indiscriminate and immoral war by Russia on Ukraine."
Speaking on RTÉ's Six One News, he said that journalism had shone a light on the atrocities in Ukraine.
The Department of Foreign Affairs said consular officials are in touch with the family and providing assistance.
It is great sadness that St. Conleth's College acknolwledegs the tragic passing of Past Pupil Pierre Zakrzewski (Class of 1984) in the Ukraine. Our thoughts and prayers are with his family and friends. (Pierre stands in the back row of his graduating class, third from right.) pic.twitter.com/z1VNPzjhco

— Stconleths (@Saintconleths) March 15, 2022
The Minister for Foreign Affairs said he was "deeply saddened" to hear of the tragic death of Mr Zakrzewski.
"The killing of all citizens through this reckless war is deplorable, and I also wish to strongly condemn the targeting of journalists who have been working bravely to shine a light on the plight of Ukraine since the outbreak of hostilities," Simon Coveney said.
Mr Coveney said Ireland "once again calls on Russia to bring an end to this war".
"We will continue to demand accountability for violations of international humanitarian and human rights law," he added.
My thoughts are with the family, friends and colleagues of Irish citizen and journalist Pierre Zakrzewski who was killed today in Ukraine. The Russian invasion is criminal. We stand together in condemnation of this barbaric military aggression. Russia must immediately withdraw

— Mary Lou McDonald (@MaryLouMcDonald) March 15, 2022
The Committee to Protect Journalists has said it is "deeply saddened" by the deaths of Mr Zakrzewski and Ms Kuvshynova while they were working with Fox News in Ukraine.
It added that it hoped Mr Hall recovers from his injuries.
"Reporting on this war is a vital public service, and it has already claimed the lives of at least two other journalists in just a few weeks," said Dr Gulnoza Said, Head of Europe and Central Asia Program at CPJ.
"Ukrainian and Russian authorities must do their utmost to ensure safety of all journalists," she added.
RIP Pierre and Sasha. From our last correspondence:

I will effort to get as much of this on TV to help Ukrainians in every way possible. Keep Smiling.
Pierre pic.twitter.com/StinVdSfFK

— Lucas Tomlinson (@LucasFoxNews) March 15, 2022
On Sunday, a US journalist was shot dead and another wounded in Irpin, a frontline suburb of Kyiv that has witnessed some of the fiercest fighting since Russia invaded Ukraine.
Video documentary maker Brent Renaud, 50, was working for Time Studios on a project about global refugee issues, the media outlet said.
The International Federation of Journalists identified the wounded journalist as American photographer Juan Arredondo.
A Ukrainian who had been in the same car as the Americans was also wounded, according to a medic at the scene.