"It's smarter to be free and to try to report something from abroad, than to sit in jail," says Tikhon Dziadko, editor in chief with Dozhd, an independent TV station that until earlier this month was able to broadcast from Moscow.
Now he is sitting with his colleagues in Istanbul, Turkey, having fled his own country.
On Thursday 3 March, everything changed for him, when Russia announced strict new laws including a potential 15-year jail term for those who questioned its invasion of Ukraine.
The Dozhd channel, founded in 2010, which translates into English as "TV Rain" announced it was temporarily halting its work. Its website had already been blocked earlier in the week.
"Vladimir Putin, I think, he decided that all the games in democracy, all the games in pretending that there is some sort of law in Russia, all these games are over," said Mr Dziadko, speaking to French station ARTE.
"This is a brand new world, I don't like this world, but that's what I have to face."
'Fake news' and the need to believe it
The bombing of the children's hospital in the southern Ukrainian port of Mariupol this week was dismissed by Russian officials as "fake news". Russia claimed the former maternity hospital had long been taken over by troops.
"That's how fake news is born," Dmitry Polyanskiy, Russia's first deputy permanent representative to the United Nations, said on Twitter.
"The majority of Russians get their news from state-controlled TV channels," says Olga Irisova, editor-in-chief of the website Riddle which seeks to explain Russia to the outside world.
She argues that Russian authoritarianism rests on three pillars: a relatively stable economy that is currently being shaken by biting sanctions, leaving two final pillars, "fear and lies".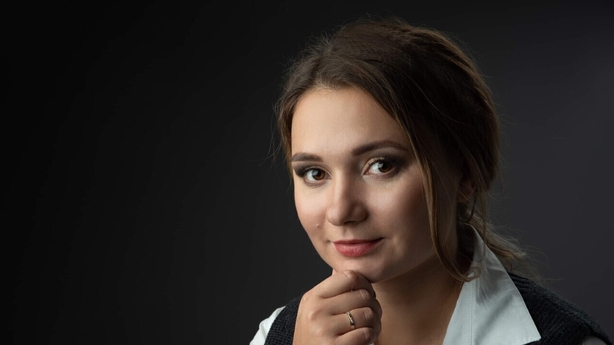 Living in Berlin, where she is a German chancellor fellow at Alexander von Humboldt Foundation, she has spent the last few weeks watching this news cycle and how the Ukrainian invasion is being portrayed in her own country, a task she says she found very difficult to stomach.
"The main narrative of Russian state TV media are now pushing is that the West provoked Russia, is that the West actually implemented the so-called 'Nazi' regime in Kyiv and this Ukrainian regime has been engaged in genocide of Russian speaking people in Eastern Ukraine for eight years," she says.
She says people in Russia are very sensitive towards this narrative "because in almost every Russian family there are some relatives that were killed during the Second World War and unfortunately most of the TV viewers, they buy this narrative".
She says the narrative also seeks to portray the Russian military and its soldiers and "liberators" of Ukraine, opposing the nationalists there. They are also denying that they are targeting civilians.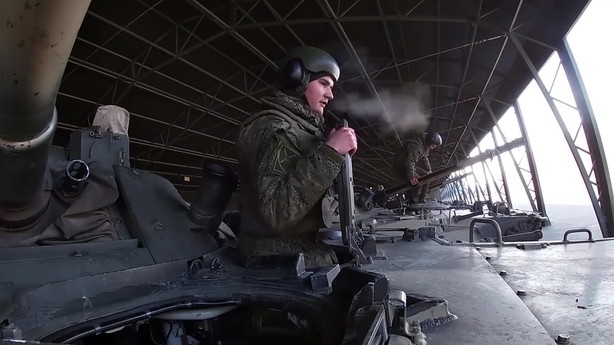 Instead, she says the Russian state-controlled media says: "The Ukrainian army are using people as live shields…That's how they are trying to frame what's going on."
As unbelievable as this may seem to people who are used to a more free and questioning media in the West, she says many people will continue to buy into this narrative, particularly when the alternative is too terrible to contemplate.
"That's an important psychological part of this process," she says, even for those who feel deep down that something is not right:
"For Russian society, the older generation especially, it's really hard to believe that Russia could have attacked Ukraine. In that situation, we are the invaders, we are the bad guys and from a psychological point of view, it is just easier to believe the official narrative, that we are liberators, fighting for a good cause."
Censorship laws and the media exodus
"The Russian media system has moved from a place where there was a limited and constrained spectrum of views to unanimous propaganda," says Felix Light, a journalist with the Moscow Times who has now left the capital, along with much of the foreign media there.
It follows the signing into law by Russia of an amendment to its criminal code, just a week ago (Friday 4 March), which makes the spread of "fake" information an offence punishable with a jail term of up to 15 years. Fines can also be imposed on anyone calling for sanctions against Russia following the invasion of Ukraine.
Shortly after this new law was implemented, Bloomberg Editor-in-Chief John Micklethwait wrote in a message to his staff: "The change to the criminal code, which seems designed to turn any independent reporter into a criminal purely by association, makes it impossible to continue any semblance of normal journalism inside the country…We will not do that to our reporters."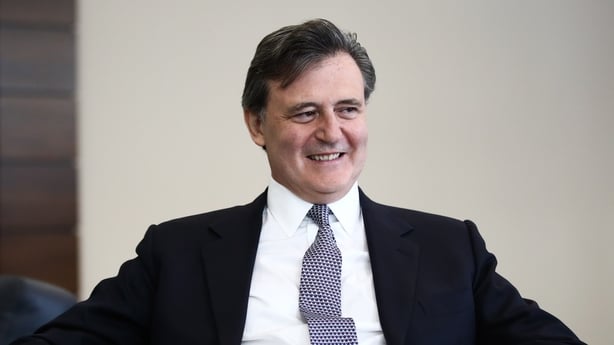 As well as TV station Dozhd, the popular Ekho Moskvy radio station, one of Russia's last remaining liberal media outlets was also forced to close down, following pressure over its coverage of the war in Ukraine.
Refusing to give up its editorial independence, its board of directors voted to close the station after the prosecutor general's office demanded restrictions on access to it, because of what it called "false reporting" on Russia's "special military operation" in Ukraine.
Mr Light says he was among hundreds of journalists and others working in civil society who have now made the decision to leave Russia. Many headed initially for Turkey, one of the few countries that had not closed its airspace to Russian flights.
"Most foreign journalists, most of my erstwhile colleagues have now left Russia and by and large that's because of this new law that bans what the Russians call the spreading of 'fake news' about the Russian army and anything they don't like."
With the cost of plane tickets soaring and amidst fears that borders could soon be closed, he took a circuitous route back to Devon in England via Kyrgyzstan, and its capital Bishkek. There, he met many Russians who were also fleeing in a hurry, opposed to the war, or concerned as rumours of army conscription began to circulate.
Mr Light says that whilst he lived in Moscow, there were always two camps of so-called 'independent' media in Russia: the ones implacably opposed to the system "who would go after Putin's family and report on corruption"; and the ones who were "liberal, independent and opposition minded, but also who had made their compromises with the system and still had their connections".
"They had friends in high places in the Russian political system but what this war has meant that all of that is not any use. Even these people are fair game for repression now."
Some media organisations have made a calculated risk to remain, however. The BBC announced this week it would resume its English language reporting in Russia, after a temporary suspension to assess the implications of the new law.
In a statement issued on Tuesday it said: "We have considered the implications of the new legislation alongside the urgent need to report from inside Russia. After careful deliberation we have decided to resume English language reporting from Russia… We will tell this crucial part of the story independently and impartially, adhering to the BBC's strict editorial standards."
It added that the safety of its staff in Russia "remains our number one priority".
Russia's Novaya Gazeta newspaper, whose editor Dmitry Muratov was a co-winner of last year's Nobel Peace Prize, said last week it would remove material on Russia's military actions in Ukraine from its website, because of the censorship.
However, the newspaper said it would continue to report on the consequences that Russia is facing, including a deepening economic crisis and the persecution of dissidents.
The newspaper said it could not risk the freedom of its staff, but also could not ignore its readers' desire for it to continue working, even under military censorship.
Mr Muratov dedicated his Nobel prize last year to six of the newspaper's journalists who had been murdered for their work.
On the day of Russia's invasion of Ukraine last week, he told the BBC: "Our peace-loving Russian people will now feel the hatred of the world because we are starting a third world war in the centre of Europe."
Ms Irisova says the fact that this publication is remaining, in some capacity is important.
"It's a very hard choice. It's either you are closed down completely, or you are repeating the lies of Russian propaganda," she says.
She says Novaya Gazeta announced its new editorial policy alongside a picture of a nuclear bomb, which was "very telling" and a message she says readers of the publication would understand.
"If Novaya Gazeta was to leave Russia or to stop working completely as other media did, that would just mean that Russian society and their readers would not know anything about the internal situation, about other crimes against humanity inside of Russia that Putin's regime is committing."
She adds: "Russian society in the next few months, is going to have a changing moment, because as sanctions keep hitting harder and as more news will come about deaths among Russian soldiers, it will be harder and harder to hide the truth and people will seek alternative information, at least about domestic issues."
A generational divide?
Earlier this week, Russian actor Jean-Michel Scherbak wrote on social media that he was ashamed his country had started a war in Ukraine.
He said his mother, a long-time supporter of Russian President Vladimir Putin, blocked him online.
The 30-year-old actor who is based in Europe says: "She texted me on Facebook saying that I was a traitor and that I had made my choice."
The falling out between families over this conflict is something Olga Irisova says she is also aware of. "The younger generation is more aware of what is going on in Ukraine," she says.
"Russian society is very polarised and divided right now, and I have also heard from my friends that unfortunately their relatives, their parents, they became victims of propaganda. Some of my friends who also live abroad and not in Russia, they also got messages from their relatives asking, 'Are you ok? We've heard that Russians are being beaten in Berlin or in London just for being Russians, and that's actually another narrative that Russian propaganda pushes."
She says that some parents have told their Russian children living abroad: "You don't know about Nazis, you are brainwashed by Western propaganda."
She attributes some of this difference between the generations, to the ways in which they consume media.
"There is a generational divide in terms of the sources that people use in order to get the information. Most of the older generations, they only use state TV, whilst younger generations, they are more into social media and online media, but unfortunately even like Telegram, which is hugely popular among Russian people, it is actually fuelled by propaganda and we can see some anonymous Telegram channels with millions of subscribers, and we don't know who stands behind them," she says.
"We know there are some channels that are controlled by different pillars of Putin's elite and sometimes you can even see how different members of this elite are fighting among each other using the Telegram channels."
Can protests make a difference?
Jailed Kremlin critic Alexei Navally has urged Russians to continue to protest against Moscow's invasion of Ukraine - and he cited a survey carried out by his own political aides, which found that such protests were putting additional pressure on the Kremlin.
"The anti-war momentum will keep growing across the society so anti-war protests should not be halted under any circumstances," he tweeted in English.
Thousands of Russians have turned out to demonstrate against the war with such protests not just been confined to traditional centres, such as Moscow and St Petersburg, but springing up in more than 50 towns and cities across Russia.
According to the OVD-Info protest monitoring group, Russian police have detained more than 13,000 people at anti-war protests in Russia since 24 February.
Russia declared OVD-Info to be a "foreign agent" in September, in a move that critics say is designed to stifle dissent.
There is a cross-over between those opposed to the war and those who support opposition figures such as Navalny, but the numbers involved do seem to be growing.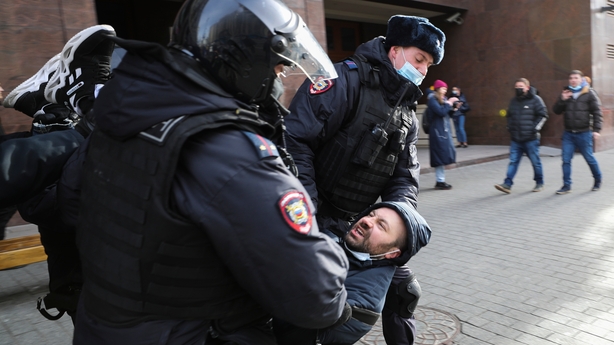 The protests have also persisted despite the risks involved, due to a heavy government crackdown.
"Thirteen thousand may not sound like an enormous number in a Western democracy," says Felix Light.
"But Russia is anything but… and the penalties for protest can be really quite substantial and quite hefty there. We're talking about anything from prosecution to being beaten by police, to losing one's job, to being excluded from university so these are really substantial penalties that people are willing to risk to express their opinion on this topic."
Olga Irisova says there have been reports of people being fired from their jobs for just signing anti-war petitions or prosecuted for hanging up a sign saying 'No to War' from their balconies. Others have reported brutality at the hands of the police following arrest.
In almost every area of Russian society, there has been division over Russia's invasion.
In the western region of Kostroma, police detained a Russian Orthodox priest, Father Ioann Burdin, over his church sermon against the war and a link he had posted to an anti-war petition.
However, the head of the Russian Orthodox Church, Patriarch Kirill has voiced support for Russia's "special operation", saying Russian values were being tested by the West, which offered "only excessive consumption and the illusion of freedom".
Does Vladimir Putin care about his own popularity?
An opinion poll published by Russian state polling agency VTsIOM last weekend, found Vladimir Putin's approval rating had risen 6 percentage points to 70% in the week to 27 February, as the invasion of Ukraine began.
FOM, which provides research for the Kremlin, also said President Putin's rating had risen 7 percentage points to 71% in the same period.
OpenDemocracy.net says it is important to note that Russian opinion polls are often used by the Kremlin to claim that the invasion is supported by the Russian public and it is not clear how the pool of people to poll is chosen.
But it says another poll taken in mid-February, before the military campaign began does suggest some support from the general public.
It was commissioned by CNN and conducted by a British agency, Savanta ComRes, reported that 50% of respondents would support Russia's use of force to prevent Ukraine from joining NATO, and 36% would support Russia's use of force to "reunite" Russia and Ukraine.
Journalist Felix Light says it would be a mistake to believe that there is little Russian support for the war: "It isn't one man's war in that there is a very real body of opinion among part of the Russian public that is sort of supportive of this," he says.
"It's something that a certain part of the public do want. But this was clearly driven by him over the heads of most of rest of Russia's political ruling elite. Putin saw it as his passion project, his legacy play."
But as the campaign continues, this support could be seriously put to the test.
The end game as losses mount
This week, Russia's finance ministry announced it would spend an additional 455 billion roubles (€3.25 billion) from the state budget on pay-outs to families with children aged between eight and 16, as well as increases to pension pay-outs.
What is interesting about this, is that it comes at a time when Russia can least afford this additional spending, as the cost of war mounts. It could be seen as a sign that the Russian leader is worried about his popularity at home, after his gamble of a quick and successful territorial grab in Ukraine failed to pay off.
This is new territory for Vladimir Putin, says Felix Light.
"Despite being an authoritarian leader, he's always been very careful to make sure he's on the right side of the public opinion.
"He was not expecting the reaction from the world and the economic damage that has been done. If he thought this was his final gift to the Russian people, he was very much mistaken."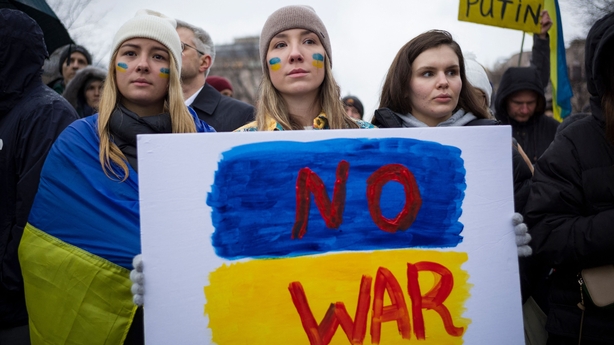 Whilst he says there is likely to be some resentment among elements of the Russian elite, for having been kept in the dark about the scale of the planned invasion in Ukraine, he does not expect that this will do anything to topple Vladimir Putin whose strong authoritarian regime is protected by a tight inner circle.
Already, the Russian public are beginning to feel the fierce impact of economic sanctions in their own pockets, particularly due to the plunging rouble, which has lost over a third of its value in the last week and a half alone.
"Unfortunately, these sanctions they hit not only oligarchs, they hit ordinary Russians including those who have opposed Putin for all these years," says Olga Irisova who says some Russians are already struggling to access both their savings and some medicines that they need.
The loss of lives among Russian soldiers are beginning to mount too.
It wasn't until 2 March, almost a week after the invasion began, that Russia admitted it had suffered casualties among its own troops, saying close to 500 had been killed.
Official US estimates now put those losses at at least 5,000, and whilst it is difficult to get reliable figures in the fog of war, Ukraine claims Russian losses are twice that again.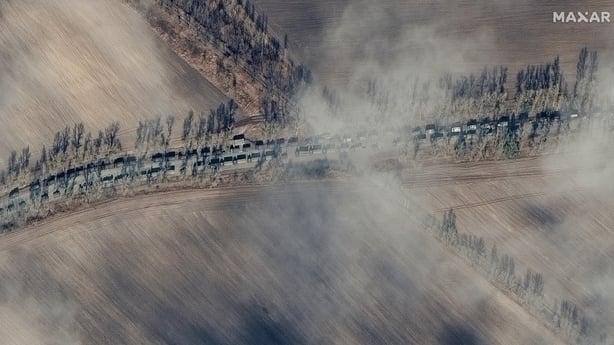 On Wednesday this week, Russia's defence ministry acknowledged for the first time that some conscripts were taking part in the conflict with Ukraine.
President Putin had denied this on several occasions, saying only professional soldiers and officers had been sent in.
Some associations of soldiers' mothers in Russia had raised concerns about a number of conscripts going incommunicado at the start of the Kremlin's "special military operation" in Ukraine, suggesting they could have been sent to fight despite a lack of adequate training.
"I can imagine the feeling of the mothers of young boys who were conscripted just a few months ago and the feelings of mothers of other young boys who are about to be drafted in," says Ms Irisova who believes these Russian losses could have the biggest impact in terms of influencing the hearts and minds of the Russian public.
Whilst no one can ever truly know what Vladimir Putin thinks, it was clear from his diatribe in his address to the nation just days before the invasion began, that he wanted Russia to be able to re-assert its imperial greatness in Ukraine.
"Clearly he miscalculated," says Irisova.
"I would call it Putin's war, definitely, because Russian society, even the part that says it supports this 'Special Operation,' we cannot blame them, because they have a distorted picture of reality. They've been fed with lies for many years. But these are not the people who wanted this war.
"Vladimir Putin wanted this war and clearly some people around him also wanted this war.
"Whatever his end goal was, now it has been destroyed because when the war ends, the Russian economy would be destroyed, Russia's position in the world would be destroyed, his image in the world would be destroyed completely. We'll have a different Russia then," she says.
Additional reporting: Reuters