The portal for pledges of accommodation to Ukrainians fleeing the Russian invasion crashed this evening, according to the Secretary General of the Irish Red Cross Liam O'Dwyer.
Speaking on RTÉ's Claire Byrne Live, Mr O'Dywer said that they received over 4,000 pledges in the four days since the portal was opened.
He said that the last time they opened the portal they had in excess of 1,000 pledges, but that this was over a two-month period.
Mr O'Dwyer said that the website had crashed but that the 'Register of Pledges' will be back up and running tomorrow. He said they were "astonished" by the number of pledges.
He asked those making pledges to "give it a bit of time" and said a member of their team would be in contact with them within two weeks.
Earlier, the Government announced the pledge register enabling the public to give support to Ukrainian refugees.
The online portal, run in conjunction with the Red Cross, includes offers of accommodation.
A specific unit has been set up in the Department of Children, Equality, Disability, Integration and Youth to manage the ongoing accommodation and reception of Ukrainians as they arrive in the country.
Announcing the register this afternoon, Minister for Children Roderic O'Gorman said there will be an element of vetting.
"If there is an offer of accommodation, be it the use of a room in the house, over the next week or so, we'll be able to get back to them," he said.
While keen to take advantage of the huge outpouring of generosity from Irish people in the last number of days, Mr O'Gorman has asked the public to be patient.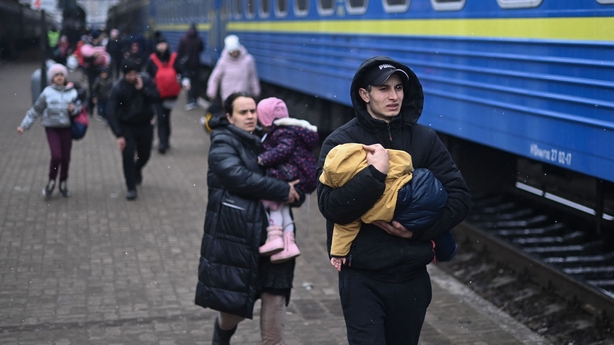 "We're only 10 days into this", he said
Mr O'Gorman said "a significant number" of refugees are expected in Ireland over the coming weeks and months ahead, which is why the system is being put in place.
Initially, people will be accommodated in hotels, looking at other options for medium- to long-term accommodation.
One third of those who have arrived are currently being accommodated in hotels while the other two-thirds are being accommodated by Ukrainians already living in Ireland.
---
Read more:
Further coverage of Ukraine invasion
---
"We're very clear Ukrainians will not be going into the direct provision system," he said. "They don't need to because of the Temporary protection Directive that was activated by all the EU member States last Thursday".
He added: "There is still work ongoing on how this system will work, but hotel accommodation is what we are using now".
The Government is preparing for a long-term commitment to Ukrainian refugees. Therefore, the public offering support of accommodation needs to be aware that boarding will be on a medium to long term basis.
The Irish Red Cross has said that when people sign up to offer accommodation, it will be for six months to a year.
Ukrainians coming to Ireland will be able to avail of access to health education, social welfare supports and access to the labour market.
Mr O'Gorman said the Ukrainian refugees he has spoken to so far, are eager to work and to establish themselves in Ireland, "while hopefully the situation in Ukraine is resolved".
He said it will be in all of government response and all relevant departments will be playing a role in terms of the wrap around supports.
For more information, people can visit https://registerofpledges.redcross.ie, or www.RedCross.ie/pledge.