The Ukrainian community in Ireland have held protests outside the Dáil and the Russian embassy to condemn Russia's invasion of their country and to appeal for both Irish and EU support.
The entrance to the Russian embassy was covered with red paint by protesters to symbolise what they call the ''bloodshed'' that is happening in their homeland due to the actions of Russian President Vladimir Putin.
Holding placards with messages "Stand with Ukraine" and "Putin out of Ukraine" the demonstrators urged Ireland to stand with the country.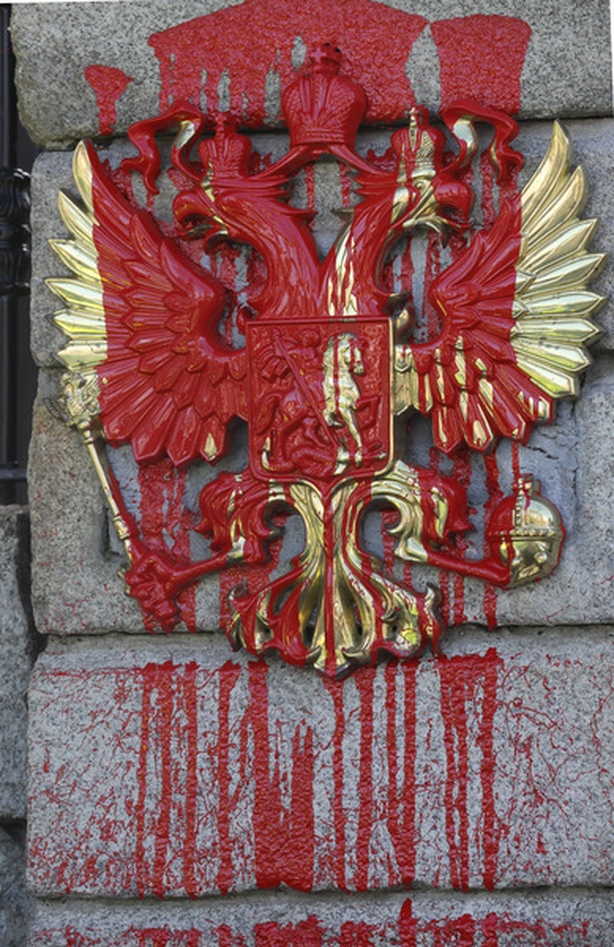 They were joined by a handful of Russian nationals living in Ireland, who wanted to show support for Ukraine.
Outside the Dáil, an estimated 200 protesters held posters demanding an end to the war, waving Ukrainian flags and calling for tough sanctions to be imposed on Russia.
Many expressed their shock and sadness about the events unfolding back home and said they are worried about the futures of their loved ones.
"All our thoughts and hearts are with those who are in Ukraine"
Distress, disbelief and determination… emotions running high among those attending the protest against Russia's invasion of #Ukraine outside the Dáil. pic.twitter.com/LmnNEgWtCa

— Philip Bromwell (@philipbromwell) February 24, 2022
They also welcomed the decision by the Irish Government to waive visa requirements for Ukrainians wishing to travel to Ireland and hoped their relatives would be able to join them in Ireland at the earliest opportunity.
Politicians from different parties joined the protest including Tánaiste Leo Varadkar.
Increasing numbers from Ukrainian community in Ireland outside Dáil @rtenews pic.twitter.com/3mM3coPIYt

— Paul Cunningham (@RTENewsPaulC) February 24, 2022
This evening, a small group of anti-war protesters held a demonstration outside Leinster House.
The group's spokesman Mark Price said it wanted Ireland to use its position on the United Nations Security Council to push for a diplomatic solution to the crisis in Ukraine.
Irish Ukrainians have urged Ireland to stand with Ukraine and say they are extremely worried for their families back home.
Speaking outside the Russian embassy Ekaterina Kostyunina, a Russian national living in Dublin for more than 15 years, said: "I would like to show my solidarity with the Ukrainians, When something as bad as real war happens we can't silent anymore."
"I don't know anyone personally who supports the actions of Putin," she said.
Maria Bocheva, who also turned out to support the people of Ukraine, said: "I talked to my parents in Crimea and they are terrified and can't believe it's happening."
"This is a tragedy for not just Ukraine but for the whole of Europe," Ms Bocheva added.
---
Read more:
Live updates: 'Dozens killed' as Russian forces invade Ukraine
Ukrainian cities hit with explosions and missiles
Putin will be held accountable for 'outrageous invasion' - Taoiseach
---
"Please help us."
In a protest outside the Dáil,
Olena Redrugina, a Ukrainian living in Dublin, calls for "the biggest sanctions imaginable" on Russia, in the wake of the invasion of #Ukraine. pic.twitter.com/kWKclapoRZ

— Philip Bromwell (@philipbromwell) February 24, 2022
"I am here to do everything I can to stop the invasion of Ukraine by Russia," Ms Bocheva added.
"My family is there, my brother and his family, my husband's family, my parents: they're all in Ukraine. They're terrified. This shouldn't be happening in 2022.
"It's not only about Ukraine," she said: "It's a threat for the whole world and we all need to stay united and stop this."
"This morning, we woke up to the most horrible morning of our lives," said Marina Leganowska.
"I talked to my parents this morning and they just fled the apartment they have next to the airport, in case they decided to send a rocket to the airport, so they don't get killed," she added.
Some people from Russia were also outside the embassy. "I'm Russian," Aexia said, as he stood with Ukrainians outside the embassy: "I don't want Putin to invade Russia. I don't want war."
"My grandfather is from Ukraine and I have Ukrainian blood myself," said Caitriona."I am really upset with this situation. I have many friends in Ukraine, she added, "and it's just terrible. Most Russian people don't want war," she said.
Away from the protest, other Ukrainians living in Ireland have been watching developments in their home country concerned for loved ones, including Alex Pishcheiko and her partner Artem Nedostup.
Fear, anger and helplessness" is how Ukrainian Alex Pischeiko said she felt when she woke up this morning.
"We've been in touch with our families since early morning," she said. "There is lots of panic: there are people on the streets there, huge queues to ATMs and supermarkets, and of course we are very worried for them. But everybody is staying home today and praying it will all be over tomorrow.
"It was an absolute shock," said Artem Nedostup "I'm from the southeast of the country so lots of my relatives would be there still. I know it wasn't a surprise, he says but it was still very painful to see that on the news."
DCU Researcher Tanya Lokot described her reaction to the events: "We're shocked, we're terrified, we're scared. We're also very angry," she said.
"I think we're probably not as surprised as may be the rest of the world. I haven't slept a single second she said. I think the attacks happened around 3 or 4 in the morning, Irish time and we are just all incredibly worried."
She said she thinks people who can leave are making plans to leave. "But where would you go?" she asked.
"Most of the airports are either compromised or destroyed at this point I thinks," she said.
"I think people are at a loss more than anything, because I think we suspected something like this might happen but I don't think anybody suspected the scale at which it is happening.
Anna Koloshova's mother is also in Ukraine. "My mom is very composed and calm," she said.
"She is in an area that is very far to the West but what she is saying is that there is a lot of inquiries of people moving from the more dangerous areas - moving children."
"I'm very worried for her," she said. "Obviously, he's there alone. I don't have any family there with her. So I'm very worried for her safety as well and her health.
"I've cried my eyes out in 2014 for all my friendships with Russian people for all my connections she says and everything that I thought was true. And when people who speak like you attack my home - I cried my eyes out for that.
"I can't do this any more. I'm really angry," she says. "But you know we'll be doing what we can."