More people presented with back and neck problems during Covid-19, according to Irish physiotherapists and chiropractors.
Paul Bradley, Clinical Director of Chiropractix, which has four clinics across the country, said they saw a large increase in the number of people presenting to all their clinics since the onset of the pandemic.
"The majority of patients were coming in based on the fact that they're working from home, so bad setups with desks, kitchen tables. They were in beds even whenever they were working. So, heads flexed forward, a lot of neck pain," he said.
Mr Bradley said business has increased by 65% and has sustained.
"I do think during the pandemic people became more aware of their wellness, about their health and that is one of the biggest things I think in these situations, a similar type of thing happened in the recession. Your health is your wealth, is the phrase and that ended up happening," he said.
While Mr Bradley saw more people presenting with back issues due to bad posture while working from home, clinics have also seen the demographic of patients change over the last two years.
"During the pandemic, what we found is that a lot more students in the younger generation started to come in, so teenagers complaining of back pain, headaches, neck pain. It's typically down to posture," he said.
We need your consent to load this rte-player contentWe use rte-player to manage extra content that can set cookies on your device and collect data about your activity. Please review their details and accept them to load the content.Manage Preferences
One of his patients is 15-year-old Aaron Treacy who was noticing shoulder pain when he was playing basketball.
"I saw some videos on TikTok of people getting it done and their results and it made me feel like I should go," he said.
After spending his days learning from home on an iPad, and back in school slouching in his chair, he sought help from a chiropractor for his posture.
"I felt much taller afterwards and I felt like I had a lot more energy," he added.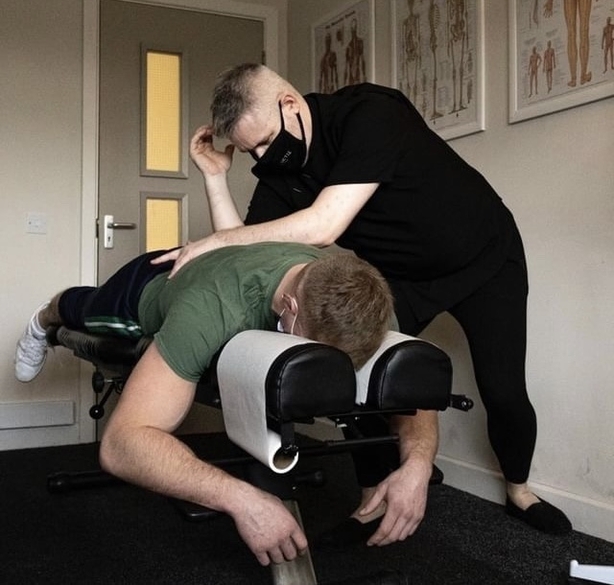 South African native living in Dublin Jane Jacobs had to have surgery during the pandemic.
She was seeing her chiropractor twice a week on a treatment plan for a bulging disc in her neck.
"It's one of those pains. It's constant, so it never abates," she said.
But when chiropractors had to close when the first lockdown began, her condition worsened and she ended up having to get surgery.
"They basically removed the disk and they fuse your two vertebrae. I truly believe that if I'd had the opportunity to carry on with the original treatment plan, I wouldn't have needed it," she said.
Chiropractors across the country have noticed the trend of increased presentations throughout the pandemic.
Andrew Doody is the President of the Chiropractic Association of Ireland, which represents around 120 registered chiropractors here.
"Particularly in the early stages, and there was an increase in acute type cases and people presenting with debilitating back pain, either neck pain, low back pain, headaches and then as the pandemic kind of wore on and the lockdowns increased, people then became more aware of what was causing their back pain, people looking to to correct it," he said.
"I would say across the board there was an increase in demand but also an increase in the scope or care and the types of presentation," he added.
The Irish Society of Chartered Physios said they have also seen more patients seeking care.
Margaret Hanlon runs City Physio in Lucan, and is the Chairperson of the Chartered Physiotherapists in Private Practice in Ireland.
"The first kind of difference we noticed was that lots of people were coming in with back and neck pain, and shoulder problems too, from poor ergonomic setups at home," she said.
"Then we notice a lot of people coming in with injuries because they had maybe taken up running or changed the kind of sport they were doing," she added."
"Then we had the whole other cohort of kids who actually started to present. For the first time in our lives we kind of saw unfit kids or kids that had been out of sport, maybe six months, nine months a year," Ms Hanlon said.
"The other thing is we were seeing kids with musculoskeletal dysfunctions from basically too much screen time, too much time maybe on gaming. So that was really interesting," she added.
Ms Hanlon said they are now seeing increased presentations of older people who have put off seeking care.
"If you start to have some kind of weakness when you're older, it's really, really important that we tackle that early on," she said.
"And unfortunately, we weren't able to do that with the pandemic, because people weren't accessing care, there's a whole cohort of older people that need more treatment now than they would have if they could have accessed services earlier."