It starts with the sound of birdsong and a dog barking in the distance. Within seconds, the listener is anchored in a place, silently observing.
Moments later, a conversation among a group of men. They're talking about killing a pig.
Over the 40-odd minutes that follow, we hear recordings from a farm in the west. There's no narration, no obvious signalling of the story. It simply unfolds. Perfectly.
Jim Fahy's 1978 radio documentary "Nobody ever went to America to learn how to kill a pig" is just one of thousands of contributions that the broadcaster made to RTÉ radio and television, over the course of his long career.
As well as capturing the ins and outs of daily life in the region during that time, Jim was keenly aware of the need to gather, catalogue and safeguard stories.
The tales that would otherwise vanish into the ether.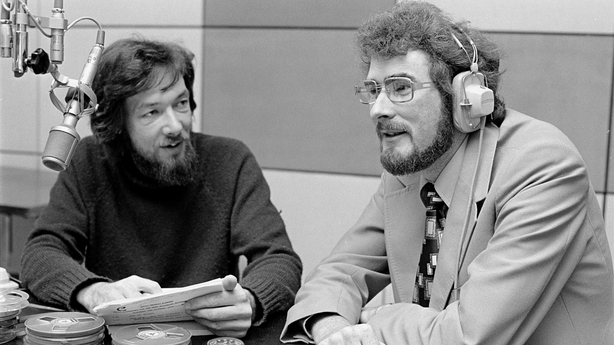 In a time before ubiquitous recording devices and cameras at every turn, he travelled the roads of the west in the mid 1970s and early 80s, on the lookout for clues, as to where he could find fresh material.
Using the old journalistic skill of wearing down shoe leather, he'd arrive at cottages or small holdings, often unannounced, and talk to the people he met there.
The resultant recordings document the recollections of people who'd lived through the late 19th and early 20th centuries. They made up his landmark Looking West radio programme. They also give a priceless insight into traditions, customs and life experiences that combine, to make this part of the world what it is.
These interviews were conducted on reel to reel tapes, edited meticulously for broadcast and transmitted to the country. Everything carefully in its place. A beginning, a middle and an end.
That attention to detail typified all that Jim Fahy did.
Born in 1946 in the east Galway village of Kilrickle, he attended school in Loughrea and Ballinasloe, before securing employment with The Tuam Herald newspaper in the mid 1960s.
He was appointed RTÉ's first Western Correspondent in 1974, working out of the new regional studios in Galway.
Covering the social, economic, sporting, cultural and political life of the area, he travelled far and wide for nightly television reports, detailing all aspects of life in the west.
His output makes for an almost unending list of the events that shaped this corner of the country over that time: The construction of Knock Airport; waves of emigration and factory closures; flooding; sporting success and heartbreak; Bishop Eamon Casey's resignation and return; rich artistic endeavours; economic highs and lows.
But he cast his net wider too. From the early days of his broadcasting career, Jim had an interest in telling the stories of the marginalised. In the mid 1970s he made protracted - but ultimately successful efforts - to contact Mother Teresa in India, to arrange a visit to see the work being carried out on behalf of the poor there.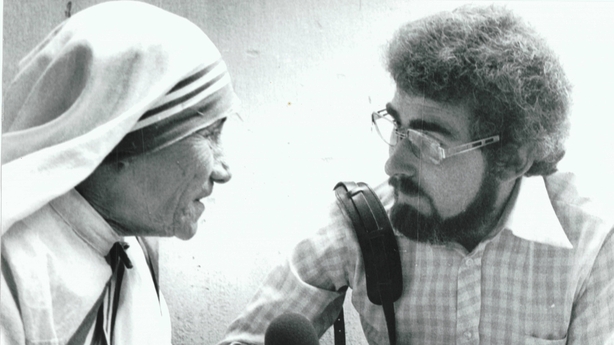 It was the start of an enduring line of international stories he worked on. Reports and documentaries from places like Zimbabwe, Haiti, Greenland, Brazil, Somalia and Belarus all followed. All told impartially, but reflecting too the humanity of participants and their circumstances.
In 2001, he made a circuitous journey from Ireland to New York, hours after the terrorist attacks on the city. From there, he brought viewers and listeners a unique perspective on how the place and its people dealt with the horror visited on them on 9/11.
As important as that work was, it never played second fiddle to the bread and butter of life as a regional correspondent. Jim had a finger on the pulse of everything that happened in the west - the area's seanchaí, who told all our stories, big or small.
And, when it came to it, he fought doggedly to ensure the central place and importance of regional coverage, in RTÉ's daily output. He cared passionately about the station's remit in this regard.
It says something for the manner in which he was held, that his name and legacy reverberate so strongly, over a decade after he hung up his microphone for the last time.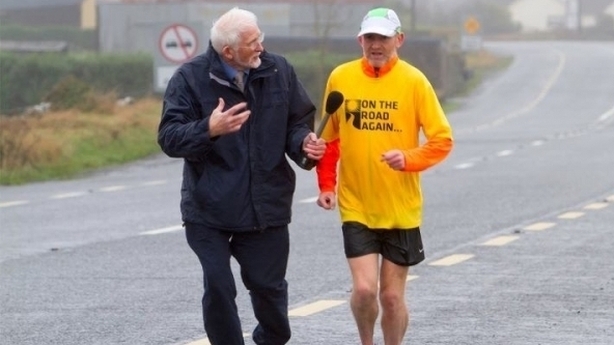 In the years since then, not a week went by without someone asking me how he was keeping, or recalling interactions they had with him, often in the dim and distant past.
He made an impression as a public service broadcaster but most importantly, as the person he was. Somebody who would question, inquire, listen and then report with care.
Many of my colleagues and former colleagues in RTÉ are today recalling his parting glass to us, ten years ago this month, when retired from the journalism beat: "Conventionally our lives are measured by the years we have lived; by our age in years.
"But there is another way of measuring your life… A remarkable Mayoman told me once never to think of a life measured in years. He said 'Jim, think of the days of your life; think just how many days you have lived on this earth'. The challenge - or the trick - is never to waste one of them."
Jim practiced what that man preached to him on a night in Achill in 1984.
And after a life that touched so, so many people, here and around the world, he leaves an enduring footprint behind.
Those of us lucky to have known him will always treasure the time we spent in his company.
May he rest in peace.