There are always stories to be told, good and bad yet over the last 12 months I've found myself relaying news of the most desperate tragedies.
There was the killing of schoolteacher Ashling Murphy in Co Offaly in January, the deaths of two children in a car fire in Multyfarnham in Co Westmeath in September, and the loss of ten people in the terrible explosion in Creeslough, Co Donegal in November.
So many lives lost and so much hurt and pain. It's hard not let it get in on you and there were certainly days in 2022 when I found myself asking, can things get any worse?
Unfortunately, we know they can but there's always hope, and I've grown to believe, in my personal and professional life, that hope is a powerful thing that can help us carry on during difficult times.
For the Neary family from Co Longford, this is their fourth Christmas without their precious son Cian. They're hoping a charity, Cian's Kennels, set up in his honour will leave a lasting legacy.
Last January I met the Neary family from Killashee in Co Longford for the first time, when building work started on new kennel facilities at the children's hospital in Crumlin.
I was struck by Evelyn and Enda's courage and strength and their desire, in the midst of their own grief, to help other families.
The kennel facilities, which opened at the hospital last May, now allow sick children to see their pets while undergoing cancer treatment. The facility gives these children and teenagers a little bit of normality, during what is a really difficult time.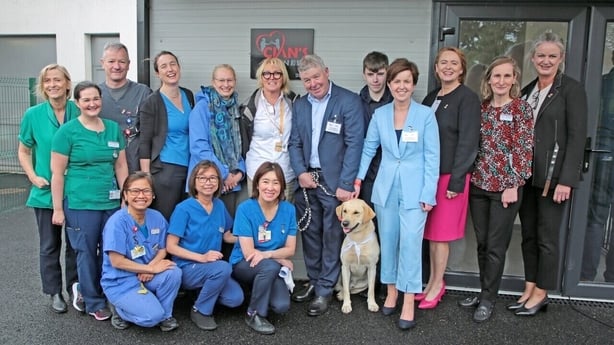 Cian was just 15 when he passed away. In September 2018 his parents Evelyn and Enda got the news no parent wants to hear. Cian had been diagnosed with Hepatosplenic T-cell lymphoma, a rare form of lymphoma.
"While in hospital in the early days of diagnosis, we asked Cian if there was anything we could get him to make him feel better. We already knew the answer," said Evelyn.
"A few weeks later Cooper, a gorgeous golden Labrador puppy joined our family," she explained.
Cooper had a hugely positive impact on Cian and in the summer of 2019, when he became very unwell and had to spend three months in hospital, he pined for his dog.
The family managed to find kennels nearby and most days during his treatment, Cian was able to spend time with Cooper. It was around this time that the idea for Cian's Kennels first began to form - a permanent boarding kennels close to the children's hospital where long-stay patients and their siblings could house their pets. The Nearys saw the joy Cooper brought to Cian and they wanted other children to experience that.
"For us as a family, these outings and the time Cian spent with Cooper became the basis of lasting, precious memories when Cian sadly lost his battle for life in the early hours of September 23, 2019," his mother said.
As Evelyn explains the months following Cian's death were difficult and setting up a charity wasn't a priority, but they had the idea and people wanted to help. Their pledge to honour Cian's memory by bringing dogs closer to sick children, became a reality in May of this year.
In the months since I covered the story, the kennels opened at CHI Crumlin and now patients and their families from across the country are availing of the service.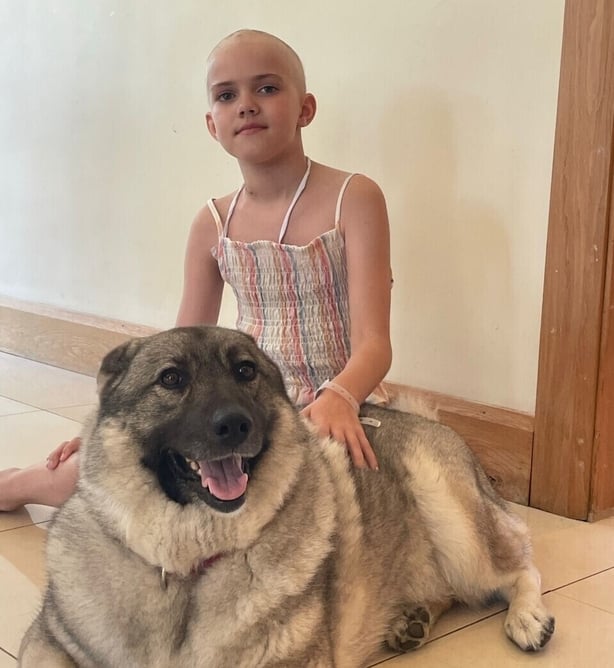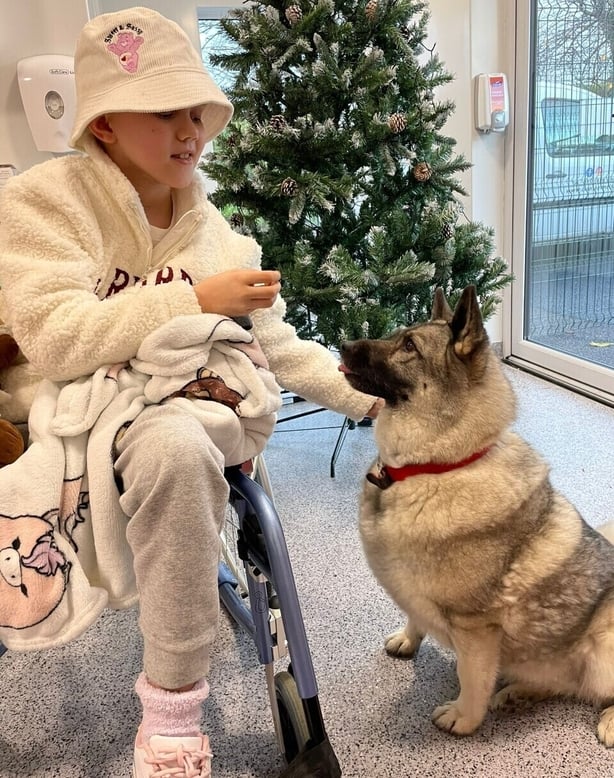 Gina Geagan Witherow from Bundoran in Co Donegal says its's been "amazing". Her 10-year-old daughter Zara was diagnosed with osteosarcoma six months ago.
"We've had a very difficult six months and at the end of October we were told that Zara had to lose her leg due to the aggressiveness of the cancer," she said.
At the end of November, following the operation, the family decided they had to give their daughter a reason to get out of the bed.
"We brought Mika up to see her. She was terrified, and she was in pain," explained Gina.
"Zara will tell you herself the only reason she got out of the bed was because of Mika. There wasn't a dry eye in the place," she added.
At the most difficult time, Cian's Kennels provided Zara and her family with some respite, a break away from bad news, medicine and needles.
"It brings part of your life into a very clinical difficult place, and you have that wee piece of your home there, it was phenomenal," she said.
It's often said that children are resilient but the children on St John's Ward in Crumlin can be in hospital for a long time and being reunited with their pet can mean the world.
"Sometimes we see low mood for several weeks when kids and teenagers are not allowed to leave the hospital for medical reasons because we have to keep them safe," said Dr Chiara Besani, Principal Clinical Psychologist and Clinical Lead in Paediatric Psycho-Oncology with the National Children Cancer Service at CHI Crumlin.
"We've found that by allowing their dog visit, it really helps the kids feel connected. They get out of their room, and they have a magical time with their parents and their dog. It has a huge impact on their mood," said Dr Besani.
"For parents, they see their child smiling again and being happy and it brings a sense of normality too," said Dr Besani.
"It also brings so much joy to other kids. They see another child playing with their dog and it brings everyone joy. Even the staff, who have a very tough and demanding job, it's special for them to be able to share in these really beautiful connections," she added.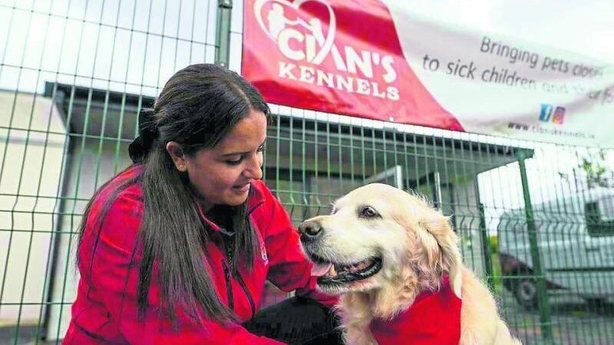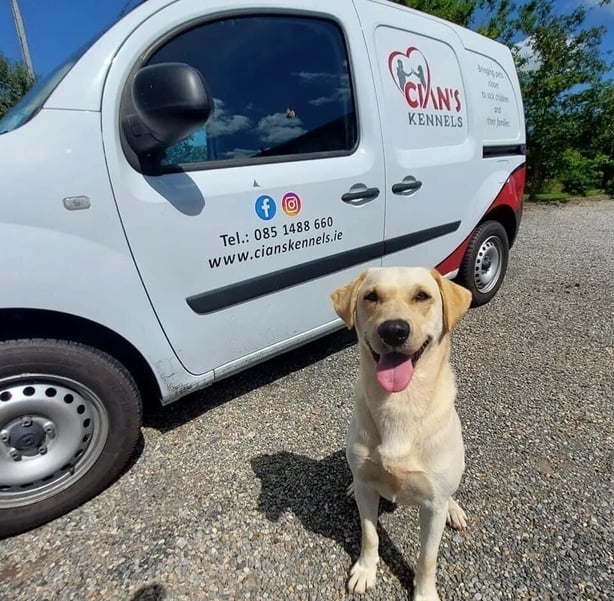 Cian's Kennels is funded completely by fundraising and charity donations. All those involved assist on a voluntary basis. Among them Emma Farrouj, who became a volunteer after hearing about the charity during a radio interview.
"It's heart-breaking and heart-warming all at the same time. I have dogs and I couldn't' imagine being away from them. I know how unconditional that love is," she said
"As a volunteer, I facilitate the visit. We leave the family to have their reunion, but we look after everything including transport if the family need us to get the dog to the hospital," she explains.
The dog can stay at the nearby DSPCA facility for as long as the child remains at CHI at Crumlin and visits will be facilitated as often as the family would like.
"It's very rewarding. Seeing the kids faces light up, it's just amazing. And we're not there to just facilitate a visit. We build relationships with these families too," said Emma.
Back in Killashee, Evelyn Neary is reflecting on the last few difficult years since the death of her son.
"It's like there's two parts of my brain, one is Cian's Kennels and there's no doubt that it brings us great joy. But then there's the other part, the loss of Cian, which never gets any easier."
Christmas time is always difficult but so is every day without Cian. His family have, however, are creating a lasting legacy.
"The reality is Cian started this. He always thought, why can't all the children have their dogs here. We're just continuing what he started," she said.
And so as I reflect on the last 12 months, I think of Cian. In his 15 short years, Cian made a huge impact on all those who knew and loved him. To this day he continues to spread love and joy. A lesson for us all as we face into a new year.