Ghazal and Ali Maher never expected they would move to Ireland.
Ghazal is a dentist and in Kabul she ran a dental business with three clinics and was also a senior university lecturer and academic.
Her husband Ali is a civil engineer and was country manager for an international energy company.
They lived in an apartment with their two young children, Avid, who is six, and Rayan, who is two.
Ghazal remembers how she used to tell her friends: "We have nothing less than Americans and Europeans, look we enjoy everything and we have a very beautiful life, we could never expect these days."
Their lives changed utterly when the Taliban entered Kabul.
They soon learned that the Taliban was looking for her brother, who was a journalist, and for Ali.
"They were coming to my office like every two days or every day, so they were coming, asking for me and they were searching for documents," Ali explained.
"We were so scared and we also watched some of our neighbours and the Taliban came in cars and dragged the men out of the house.
"The ladies were shouting 'let our husbands or our brothers go', but the Taliban took them, and dragged them and who knows, just carried them to the unknown places," Ghazal said.
"Seeing these things and (with) my brother and Ali and because I was on TV on a monthly basis interviewing because of my profession, I was really scared of all these things.
"We decided it is not a place to live for us and we will have to get out of Afghanistan."
---
Read more: 510 Afghans permitted to come to Ireland since August
---
They made it out during the initial evacuation; Ghazal's brother first, and then Ghazal, Ali, their two children and Ghazal's mother, but this journey was fraught with difficulty and danger.
Their first attempt to get to an extraction point failed as they were not allowed in.
While their second attempt was successful, they described being held in a crowded bus for three days waiting to enter Kabul airport.
"It was August. It is very hot in my country. All the doors were closed. There was no food, no water, no toilet facilities and I had these two kids and they were telling us 'you are not allowed to open the doors'.
"There was a lady just shouting. She was saying they have brought us inside this bus because they want to get us killed by a suicide bombing," Ghazal said.
When they finally made it inside the airport and passed the identity and security checks, they boarded the American military plane that would take them out of Afghanistan.
"We were only allowed to take our passports, our computers and our kids and the clothes we had on our bodies, that's it," Ghazal said.
The Maher family are among 510 Afghan citizens who were offered a place on the Irish Refugee Protection Programme and the 394 who have so far arrived in the country.
They are currently living in the Emergency Reception and Orientation Centre in Mosney, Co Meath.
Now, the couple are keen to start rebuilding their lives in Ireland, but Afghanistan is rarely far from their thoughts.
Ghazal speaks of her concerns for the family and friends they have left behind, but also for everyone now living under the Taliban's control.
"I wish it could be possible for all these more than 30 million people to just get out of that land and just leave it, because they are paying the cost on a daily basis," Ghazal said.
Both Ghazal and Ali are planning for their future here.
Ali would like to open a business of his own, saying he would like to" find opportunities for other people to work, create jobs for the people and also find a challenge".
Ghazal is keen to get back to dentistry.
"I will try my best to build my profession here and build my clinic and work," she said.
"I am feeling I am starting to love here as my home, as not only a safe place, but I am starting to love people as my own people so I would love to be able to serve these people."
'It was very difficult to leave my family' - Afghan judge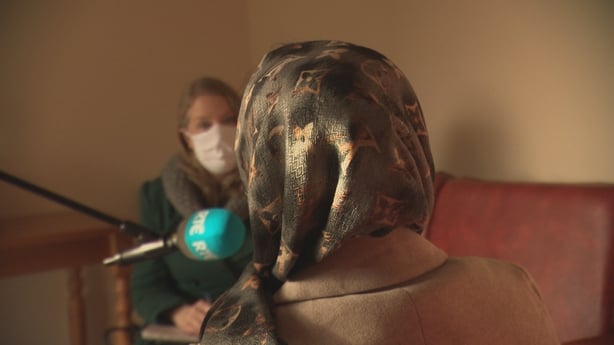 Judge Basiq is one of ten female Afghan judges who have been accepted under the Irish Refugee Protection Programme, and one of eight who have arrived in the country.
She is also one of 270 women who served as a judge in Afghanistan in the 20 years before the Taliban returned to power in August.
She is currently living in the Emergency Reception and Orientation Centre in Mosney Village in Co Meath with her husband, who is also a lawyer, and her two young children.
"They've made friends in Mosney and are enjoying learning English," she explained as we stood on the balcony outside her front door.
She has agreed to speak to RTÉ News so long as we do not show her face. She and her husband have family and colleagues that they are worried about back home.
"It was very difficult to leave my family, my country where I grew up, where I study, where I made my career, that was very difficult, but I had to do that. I had to leave Afghanistan. There was no chance for us to live there," Judge Basiq said.
"I had the passion of being a judge from a very young age. It really is a holy profession," she said.
"I was eager to ensure justice and law in my society, in a society where women were always punished, (were) unseen. I really wanted to be a judge to prove that women can be a judge and work in society in a high position."
It was a profession that put her in the crosshairs of the Taliban long before August 2021.
"When I started my judicial career, from the first time I started working in a court, there the defendants were Taliban members," Judge Basiq said. "I faced many direct and indirect threats."
"Many Taliban terrorist attacks took place on (judges') vehicles, many of my young colleagues were killed there so we faced many threatening situations."
Judge Basiq was supported in her journey out of her home country by the International Association of Women Judges.
"They helped us to leave Afghanistan... also the Irish Government, I thank them for the secure life they provided for me," Judge Basiq said.
She is now hopes to retrain here as a solicitor.
Under an umbrella group the 'Irish Justice Community Response to Afghan Crisis', Irish lawyers and their professional bodies are fundraising to support Judge Basiq and her Afghan peers as they begin a new chapter in Ireland.