A not-for-profit organisation that aims to educate and inspire Irish girls to become the resilient women of the future, has won the Irish Red Cross Humanitarian of the Year Award.
The Shona Project was nominated for the positive impact the organisation has on the lives of girls in Ireland.
It helps girls from the age of 11 who experience bullying, low self-esteem, body issues, anxiety, and depression - particularly through social media.
The Shona Project was launched in September 2016 by Waterford woman Tammy Darcy and is named after her sister.
Between the ages of 13 and 15 Shona started struggling to do normal everyday things and was eventually diagnosed with AVM Arteriovenous Malformations (a type of acquired brain injury).
Her health began deteriorating very quickly and her parents were told that she would likely pass away within a year.
She is now 38-years of age and requires 24-hour nursing care.
Through the Shona Project, Tammy has sought to turn the trauma she experienced as a teen into a story she shares through events, workshops and online.
In the last five years, it established the Shine Festival which has been attended by 40,000 teenagers; a Survival Handbook for Young Girls has been published and in-school workshops at second level and a pilot project at primary level are underway.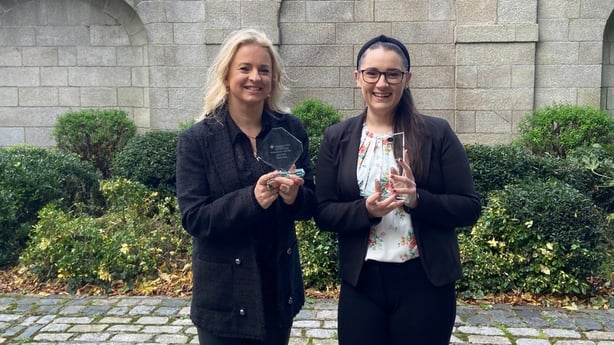 The pandemic has had a "crippling impact" on the self-esteem and mental health of Ireland's young people according to the Shona Project which recognised the shift of teenagers' socialisation from in-school and in-person to online.
The Humanitarian of the Year Award is the highest honour bestowed by the Irish Red Cross on an individual for exceptional humanitarian achievement.
The individual will not only have demonstrated extraordinary leadership but will have made a positive difference in the lives of others. The Red Cross says this individual will also have inspired others to make societal changes a reality
The Shona Project also received the Innovation for Change Award.
This award recognises the achievements of an individual or team who have had a humanitarian impact on society through innovation.