A new schools' antigen helpline had received 7,000 requests for dispatch of test kits by 4pm today, the Health Service Executive has said.
In what was its first day in operation the executive said average call wait times across the day were just under five minutes.
From today, parents or guardians are asked to contact their child's school principal immediately if they receive a Covid-19 positive test result for their child.
The principal then contacts the parents of other children in their child's 'pod' or class - depending on whether there are one or more cases in the class - and those parents are encouraged to order free antigen tests for their children using a freephone number.
Children can continue to attend school while they undergo a number of antigen tests, and the school principal is not allowed to share confidential information related to any child.
We need your consent to load this rte-player contentWe use rte-player to manage extra content that can set cookies on your device and collect data about your activity. Please review their details and accept them to load the content.Manage Preferences
Antigen tests are carried out by parents or guardians, at home, with results coming in 15 minutes.
---
---
As the new system found its feet today, one school principal welcomed the fact that they can now contact other parents when there is a case.
The large midlands school got news of its first confirmed Covid case today.
"This is more work for me contacting parents of children in the pod but it allows for honesty in providing information," they told RTÉ News.
"Not telling parents this important information felt to me like a breach of trust which is fundamental to the confidence parents have in the school."
The principal of a second large primary school, which had five positive cases in one class to deal with today, described the day as "bedlam".
They said that by close of business the school had sent around 100 messages to parents informing them that they should order antigen tests. Around one quarter of its staff too are seeking antigen testing via the new scheme.
'You can't move your fingers, with the cold'
As a new week began, schools continued to struggle with the many pandemic challenges that have been greatly exacerbated by current high Covid numbers, as well as the cold weather.
"It's cold and it's miserable," another school principal said.
"You are trying to do letter formation with small children and you can't move your fingers, with the cold.
"And then you have the anti-vaxxer parents saying close the windows."
The first of a number of HEPA air filters that this school ordered arrived on Friday. The school said it had to dip into school funds that are needed elsewhere, but it felt it had no choice but to do so. Many other schools are doing likewise.
"I can't understand why the Department of Education is not providing HEPA filters as standard," the principal said.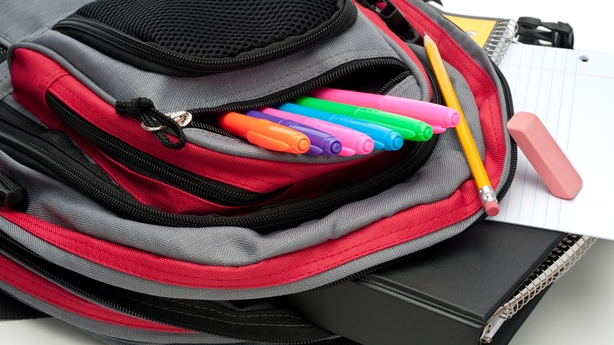 Meanwhile, the Department of Education has told RTÉ News that to date this year 14 schools have applied for additional funding under the emergency works scheme to assist with ventilation.
Ten have been approved, two decisions are outstanding, and two were found to be not ventilation related, the Department said.
"Schools that identify inadequate ventilation in a room can utilise their minor work grant or apply for emergency works grant assistance to address ventilation enhancements on a permanent basis," it said.
Primary schools are awaiting a Government decision on mask wearing for their pupils which is expected this week.
Last week, the National Public Health Emergency Team recommended the wearing of masks for primary school children from third class upwards.
It recommended that children aged nine and over wear masks on public transport, as well as in retail and other public settings where the rule currently applies for those aged 13 and over.
NPHET also proposed that children avoid community gatherings for at least the next two weeks, including communions, nativity performances and other comparable seasonal events.
Emergency measures for teacher substitutes
The Department of Education has announced a number of emergency measures aimed at ameliorating the teacher substitute crisis at second level.
It follows moves last week to address the crisis at primary level.
The post primary measures include the greater use of student teachers, and retirees.
The Department has also lifted restrictions on the amount of hours a secondary school teacher is allowed to teach per week. Teachers usually have up to 22 contact hours weekly but until the end of February they will be allowed up to 35 contact hours weekly.
"This scheme will assist post primary schools to ensure that they can source sufficient substitution cover, in circumstances where schools cannot source cover through the existing arrangements."
However the country's two second level teacher trade unions have strongly criticised the fact that teachers will be paid different hourly rates for this additional work, depending on whether they began working before or after 2011.
The ASTI said the minister was perpetuating pay discrimination by choosing "to construct this scheme on the structures provided by the discriminatory and unequal pay scales that divide and besmirch the profession".
"Lesser-paid teachers will again be dealt a blow that hits them hard in their pockets."
The Teachers Union of Ireland called the move "deeply disappointing".