Britain, currently chair of the G7 group of nations, has called for an emergency meeting to discuss the Covid crisis, after several European countries announced further cases of the new Omicron variant.
"Under the UK presidency an urgent meeting of G7 health ministers will also be convened on Monday 29 November to discuss the developments on Omicron," its health ministry said.
Britain is one of several countries to have announced cases of the new variant on their soil, including Germany, Italy and the Netherlands, even though most European countries have shut down flights from southern African nations, where the variant was first identified.
The head of the World Health Organization in Africa has urged countries to follow the science rather than imposing flight bans in a bid to contain the new variant.
"With the Omicron variant now detected in several regions of the world, putting in place travel bans that target Africa attacks global solidarity," said WHO regional director general Matshidiso Moeti.
South Africa's President Cyril Ramaphosa became the latest leader from the region to denounce the flight ban and the economic damage it is doing to the countries affected.
The WHO on Friday declared the recently discovered strain a variant of concern, but scientists are still trying to assess how dangerous it is.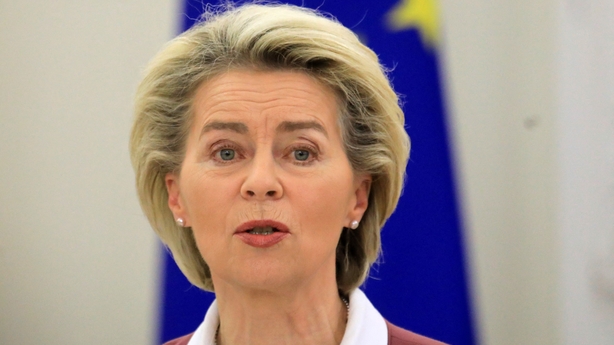 'Race against time' to tackle new Covid variant, says EU chief
European Commission chief Ursula von der Leyen has said the world is in a "race against time" to understand the new Covid variant and, if needed, modify vaccines to counter it.
"We know we are now in a race against time," Ms von der Leyen said during a visit to Lithuania, calling for the public to take precautions to give scientists time to understand the Omicron strain.
"The scientists and manufacturers need two to three weeks to have a full picture about the quality of the mutations of this Omicron variant," she said.
"We need to buy time," she added, urging people to vaccinate, wear masks and practise social distancing.
She said that a contract struck in the summer by the European Commission with BioNTech-Pfizer for 1.8 billion vaccine doses included a clause in case of an "escape variant" - a strain that can evade vaccine immunity.
A clause in the contract states "that if a variant turns into an escape variant... BioNTech-Pfizer is able to adapt its vaccine within 100 days," she said.
We need your consent to load this rte-player contentWe use rte-player to manage extra content that can set cookies on your device and collect data about your activity. Please review their details and accept them to load the content.Manage Preferences

Dutch find 13 Omicron cases among South Africa passengers
Dutch health authorities have found at least 13 cases of the Omicron strain among 61 quarantined passengers who tested positive for coronavirus after arriving from South Africa.
"The Omicron variant has so far been identified in 13 of the positive tests. The investigation has not yet been completed. The new variant may be found in more test samples," the National Institute for Public Health (RIVM) said in a statement.
Dutch authorities began testing for the Omicron variant after 61 out of 600 passengers on board two flights from South Africa to Amsterdam on Friday tested positive for Covid-19.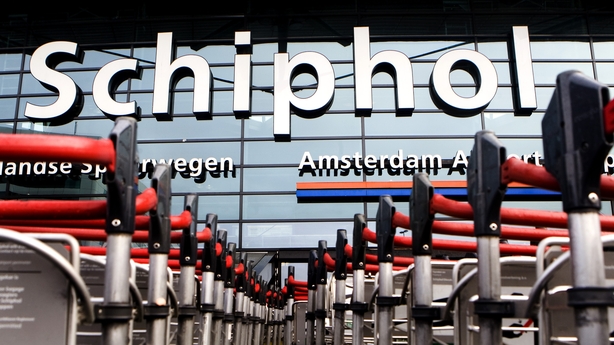 Health Minister Hugo de Jonge made an "urgent request" to people returning from southern Africa to get tested for Covid "as soon as possible".
"It is not unthinkable that there are more cases in the Netherlands," Mr De Jonge told reporters.
"Yes, we are concerned. But how much we don't know yet."
The minister added: "What is important now is that we keep our finger on the pulse, and keep up with the sequencing" of Covid tests to look for the new variant.
The positive cases are being kept in quarantine at a hotel near Amsterdam's Schiphol Airport.
UK detects further Omicron case in person no longer in country
One further case of the Omicron variant has been detected in the UK this afternoon.
The UK's Health Security Agency said that the person had tested positive after travelling to the UK from southern Africa.
The agency said the person is no longer in the UK, but had been in the Westminster area of London when in the country.
The agency said targeted testing would be carried out in areas where the person was.
Britain had earlier confirmed two linked cases of the new variant, connected to travel to southern Africa.
Yesterday, British Prime Minister Boris Johnson outlined measures in response that included stricter testing rules for people arriving in the country, but stopped short of curbs on social activity other than mask wearing in some settings.
England's Chief Medical Officer, Chris Witty, said that there was still much uncertainty around Omicron, but "there is a reasonable chance that at least there will be some degree of vaccine escape with this variant".
Australia detects first Omicron variant infections
Health officials said they have detected the Covid Omicron strain in Australia for the first time in two passengers who were tested after flying into Sydney from southern Africa.
The eastern state of New South Wales' health authority said it had conducted urgent genomic testing and confirmed the new strain was present in the two people who landed in Sydney yesterday.
Both passengers came from southern Africa and arrived in Australia on a Qatar Airways flight via Doha, NSW Health said in a statement.
They tested positive for Covid-19 shortly after arriving, leading to an urgent analysis for possible infection by the heavily mutated Omicron strain.
"The two positive cases, who were asymptomatic, are in isolation in the special health accommodation. Both people are fully vaccinated," NSW Health said.
Another 12 passengers from southern Africa on the same flight did not test positive for Covid-19 but had been placed in quarantine, it said.
About 260 passengers and crew on the plane have also been told to isolate, the health authority said.
The plane with the infected passengers landed on the same day that Australia announced it was banning flights from nine southern African countries including South Africa and Zimbabwe.
The World Health Organization has listed Omicron as a variant of concern and said it could take several weeks to know if there are significant changes in transmissibility, severity or implications for Covid vaccines, tests and treatments.
The arrival of the new variant comes just a month after Australia lifted a ban on citizens travelling overseas without permission, with the country's border also set to open to skilled workers and international students by year's end.
---
Read latest coronavirus stories
---
After more than 18 months of closed borders, fully vaccinated Australian citizens no longer have to seek an exemption to leave the country.
The discovery of the variant has sparked global concern, a wave of travel bans or curbs and a sell-off on financial markets on Friday as investors worried that Omicron could stall a global recovery from the nearly two-year pandemic.
Czech health authorities also said they were examining a suspected case of the variant in a person who spent time in Namibia.
Germany and Italy also confirmed their first cases of the Omicron variant.
The variant was first discovered in South Africa and had also since been detected in Belgium, Botswana, Israel and Hong Kong.
Israel closes borders to all foreigners over Omicron
Israel is to close its borders to all foreigners later today in a bid to stem the spread of the new Omicron variant.
"The entry of foreign nationals into Israel is banned except for cases approved by a special committee," the prime minister's office said in a statement, adding that the measure would take effect on this evening.
Israeli citizens will be required to present a negative PCR test and quarantine themselves for three days if they have been vaccinated against the coronavirus and seven days if they have not.
It was only four weeks ago that Israel reopened its borders to foreign tourists after a prolonged closure due to Covid-19.
The measure was decided by a cabinet committee tasked with overseeing Israel's Covid response and must be approved by the whole cabinet on this morning.
The government's latest announcement came just hours before the start at sundown of the eight-day-long Jewish holiday of Hanukkah, the Festival of Lights.
It already imposed a series of emergency measures late Friday to protect its heavily vaccinated population after identifying a case of the new Covid-19 variant.