An Bord Pleanála has granted planning permission for a multi million euro upgrade of the cable car to Dursey Island on the Beara Peninsula.
It is the country's only cable car service.
However, the decision was against the recommendation of its own inspector who found the proposed increase in visitor numbers could led "to unacceptable indirect impacts on biodiversity."
Cork County Council has welcomed the Board's decision, saying it will now consult with its project partners, Fáilte Ireland, and following this a decision will be reached as to how best to fund and advance the project.
An estimated cost of €7 million was put on the project in 2019 when plans were first submitted.
Local Fianna Fail TD Christopher O'Sullivan described the project as "a massive tourism win for west Cork", saying it will boost tourism in the region.
An Bord Pleanála, in granting planning permission to Cork County Council subject to six conditions, acknowledged that without the proper control of visitor numbers, the project could impact negatively on the local environment, and on the flora and fauna in the area.
With this in mind, it said it was granting permission subject to a cap on visitor numbers at 5,000 visitors during July and August.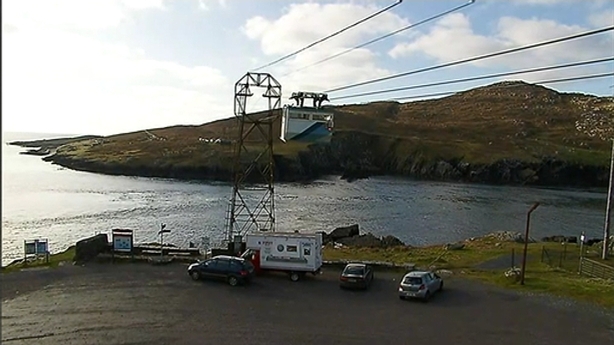 This, together with proposed mitigation measures to protect biodiversity, and the Council's management plan for the site, meant the Board was satisfied "beyond reasonable scientific doubt" to give the project the green light, it said.
The six conditions also include the implementation in full of all mitigation measures covering the environment as well as flora and fauna, a construction environmental management plan for the site, the employment of a qualified archeologist, and the preservation of the existing cable car on the site.
The Dursey Island Cable Car service on the isolated Beara Peninsula has been in place since 1969 and used mainly by farmers but with the success of the Wild Atlantic Way has become a must-visit tourist destination.
The explosion in visitor numbers, however, has led to long delays on the narrow approach roads, and frustration with a cable car system, which can only take six passengers at a time.
In 2019, Cork County Council applied for planning permission to upgrade the service with an estimated cost of €7 million.
As well as a new two car reversible cableway system and supporting line structures, the plans also include operating stations, an interpretive exhibition centre on the mainland as well as a cafe, together with a visitor car park with 100 parking spaces and a single bus bay.
It also includes associated infrastructural works for 10 passing bays as part of road improvement works.