The Economic and Social Research Institute has found that the percentage of people reporting that their Digital Covid Cert was not checked in pubs increased from 21% last month to 37% .
The ESRI's latest Social Activity Measure (SAM) behavioural study said indoor dining/drinking is becoming more frequent across all venues and now accounts for over three-quarters of pub visits .
The findings also suggest that in restaurants 34% of people are not having their Covid certs checked.
The Chief Medical Officer urged people to feel "empowered to leave" if they are in an environment where they are not asked for a Covid-19 certificate, or where hand washing facilities are not present and mask wearing is not as it should be.
In a post on Twitter, Dr Holohan said such environments are riskier than they should be.
Meanwhile, the ESRI said household visits continue to account for many close contact interactions and there has been little change in their frequency following a dip over the summer.
The proportion of these visits occurring outdoors continues to fall, it said.
The research also found that 81% of people are willing to take a booster vaccine, while hesitancy is greatest among 30-39 year olds.
All over-70s in the sample reported willingness to take a booster vaccine.
The most common reasons for unwillingness are not perceiving any benefit, a general dislike of needing an
additional vaccine, and wanting more information, the study found.
The head of the ESRI's Behavioural Research Unit, Dr Pete Lunn, said people need to take more mitigation measures to combat the growing rise in Covid-19 cases.
Speaking on RTÉ's Brendan O'Connor programme, Dr Lunn said people are underestimating how much the basic measures of mask wearing, social distancing and hand sanitising work in combatting the rise in infections.
He said data shows that people are more concerned about the impact of rising cases numbers on the health service and economy, rather than the risk of getting infected themselves.
"All examples point to people using a rule of thumb to assess risk based on how many strangers they are going to come into contact with, and underestimate the chance they will catch the disease from someone they know, which is more likely," Dr Lunn said.
He called for a "bigger behavioural response" and urged people "not be too close to people for extended periods".
Industry concern over possibility of restrictions returning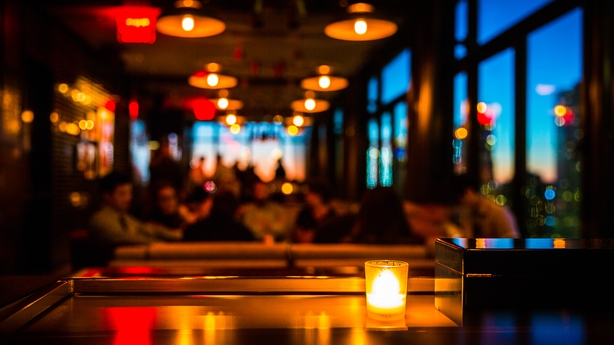 The chief executive of the Restaurants Association of Ireland said that he is 'deeply concerned' at the possibility of the reintroduction of restrictions on the hospitality industry.
Speaking ahead of a meeting with Government officials on Tuesday, Adrian Cummins told RTÉ's Katie Hannon programme that the sector needs "clarity that that is not on the cards for our industry" at a time when 93% of the population is vaccinated.
Mr Cummins said that representatives from NPHET should attend the meeting with industry stakeholders, which has been called by the Department of the Taoiseach, with representatives from the Department of Enterprise also attending.
Mr Cummins said that "the Irish public have stepped up to the plate and we have done everything in our power to live with Covid".
He called for an increase in inspections by the HSE and the HSA and for sanctions for those businesses "not doing the right thing and dragging us down".
Tuesday's meeting is expected to address the inspections of Covid passes at hospitality premises.
Speaking on the same programme, Minister of State in the Department of Education Niall Collins has said the Government has made it clear it is not currently discussing the reintroduction of any Covid restrictions or lockdowns.
He said the Government needs as much buy-in on public health measures from the public and the hospitality industry as possible.
He said that as many hospitality industry representatives as possible should attend Tuesday's meeting and the message needs to go out "we have to be mindful and adhere to guidelines we are being asked to enforce".
Mr Collins said that while there is continued uncertainty around the pandemic and nothing can be ruled out emphatically "the Taoiseach and Tánaiste have been clear that they have not discussed or contemplated any reversals or lockdowns".