Entering the climate summit in Glasgow, you feel entirely disconnected from the city which is hosting it.
A daily negative Covid test, a 12-foot outer fence and an hour long wait inside at airport-style security are all part of the process.
It's a sterile zone, there's tight security and constant checking of credentials.
You're an observer who is constantly observed.
Transparency has been one of the big complaints of this Conference of the Parties, or COP. It's the 26th such annual gathering, so it's COP26.
Delegates representing civic society want to be able to watch, listen and dissect what governments are promising; the commitments they're signing up to.
They've found it difficult to get into some sessions due to social distancing rules, forced to rely instead on web access provided by the conference organisers.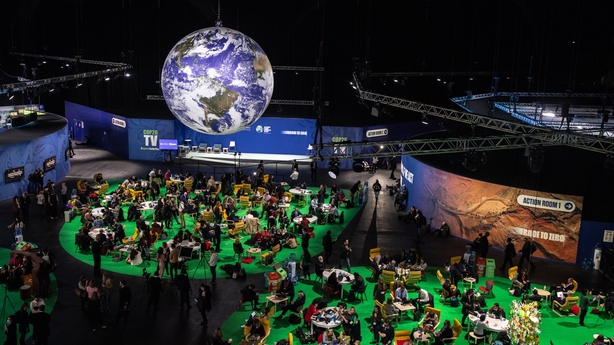 It's not the same - some feel cut off from the process, unable to influence and scrutinise in the way they would like.
The organisers cite the challenges of Covid and social distance, ask for forbearance and promise to look at improving things.
But it's hard to see how all that will change.
A similar sense of disconnect was in evidence on the streets of Glasgow yesterday at the youth rally for climate.
It'll be the same today at the main demonstration, which is expected to draw tens of thousands of people from around the world.
The people affected most directly by climate change in the global south simply do not trust the politicians of the global north to deliver on climate issues.
Several times at the rally yesterday we heard representatives of indigenous people explain how multinational companies had polluted their water and taken their land in the pursuit of profit.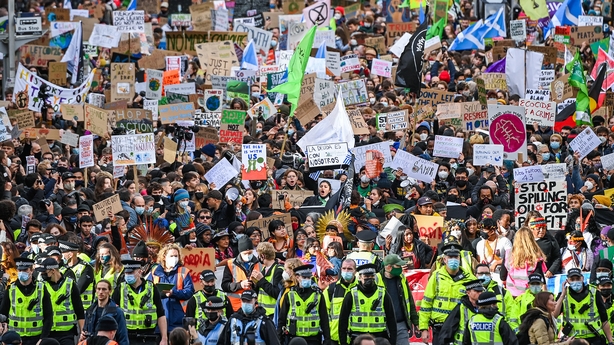 For them it's not just a climate crisis, it's a question of much wider social justice.
The view of Andrea Ixchíu from Central America who spoke to me at the youth rally yesterday is, I think, pretty typical.
I asked her why she had travelled to Glasgow?
"To say that the answers to climate change are not going to be negotiated inside the COP but constructed around people who want these systems to change.
"I think the message we send when we take to the streets is that hope is still alive while we are organising to change the world.
"We have nothing to say to the politicians. It's all just blah, blah blah, as Greta says."
And that is the challenge for the world leaders when they return to Glasgow next week to see if they can agree a communique at what we are told is the "last, best chance" to stop runaway climate change.
How will they convince distrustful activists and people already suffering due to global warming, that they will deliver on the promises that have been made, and will show the ambition needed?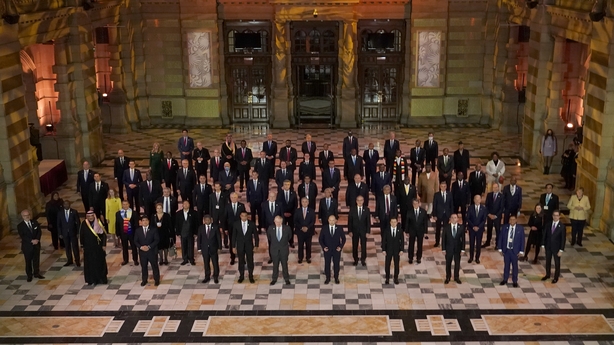 And yet the reality is that we need the big political beasts to have any chance of driving down emissions.
The richest 20 nations in the world - the so-called G20 - is responsible for the vast bulk of greenhouse gas emissions.
If they can be locked into an agreement it has to be an important contribution to the wider effort.
China is part of the G20 and the single biggest emitter on the plant.
It got some criticism when President Xi Jinping did not attend the world leaders' summit at COP26 in person.
But it has now got a net zero target of 2060, and has promised to stop funding coal powered electricity stations overseas and cancel those already planned.
Climate expert Professor Brian Ó Gallachóir of University College Cork, who spent the first week at COP, said that alone could save as much emissions as the entire net zero ambition of the EU out to 2050.
He also points out that China's emissions per person would be much lower than many other western countries, and while they are a big polluter now, they haven't been at it for as long as many others.
It all just shows the complexity of the climate narrative.
What's to stop leaders returning home and doing business as usual?
It would be churlish not to acknowledge some of the commitments made this week. Countries signing up to stop burning coal - though not the ones heavily dependent on it; others, including Ireland, committing to cutting global methane emissions, still others to stopping deforestation.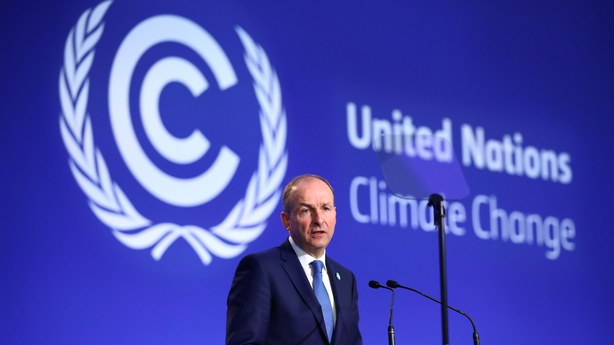 India, one of the planet's biggest emitters, has set itself a net zero target for the first time. It feels it'll be 2070 before it gets there.
How do you measure the effectiveness of emission promises?
Several groups of climate experts have looked at the promises and worked out that if they are all kept, global warming could be held below two degrees against pre-industrial levels - which would be in line with the 2015 Paris Agreement.
When you consider that coming into the climate summit the pre-COP pledges on emissions cuts took us to 2.7C degrees of warming, that feels like a ray of hope.
Which begs the question how do we measure the effectiveness of an emissions promise? What's to stop leaders returning home and doing business as usual?
"I think it's one of the reasons why having an annual event like this on climate change is hugely important," says Professor Ó Gallachóir.
"I can't think of any other topic in politics where global leaders meet every year to see how they're progressing, so they can be tracked.
"And of course, there's protesters outside - there are people who are looking on and that really helps to ensure that what's stated here as ambition is turning into action."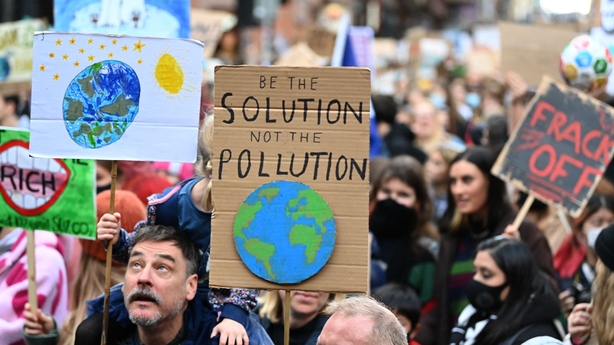 He says people can look to Ireland as an example. A couple of years ago, Ireland coming to COP gatherings was a "bit embarrassing" because of our domestic record on climate action, he says.
Now we have legislation, targets and a plan on how to achieve them, although decarbonising our homes, our workplaces and our transport networks and electricity network will be a huge challenge.
And while there are many challenges, the focus at COP has also been on the opportunities; better air quality, improved health outcomes, new green jobs.
The other thing which struck me this week was the public stance taken by private finance.
The risky businesses now are the ones they backed for years; oil, coal, gas.
People worry about the cost of transition, the hefty price of electric vehicles, the outlay required to replace heating systems for their homes.
They tend to look to government grants as the answer.
But it was clear from COP that such a wholesale change is needed that public finance can't deliver it all.
Much of the burden will fall on trillion-dollar investment funds to back green technologies, and drive down the price, making it simpler for people to make the switch. It's the sort of thing that has happened with renewables, especially wind.
The money men and women were here in number this week. The risky businesses now are the ones they backed for years; oil, coal, gas.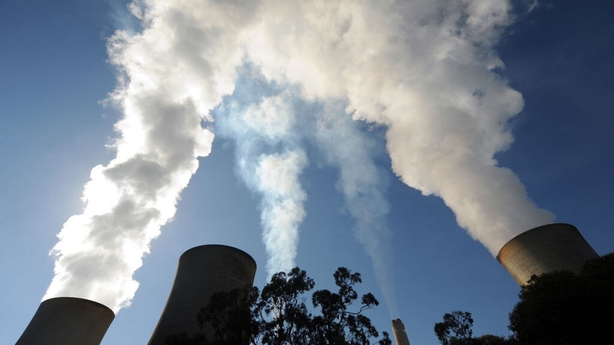 They're still in the money business, but they now see the financial opportunities in the climate business.
That tie-up between corporate finance and climate is something the protesters on the rally yesterday would demonstrate loudly against.
The relentless pursuit of profit, they say, is one of the reasons we find ourselves in the current climate mess.
The venue for the COP gathering was once a bustling dock reliant on energy-hungry heavy industries, like ship building.
It was filled in and built over to provide the cavernous Scottish Exhibition Centre to which the world leaders will return next week.
It is built on the banks of the Clyde, a river once synonymous with industrial might.
Next week we'll know if the river and the city it flows through can enter the climate lexicon in much the same way as Paris did six years ago.