Businesses such as nightclubs that are due to reopen on 22 October can only do so once vaccine certificates are produced, Taoiseach Micheál Martin has said.
Outlining the Government's revised reopening plan, the Taoiseach said that everything that has reopened will stay open.
Today's plan includes the return of normal trading hours in bars and restaurants, but a table service only policy will remain with a maximum of ten adults at a table. When children are included, this rises to 15.
Pub customers will still not be able to sit or stand at the bar counter.
The continued use of masks, vaccine certificates and physical distancing measures are expected to remain in place until February.
"The further easing of restrictions planned for 22 October can proceed with the extension of some non-pharmaceutical interventions including use of Covid-19 pass in light of the high level of disease in the community at this point in time and the uncertain trajectory of the disease," a Government statement said.
"Sector-specific guidance and protocols, including with regard to work, hospitality, cultural and sporting events will be reviewed and strengthened where appropriate. Compliance activities will be reinforced by relevant bodies, and through wider public and stakeholder communications," it added.
The Taoiseach also said Covid passes will not apply for outdoor events.
Fixed capacity will no longer apply for indoor and outdoor activites but protective measures must be put in place, and where groups are mixed indoors, pods of six will apply, he said.
Theatres and music venues will only be allowed to operate if fully seated, while religious services and weddings can proceed without capacity limits under today's revised opening plan.
Taoiseach Martin says, based on NPHET advice, businesses that are due to reopen on 22 October, can only do so once vaccine certificates are produced. He added, fixed capacities will no longer apply for indoor or outdoor activities and return to work measures will continue. pic.twitter.com/jxU5jKmFE0

— RTÉ News (@rtenews) October 19, 2021
---
Are businesses actually checking for Covid certs?
---
Table service decision 'devastating' blow to pub industry
The Vintners' Federation of Ireland said the news that pubs must continue with mandatory table service while not permitting customers sit or stand at the bar counter until next February at the earliest is a devastating blow to a sector that was expecting to see all restrictions removed this week.
The VFI said maintaining restrictions will result in further pub closures as mandatory table service significantly reduces capacity in venues.
Some publicans will also choose to temporarily close their businesses as they are unable to break even in the current environment, the federation added.
It said the decision not to ease restrictions is a direct result of Government failing to deal with the small percentage of people who remain unvaccinated and who have a disproportionate impact on hospitalisation numbers.
VFI's chief executive Padraig Cribben said that over 92% of people are vaccinated so mandatory table service could have been easily removed by limiting entry to customers with vaccine passes.
"Instead, Government has guaranteed the closure of more pubs over the coming months," he stated.
Describing the return of normal trading hours as "a fig leaf" for the fact bar counters remain off limits, he said this restriction alone will mean pubs can not operate at full capacity and will make continued trading impossible for many of the VFI's members.
"We also have to contend with the glaring anomaly of nightclubs reopening where, according to the Taoiseach, people will be permitted to dance while customers in pubs won't be allowed sit at the bar counter," he said.
Today's decision to keep mandatory table service and prohibit use of the bar counter will close more pubs across the country. Impossible for many to continue trading with built-in capacity limits until next year. pic.twitter.com/0ozxBe5AFY

— VFI (@VFIpubs) October 19, 2021
"The pub trade has battled with uncertainty since March 2020 and today's news will only deepen the worry for publicans and their staff. In a sector that is struggling to find and retain employees these developments will only exacerbate staffing problems," he added.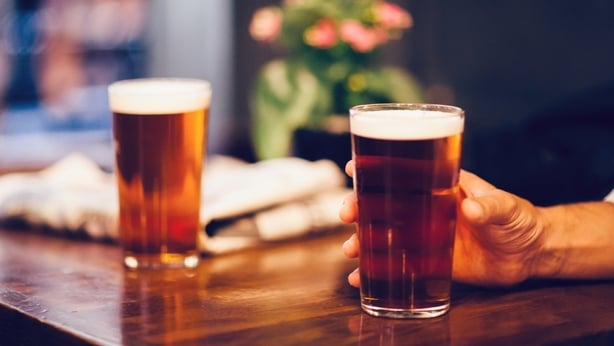 Government has no plan for the return to normal trading in pubs - LVA
The Chair of the Licenced Vintners Association said the mood of his members is one of "peak frustration".
Noel Anderson, who also owns the Lemon & Duke and The Bridge 1859 pubs in Dublin, told RTÉ's Drivetime that he is down hundreds of thousands of euro after cancelling a huge amount of bookings following today's announcement.
Mr Anderson said he has had to cancel a huge amount of events and Christmas parties because he can only have 10 people at a table and no group bookings.
"Confusion is the word of the day," said Mr Anderson, who added there are an awful lot of anomalies in the measures announced today.
He said if service at bar counters is allowed in nightclubs, then it should be allowed in pub settings.
Hoteliers welcome expansion of gatherings
The Irish Hotels Federation has welcomed the decision by Government to increase the size of indoor gatherings from 22 October.
"We recognise the difficult balance the Government has to achieve in reopening the economy and are fully committed to continuing to play our part in ensuring public health is to the fore of everything we do," said Elaina Fitzgerald Kane, President of the IHF.
However, Ms Fitzgerald Kane said she is concerned about the gradual wind down of business supports.
"The retention of restrictions means that the economic circumstances on which the decision to withdraw supports was based no longer exist.
"Instead, we are facing the kind of cliff-edge in December that the Government assured us we would avoid," she said.