"If you are running a business or any sort of event that is bringing people indoors, you must check for proof of vaccination and enforce the rules."
Those were the words of Taoiseach Micheál Martin today.
He said that the sectors of the economy that are due to reopen on Friday, such as nightclubs, "may only do so on the basis that all customers must produce their proof of vaccination and identity."
Proof of vaccination - in the form of Digital Covid Certs - has been required for customers to eat or drink in cafes, pubs and restaurants since July. But are they really being checked?
Prime Time spent yesterday evening on the streets of Dublin city centre asking people who were out dining and drinking if they had been asked to produce their Covid certs.
Although it was far from a representative sample, it seems clear that there is a very mixed approach when it comes to checking for Covid certs.
Some young people said they had been in a few different establishments yesterday where they were not asked for Covid certs at all.
"We were sitting inside and they didn't ask - they didn't question it. We were just allowed sit inside," said one man.
His friend added: "We haven't been asked no matter where we have gone really."
Tourists are back in Dublin and many of them said they have had mixed experiences where they were asked in some places - and that there were no checks in others over the last few days.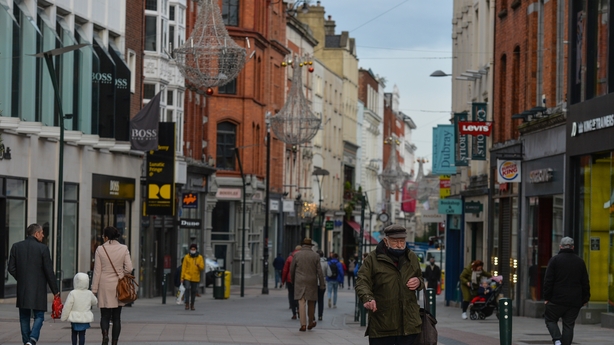 A Dutch tourist, however, said he found people checking everywhere and added: "They all checked. Irish people are very strict. I don't know why, but they are unbelievably strict. They apply the rules all the time. They are completely different than the Dutch."
Another young couple said that while they had been asked to produce their certs in most places, they have also walked away from places where there were no checks, since they wouldn't feel comfortable there.
Still apprehensive about going into crowded places, they told Prime Time that they saw establishments that properly checked for Covid certs were more likely to be safer and controlled environments.
Throughout the pandemic, the Economic and Social Research Institute (ESRI) has been recording the public response to various Covid-19 guidelines through its Social Activity Measure behavioural study.
In August, the study found that, since the reopening of indoor dining the previous month, 30% of people attending restaurants and cafes reported that their Digital Covid certs were not checked.
Issues around some businesses not checking certs highlighted by the ESRI report were clearly still evident in the capital yesterday evening.
Given that large swathes of the hospitality industry have been through the most difficult 18 months imaginable, a lot of people are sympathetic to them as they have had to cope with a constantly changing regulations and guidelines.
At today's press conference, the Taoiseach said, "To stay open we need everyone to enforce and respect the rules."
Going on what has happened to date, it remains to be seen if all businesses will heed that advice.