The Minister for the Environment and Climate has told the Dáil that the role of data centres in enterprise policy will be reviewed shortly.
Eamon Ryan also said that the Commission for Regulation of Utilities plans on publishing its data centre connection policy next month.
Eirgrid has been tasked with developing a future electricity supply plan, which will also be published next month, the Minister said.
This morning the Social Democrats tabled a Dáil motion to pause building more centres.
They want time to assess how these centres are affecting the country.
"The wider policy and regulatory context have shifted since 2018", the Minister told the House.
"And we now need to ensure better alignment with electricity ambitions, reductions and security of supply challenges", he said.
He also insisted that Government is planning for the increased energy demand from data centers.
However, Mr Ryan admitted that Ireland is facing "real short term challenges" to electricity supply.
Eirgrid estimates that data centres will account for 25% of electricity usage by 2030.
Minister Ryan said that "far from ignoring the issue, it's been centre stage in our plans to manage our energy system".
He said that "unplanned technical failures on two of our largest gas plants" had contributed to the short term challenges.
The Green Party leader insisted those challenges are not the result of demands placed on the grid by data centres.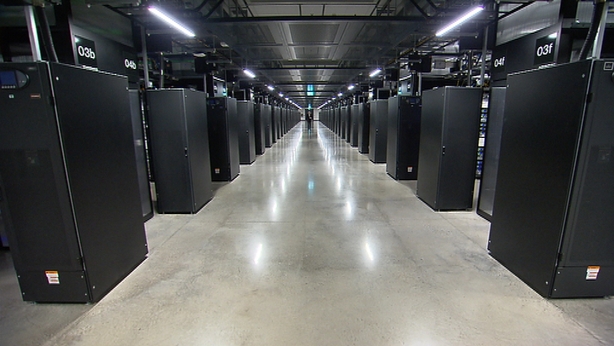 But the Opposition was not impressed.
Sinn Féin's Darren O'Rourke accused the Government of acting in a "reckless" and "dangerous" manner,
It's "high-wire act" now "risks the lights going out", and provoking "widespread social unrest", he warned.
A single centre might - in a single day - use up up to five million litres of water during a heat wave, Deputy O'Rourke added.
That is more than forty times the amount an average household uses in an entire year.
The "rampant" expansion of data centres had resulted in an increase in demand equivalent to the usage of 560,000 homes in recent years, he noted.
The Social Democrats emphasised that Dublin is "the largest data centre hub in Europe".
There are 70 centres in Ireland, the vast majority in the capital, Róisín Shortall, party co-leader, said.
She warned of "blackouts and widespread fuel poverty" if they are not managed properly.
The term "cloud" obscures the reality of bricks and mortar data centres, she said, accusing the Government of "greenwashing" the issue.
She added that you could be forgiven for thinking that the Government is "putting the interest of tech companies" ahead of those of citizens - and of the planet.
"Are a relatively small number of jobs worth it?" Deputy Shortall asked.

There is no coherent strategy, and a total disregard of climate targets and ill-equipped infrastructure, she said.
Social Democrats TD Jennifer Whitmore has said that there needs to be a temporary pause on the expansion of data centres.
Speaking on Morning Ireland, Ms Whitmore said: "I think what we've seen and what seems to be in EirGrid's report today is that there has been unsustainable growth in the data centre sector.
"In order to solve this problem, there needs to be a temporary pause on the expansion of data centres and their energy requirements and that pause will enable the government to plan properly for it.
"I think it's absolutely clear the Government to date has not planned properly for it and there has been no strategic oversight of the impact of these data centres."
Ms Whitmore said the Government needs to carry out an economic, social and environmental risk analysis in relation to data centres and their impact and that such an analysis could inform the length of any pause of their expansion.
She that it could be the case that there needs to be a guarantee that renewable energy infrastructure will be in place.
Ms Whitmore, who is the party's spokesperson on climate, bio-diversity and communications networks, said that over past four years it has been reported that the increase in data centre energy usage is equivalent to that of 560,000 homes.
This is putting a huge amount of additional pressure on the national grid, she added.
"They are not resource neutral they use a lot of energy, a lot of water."