Irish Water has said this evening that it is engaging with all local authorities to stress the need for timely reporting of any incidents that arise in water treatment plants.
It also said it is working with the Environmental Protection Agency to put measures in place to prevent a recurrence of last month's incidents in Gorey and Ballymore Eustace.
Unsafe water entered the public drinking water supply at the Ballymore Eustace water treatment plant and at the Creagh water treatment plant serving Gorey in Co Wexford last month, the EPA confirmed.
"In both these cases, late notification of the issues relating to the disinfection process at the plants potentially put public health at risk," Irish Water said.
There was 52 confirmed cases of illness associated with the Gorey outbreak, including bacteria linked to E. coli, with a number of associated hospitalisations.
Earlier today, the Minister for the Environment Eamon Ryan said the Environmental Protection Agency's harsh criticism of the "abject failures" at Irish Water as a result of the systematic failures at the water treatment plants in August, was "appropriate in this case".
The EPA confirmed that 900,000 water consumers were left unaware that unsafe water entered the public drinking water supply last month.
Speaking on RTÉ's News at One, Mr Ryan said that the key response to this now is for the EPA and the Health Service Executive to do a full and immediate audit of the two plants impacted last month and also of the other 18 plants to ensure the operational mistakes that occurred here are not seen elsewhere.
---
Gorey residents recall 'horrendous' E.coli infections
---
Minister for Housing and Local Government Darragh O'Brien said such incidents cannot happen again and said he has insisted that Irish Water engineers are given uninhibited access to the top 20 plants in the country to mitigate the risk of such an incident happening again.
The minister also said his department is working with unions and management to progress to a single water utility.
Earlier, Irish Water Managing Director Niall Gleeson said the incidents "shouldn't have happened" and steps are being taken to ensure that these failures cannot happen again.
Speaking on RTÉ's Morning Ireland, Mr Gleeson explained that a number of reporting failures at a local level led to a delay in Irish Water being informed of the breaches, and by the time it was informed on 26 August, the untreated water had already been flushed through the system.
Therefore, he said, there was no advantage in issuing boil water notices.
"We need to be told straight away when these issues occur … we should have known the reporting protocols were not followed," Mr Gleeson said.
Although Irish Water immediately notified the EPA and the HSE of the incident, he said that this should have happened sooner, when untreated first water went into the system.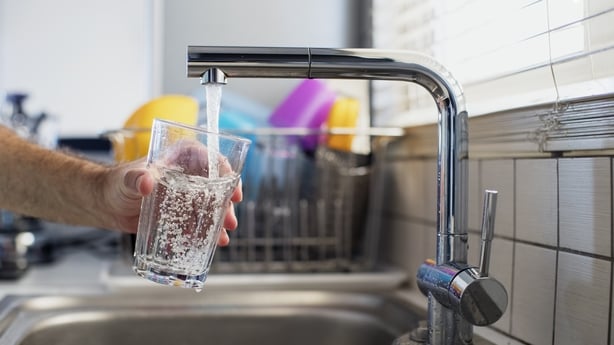 Mr Gleeson said that an investigation is under way to see why Wexford County Council did not inform Irish Water of the breaches sooner, adding there were "communication issues" within the council.
He explained that there was an issue with a process at the Gorey water plant, and with alarms, adding that secondary indicators should have been picked up.
Mr Gleeson said he accepted the criticism of the EPA, and that Irish Water held a meeting with the chief executives of both Dublin and Wexford councils on Saturday, where it was agreed that remedial actions that will be taken.
This will include "reminding operators to keep communicating with us and pass on information as soon as there are issues".
Mr Gleeson said that Irish Water wants to see a single organisation responsible for providing water services in Ireland and that this will improve organisational efficiencies and control.
Gorey-based Fianna Fáil Senator Malcom Byrne said public trust in water supplies has been damaged and work must be done to restore that confidence.
He was speaking after a virtual meeting between Irish Water officials and local representatives from the areas affected by the incidents.
He said while Irish Water has apologised for what happened, there is a "lack of trust in the water supply in the north Wexford area because of what happened here and it is incumbent on Irish Water and Wexford County Council to rebuild that trust, to explain exactly what happened, to explain the failure in communication."