Several hundred people gathered at the GPO in Dublin this afternoon to protest against the Taliban regime in Afghanistan.
They called on the Government not to recognise the new Taliban government and denounced its record on women's rights.
The placards at the rally at the GPO on O'Connell Street in Dublin included many condemning the Taliban's denial of women's rights.
Most of the protesters were drawn from Ireland's Afghan community, many of whom came to Ireland when the Taliban took power in Afghanistan in the 1990s.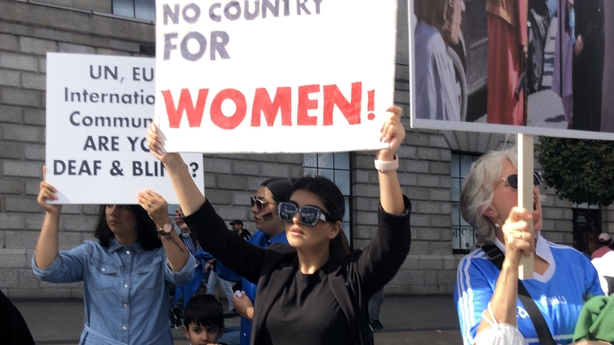 Beshta Bakhshi, who came to Ireland as child when the Taliban were first in power, said: "Women in Afghanistan, in a week they have been stripped of their rights for education, right to freedom and right to work.
"Everything they built over the last two decades has been taken away in a week from them. And we have no government, no supporting body to back us up. All this hard work that they worked for over twenty years has been taken away by a minority group."
Sayed Tarid Sanai, an Afghan journalist who came to Ireland in 2019, said he fears for his colleagues in Afghanistan, saying they have been silenced.
"Most of my colleagues, they have been punished by the Taliban and most of them try to escape from this situation."
It is also getting harder for Afghans in Ireland to keep in touch with relatives at home.
Beshta Bakhshi explains that while technology has made it easier to contact people the Taliban are now using technology to track people "They have this new technology where they can ping IP addresses, as they do here now, they have locations for people and we have limited contact with them."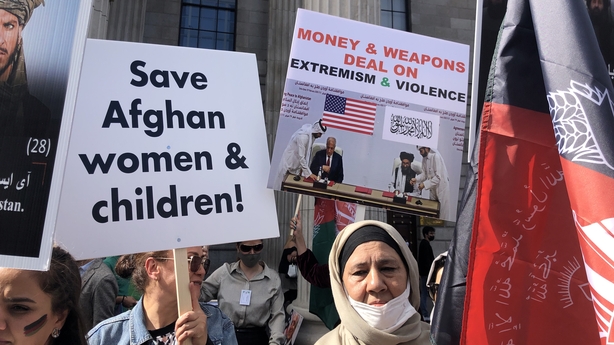 For Sosan Bakhshi, who has family in the Panjshir Valley where fighting has continued, this is a fraught time.
"We don't have any news from them right now. They have stopped internet, they have stopped the connection. If we do any contact with any of them, they will find them by (IP) address, so we have no connection with my family".
The organisers of the Dublin rally have called on the international community to intervene to stop the attacks in Panjshir, which they describe as genocide. They also want it to support those who are continuing to fight the Taliban.
The Afghans at the rally are asking the Government here not to recognise the Taliban regime and to speed up the process for visas to allow people to come here from Afghan saying the normal procedures are not appropriate as many people do not have access to papers usually required as part of an application.