The Department of Health has confirmed 1,413 new cases of Covid-19.
There are 290 people in hospital who have tested positive for the disease, down two since yesterday. Of these, the number receiving treatment in intensive care has increased by two to 67.
The five-day moving average is 1,395. A week ago, it was 1,407.
Northern Ireland reported 1,071 new infections alongside five further Covid-related deaths.
Almost 93% of Ireland's adult population have received a first dose of Covid-19 vaccine, while over 90% are fully vaccinated, according to the Health Service Executive Chief Executive Officer.
Speaking on the Six One News, Paul Reid said said the public can take great confidence from the uptake and the success of the vaccination programme, in terms of reducing illness, reducing harm and reducing mortality.
However, he added that the health system has to continue to plan around Covid-19 to protect patients and the public.
Stormont Health Minister Robin Swann confirmed his department has requested military assistance for the Northern Ireland health service.
"Our health service is under pressure as never before," he stated.
Earlier, the National Public Health Emergency Team recommended that the Government proceeds with its plan for a further lifting of restrictions from next Monday.
The requirement for children who are deemed to be close contacts of a confirmed Covid-19 case to be tested and to restrict their movements may also cease at the end of this month.
NPHET member Professor Philip Nolan said: "We are seeing a slow improvement in the overall epidemiological situation, with incidence, numbers in hospital and daily admissions to hospital decreasing.
"The number of people in ICU remains high, and it will take a number of weeks for decreasing incidence before we see a significant decrease in the numbers requiring critical care."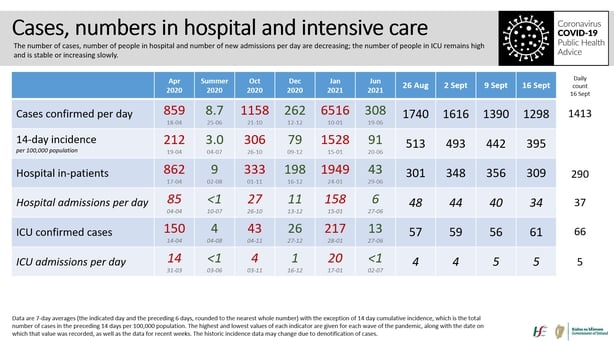 He said while there has been a "huge increase" in demand for testing in children aged 5-12 - with the numbers quadrupling over the past three weeks - it had yielded a "much smaller increase" in the number of infections detected.
Pro Nolan added: "It is likely that there is at worst a modest increase in incidence in children of primary school age coincident with the opening of schools."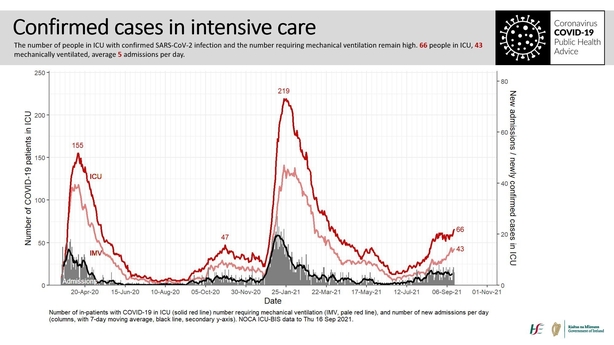 Also today it was revealed that over a third of the €900 million plus spent on personal protective equipment by the Health Service Executive last year had to be written off.
Seamus McCarthy told the Public Accounts Committee that the Health Service Executive spent much of the money on PPE early on in the pandemic "when demand internationally outstripped supply and prices were abnormally high".
---
---
Elsewhere, thousands of health workers across France have been suspended without pay for failing to get vaccinated against Covid-19 ahead of a deadline this week.
It is estimated that roughly 12% of French hospital staff and around 6%of doctors in private practices have yet to be vaccinated.
Meanwhile, Italy is set to make the country's anti-covid "green pass" obligatory for all employees, in a bid to boost vaccine rates ahead of the winter flu season.
The law, which would penalise workers who are unvaccinated or do not have proof of a recent negative coronavirus test, is expected to come into effect on 15 October.