More than a third of the over €900 million the HSE spent on personal protective equipment last year had to be written off because of the large quantities purchased and the high prices paid, the Comptroller and Auditor General has said.
Seamus McCarthy told the Public Accounts Committee that the Health Service Executive spent much of the money on PPE early on in the pandemic "when demand internationally outstripped supply and prices were abnormally high".
At the end of 2020, two thirds of that stock remained in storage, he said.
Health Service Executive CEO Paul Reid said the HSE has "significant work to do" on procurement processes.
"I want to acknowledge that up front. It is something we are giving a lot of attention to," he said.
Sinn Féin TD Matt Carthy said that of the 2,200 ventilators - for which the HSE paid €81m - 1,735 were not delivered, and asked if any of that money was recovered.
Mr Reid said the HSE was "facing the prospect of 40,000 deaths when the purchases were made".
"We were dealing with harrowing images," he said.
"We know that Ireland, from an ICU perspective, we don't benchmark strong at all by international comparisons with our ICU facility," he said.
He said the latest figures show that €35m is outstanding - down from the provision of €42m the HSE had previously calculated.
"We are expecting imminently a recovery of another €11m that we expect to get very shortly," Mr Reid said.
He said some other costs on PPE supplies have been recouped.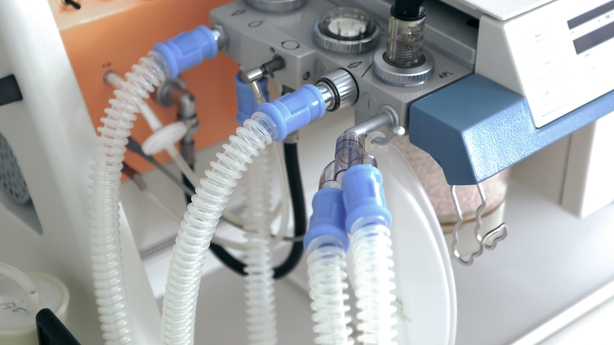 ---
HSE chief says cost of cyber attack could reach €100m
---
HSE Chief Financial Officer Stephen Mulvany said that this will leave €23m spent on ventilators for which "value was not gained".
Mr Mulvany also said the HSE had "fully exhausted" its regular suppliers before it approached new suppliers.
There is a cost of €310m, a write down of almost two thirds (63%), because the items were worth less at the year end than when they were purchased, the Comptroller and Auditor General told the committee.
This "impairment charge" reflects "the change in unit prices", he said.
There will be an additional cost of €64m for 2.5 million "disposable protective suits" which will not be used. Mr McCarthy said the HSE calls this "anticipated obsolesence".
Mr McCarthy said the HSE maintains it bought the suits "when there was a shortage of more clinically appropriate gowns".
That comes to write downs totalling €374m on a €900m spend.
---
---
He expects that a review which the Minister for Health ordered will deliver "important lessons" about "the effectiveness of procurement controls and stock management on the achievement of value for money."
That review was being finalised as Mr McCarthy compiled his audit.
Overall, he said, the HSE spent more than €21bn last year, an increase of €3bn compared to 2019.
Mr McCarthy said the increase was driven by the pandemic, but noted that his report on the HSE includes "a number of unusual transactions".
His office is also examining pre-payments of €81m which the HSE made to ten companies - none of which it had dealt with before - for ventilators.
More than half of this amount might not be recovered.
"Some of the orders were fulfilled, but following testing the HSE decided that the ventilators...were not suitable for use as intended", he said.
The HSE cancelled the other orders, and sought refunds.
At the time the C&AG compiled his report, he said all the money spent had not been refunded, and a provision has €42.5m has been made to cover this.
He also said that the HSE's estimated rate of 10% non-compliance in procurement may not reflect "the scale of the underlying problem".
Mr McCarthy also told the PAC that "an alleged payroll fraud" at a Health Service Executive hospital has been referred to An Garda Síochána.
"Significant weaknesses" in internal controls at a HSE hospital resulted in "an alleged payroll fraud by an individual staff member that had continued over a long period", Mr McCarthy said.