An inquest has begun at the Dublin District Coroner's Court into the death of baby Laurence Somers on 28 January 2018, five days after his birth.
He was around 11 days overdue and Gráinne Somers from Kilkenny had an emergency Caesarean section performed at St Luke's General Hospital in Kilkenny.
Baby Laurence went into foetal distress and he was transferred to a Dublin hospital for specialist cooling therapy.
After five days, care was withdrawn and he died.
Ms Somers told the inquest today that she was attending St Luke's Hospital in Kilkenny during this second pregnancy.
Ms Somers said that when she attended St Luke's for various checks she was seen by a Senior House Officer, but not a registrar or a consultant.
Ms Somers told the inquest she had never seen a senior doctor for the entirety of her care.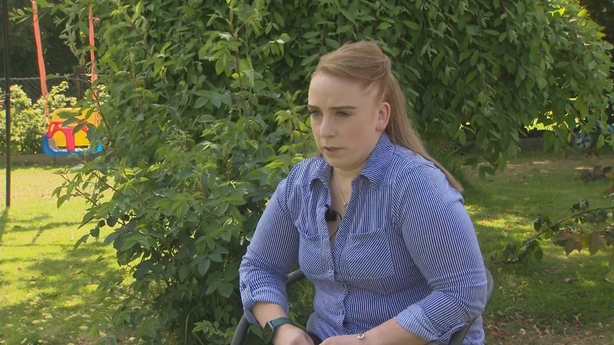 She had been found to have certain antibodies in her blood which needed monitoring in case it led to the baby having anaemia.
When she attended St Luke's on 22 January 2018 experiencing contractions, she was told these were Braxton Hicks Contractions and was told to return the following day.
Ms Somers told the inquest she was in complete shock at being sent home, as she had been previously advised that she would be induced that day.
The following day she woke at about 5.30am in pain which increased in intensity. and she went to the hospital at 10.30am and had to wait for some time to be assessed.
She was told she was in labour and it was decided that her waters should be broken.
Ms Somers told the inquest that when her waters were broken, the room erupted into a frenzy of panicked activity filled with several medical and midwifery staff.
She was told she would need an emergency Caesarean section.
She said that she knew something was wrong but no one would tell her anything. Ms Somers said the atmosphere in the room was terrible.
Baby Laurence was born at 11.56am in an asphyxiated state. Ms Somers said that when she woke up in the recovery room, she was in horrific pain.
She said she was not told at the time how seriously ill baby Laurence was and that he had been resuscitated.
She was told he would be taken to a Dublin hospital for cooling therapy.
At 8pm, baby Laurence was brought to her room in an incubator and it was the first time she had seen her baby.
Ms Somers said she was put in a room for that evening surrounded by mothers with newborn babies and it was devastating as her baby was miles away.
On 28 January 2018, baby Laurence suffered seizures and had an acute deterioration in his condition.
Doctors advised that further intensive care would be futile and with her husband Laurence Senior, the family had to make the devastating decision to withdraw care.
"How could a normal pregnancy end up with us not taking our son home in a car seat and instead in a tiny white coffin," she told the inquest.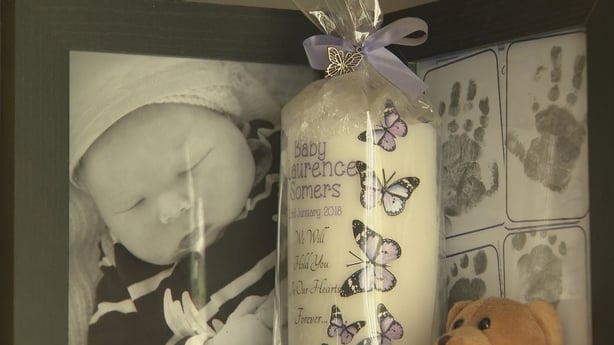 Ms Somers said it has been a long three years and six months waiting to get answers and the family hoped to get closure as to why a perfectly beautiful baby boy died.
Also giving evidence at the inquest was Professor John O'Leary. The pathologist told the inquest that he conducted the post-mortem examination.
He told the inquest this was a normal pregnancy up to the time of delivery.
Professor O'Leary said that in his examination of baby Laurence, he was found to have hypoxia (a shortage of oxygen in the blood), cardiac ischaemia (reduced ability of the heart muscles to pump blood) and had experienced an episode of foetal distress.
Anne McKinley, midwife at St Luke's, told the inquest that the policy is to have an ultrasound done if a pregnant woman is ten days post term.
She said this is usually done by the duty doctor.
Ms McKinley said she was not aware that an ultrasound had not been done for Ms Somers but it was not her role to do it.
Midwife Mary T Hennessy told the inquest that on 23 January 2018 she was concerned about the abnormal cardiotocograph (CTG) for Gráinne Somers and the foetal heart rate.
She contacted the obstetric registrar at around 11.16am.
He arrived at about 11.21am and a decision was taken by the obstetric registrar to move Ms Somers to a labour room and to break her waters and assess them.
The CTG continued to be of concern and was disimproving, so a call was made to prepare for a Category 1 emergency Caesarean section, requiring immediate delivery within 30 minutes.
Ms Somers was brought to theatre.
Meanwhile, Coroner Dr Crona Gallagher said she wanted to acknowledge that the Somers family had waited long and hard for the inquest and she wished to acknowledge the forbearance and understanding for the length of time taken to have the inquest.
The inquest was adjourned this afternoon until tomorrow morning.