The much-anticipated latest novel by Irish author Sally Rooney has gone on sale at bookshops around the country.
Many outlets even opened early to allow customers get their hands on a copy of 'Beautiful World Where are You'.
The owner of the Castle Bookshop in Ms Rooney's home town of Castlebar, Co Mayo said there was "great anticipation and excitement" in the town as the book went on sale.
Speaking on RTÉ's News at One, David Brennan said there were people outside his shop before 9am this morning waiting to get their hands on the novel.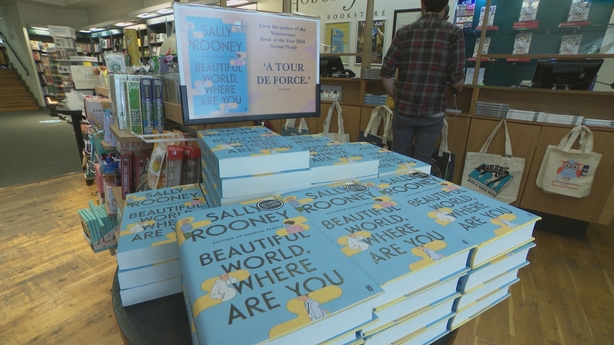 Mr Brennan said that such is the interest in the follow up to Normal People that he thinks this will be her most successful book to date.
"Given that Sally is from the town itself, people are so proud of it and all she has achieved and have been really excited to get their hands on her latest book," he said.
---
Reviewed: Beautiful World, Where Are You by Sally Rooney
---
The Castle Bookshop owners helped to launch Ms Rooney's debut novel Conversations with Friends and the follow-up smash-hit book, Normal People.
Normal People also spawned a critically acclaimed TV series of the same name.
"She kind of made it instantly, but she has certainly been able to back it up and I think this is going to her most successful, judging by the huge amount of excitement that has been generated," he said.
Mr Brennan said that it was really special to be able to offer some signed copies of the new book, but they have sold out to customers who he said "really cherished it".
He described Sally Rooney as "the most influential author in the world at the moment" and that despite early demand, the bookshop began sales just today.