You're a young writer, your debut novel is a hit and the follow-up becomes an international sensation, receiving multiple nominations and awards, spawning a hit TV series, launching the careers of several young actors and giving a world in lockdown something other than Covid to talk about. How do you follow that? Well, if you're Sally Rooney, you write a novel where one of the main characters is a young author who has achieved international success. The only problem is, Alice is not very happy about it.
Beautiful World, Where Are You – no question mark – features a cast of characters who will certainly appeal to Rooney's many fans, but are a little further along the road towards adulthood than Connell and Marianne. Friends Alice and Eileen are negotiating the post college, early work years with varying degrees of success while Simon, a childhood friend of Eileen's has reached the dizzying heights of lanyards and conference trips to London. Felix, on the other hand, a young man who Alice meets online is coasting along with a manual job in a warehouse. This novel is a Venn diagram of their relationships, observing the women, the couples and sometimes all four as they navigate their lives. As far as plot goes, that's about the size of it but people read Sally Rooney's books for her characters and their relationships, rather than for fast paced storylines. Readers around the world fell in love with Connell and Marianne, so will they do the same this time?
We need your consent to load this rte-player contentWe use rte-player to manage extra content that can set cookies on your device and collect data about your activity. Please review their details and accept them to load the content.Manage Preferences
Listen: Journalist Edel Coffey and Image Magazine writer Sarah Finnan give their views and expectations on Sally Rooney's new novel on The Brendan O'Connor Show.
It's the character of Alice who will initially get readers – and critics – talking. A talented young novelist, she signs a huge deal for her first book and is catapulted into the world of literary fame. Rooney is very funny on some elements of this – a scene at a party where a guest takes out a phone to google her is hilariously cringeworthy - but Alice the character is not entirely comfortable with her success and, when the book begins, is recovering from a breakdown. Alice, of course is not Sally, this is a work of fiction but readers will inevitably wonder if her attitude towards fame reflects Rooney's own.
'What do the books gain by being attached to me, my face, my mannerisms, in all their demoralising specificity?' she asks in an email. 'Nothing. So why, why is it done this way?'
Although Alice is an interesting character, the person readers are most likely to identify with is Eileen who works in publishing, scrolls social media feeds, checks the online movements of an ex-boyfriend and is rekindling a relationship with Simon. Rooney is incredibly astute at depicting how people live online and use social media, and readers will give a rueful nod of recognition as Eileen scrolls through everything from cat memes to news about world disasters with barely an eyelid flicker to denote the change in topic: 'Nothing changed in her outward relationship with the world that would allow an observer to determine what she felt about what she saw'.
Rooney has a wonderful gift for dialogue and for capturing exactly how people spar with words, as evidenced in the opening chapter where Alice and Felix meet for the first time. But although her descriptions of how characters act and speak are sharply written, she has less to say about their internal lives. Her style is cool and somewhat distancing, we learn plenty about what the characters do and say but it is up to the reader to decide how they feel or indeed why they act in this way. We see Felix holding out a phone, perhaps taking a photo, choosing a new angle or contemplating dropping the device altogether and we are invited to make up our own minds as to whether the grave expression on his face is concentration, or simply a reaction to sunlight. Rooney gives us the bones of the action but we, the readers have to fill in the gaps and at times, it feels as if she is playing with our expectations of what a novel should be.
This style changes however when Eileen and Alice email each other. There is no internet shorthand here, and certainly no cat memes, instead the women write long, perfectly punctuated missives discussing everything from their lives to international politics, environmental issues, the state of the world.
"I've been thinking lately about right-wing politics (haven't we all), and how it is that conservatism (the social force) came to be associated with rapacious market capitalism. "
The mails do give us an insight into the women's minds and we certainly learn a lot about how they feel about major world issues but the length and style of these sections lifted me out of the story, while I also I found myself questioning if anyone actually communicates like that any more. But fictional letters are a well known literary device and it could well be that Rooney is using them once again to challenge the reader.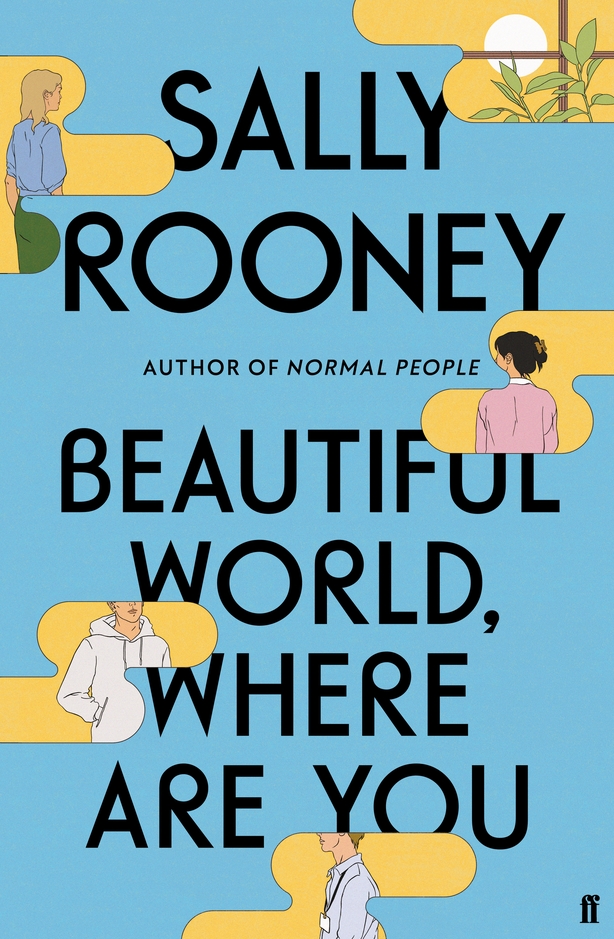 Elsewhere in the book there are paragraphs of absolute beauty, especially when Rooney writes about her native west coast. There is a touch of McGahern in a description of a summer's morning with 'clouds of steam from the kettle, clattering of plates and cups, sunlight billowing through the back window. Footsteps up and down the stairs after that, and voices calling'. Meanwhile a chapter about a gathering where Felix is called on to sing is one of the best descriptions of an Irish house party I've ever read. Alice bursts into tears at the beauty of his voice and the reader will be similarly moved at the gorgeous, evocative writing. But then our heroes leave the party and their emotions, and the tone of the novel, flattens out again.
"Alice said she'd had no idea he was so musical. Yeah, he said. Everyone round here would be like that, though."
The novel ends with the characters navigating the pandemic, and, inevitably, more emails, although this time Eileen has, as the internet would put it, some personal news. Alice meanwhile has found a measure of peace, despite or maybe even because of the globally enforced seclusion and there is, to all intents and purposes, a happy ending for both women, or at least a happy middle. As a novel, Beautiful World Where Are You is less of a crowd pleaser than Normal People, and it is hard to imagine it making a seamless transition to the screen. But I found myself thinking about Alice and Eileen after the final pages.
Sally Rooney has made her name by chronicling the lives of young, well educated Irish people, but this novel offers a glimpse of what she could do if she turned her attention to a wider Irish story or indeed an international one. I look forward to her next chapter.
Beautiful World Where Are You by Sally Rooney (published by Faber & Faber) is out now.