A recruitment campaign requesting members of the public to provide homes for separated children seeking international protection in Ireland has been launched by Tusla.
The Child and Family Agency is seeking carers from different family, cultural, religious, social and linguistic backgrounds, to reflect the diversity of unaccompanied minors coming into State care.
It is the first dedicated campaign for separated children seeking international protection and follows a commitment by the Government in December 2018 to accept 36 unaccompanied minors from Greece.
Eight arrived in June last year, another 13 were brought to Ireland last month and a further 15 will be arriving this month.
Outside of any international refugee programme, other children also present at Irish borders alone.
As of July, Tusla had 54 separated children seeking international protection in its care. Many are teenagers aged between 14 and 17.
Tusla said it requires additional carers who will be vetted and assessed in the same way as new foster parents.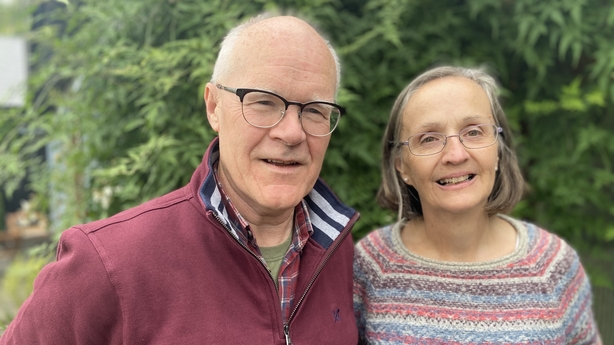 Maurice and Mary O'Connor welcomed a teenager from Africa into their Kilkenny home last year.
After deciding to become foster carers, Tusla interviewed both of them separately, then together, and interviewed their three adult children.
It was a detailed process, which, as Mary said, is "as it should be".
Just before the summer of 2020, a young person seeking international protection came into their care.
Tusla has asked that the person in the care of Maurice and Mary is not identified for his protection, but like many of the children and teenagers arriving here, he has come from difficult circumstances.
Mary said the job of a foster carer is to offer a "safe harbour".
"They need a warm house to live in, a bedroom to themselves, good nutrition, people who welcome them and give them space and time," she said.
Mary said foster carers are not therapists but are there to guide the person in their care.
"You don't dig into somebody's past unless they want to talk to you. You listen and if guidance is required, you try your best," she said.
Tusla social workers support the carers and the young people. Maurice describes the last year as a form of "quasi-parenting", dealing with the day-to-day practicalities of life.
"They've never gone to school in Ireland before," he said, pointing out that while it is difficult for an Irish child going into a new school, for those with the kinds of backgrounds that children seeking international protection may come with, it is very difficult.
Area Manager with Tusla's National office Lorna Kavanagh said the children mainly come from Afghanistan and Syria, but other countries like Iran, Pakistan and Eritrea are represented.
They are generally older, aged between 15 and 18. However, she said Tusla took two brothers aged ten and 13 who got separated from their family on the way to Greece.
The hope is that people like Mary and Maurice O'Connor will bring these young people into their homes to help settle them into Irish life.
"They need some support around language and they like to maintain the links with the young people they've arrived with, but they generally do very well," said Ms Kavanagh.
The campaign for carers is a joint initiative between Tusla and the Department of Children, Equality, Disability and Integration and Youth.
Minister for Children Roderic O'Gorman said the children need a welcoming place of safety and protection and urged carers "from a variety of backgrounds", who can meet the needs of the children to come forward.
Members of the public who wish to inquire about caring for a child seeking international protection in Ireland can visit fostering.ie, call freephone 1800 226 771 or email tusla.fostering@tusla.ie for more details.