US military commanders believe that another terror attack like the deadly suicide bombing at Kabul airport is "highly likely in the next 24-36 hours", President Joe Biden has warned.
After a briefing from his national security team, Mr Biden said in a statement that a US drone strike targeting the Islamic State-Khorasan group, which claimed responsibility for Thursday's bombing at the airport, was "not the last".
"The situation on the ground continues to be extremely dangerous, and the threat of terrorist attacks on the airport remains high. Our commanders informed me that an attack is highly likely in the next 24-36 hours," Mr Biden said.
Scores of Afghan civilians were killed in the Kabul bombing on Thursday, along with 13 US troops - several of them born around the time US military operations in Afghanistan began 20 years ago.
The Pentagon said today it had killed two "high profile" targets - logistics experts for the jihadist group - and wounded another in a drone strike in eastern Afghanistan in retaliation for the suicide bombing.
No civilians were hurt in the attack, Major General Hank Taylor told a news conference in Washington.
"The fact that two of these individuals are no longer walking on the face of the Earth, that's a good thing," Pentagon spokesman John Kirby said.
US troops have been scrambling in dangerous and chaotic conditions to complete a massive evacuation operation from the Kabul airport by a 31 August deadline.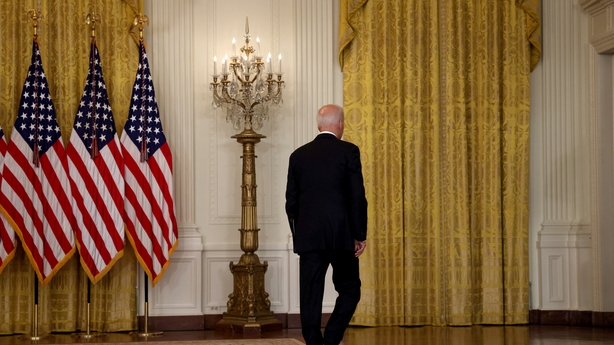 Mr Biden has pledged to stick to the agreed cut-off and had vowed to punish those responsible for the suicide blast. He said today that the drone attack would not be the last.
"We will continue to hunt down any person involved in that heinous attack and make them pay," he said.
"Whenever anyone seeks to harm the United States or attack our troops, we will respond. That will never be in doubt."
On Thursday, Mr Biden said: "To those who carried out this attack as well as anyone who wishes America harm, know this: We will not forgive. We will not forget. We will hunt you down and make you pay."
We need your consent to load this rte-player contentWe use rte-player to manage extra content that can set cookies on your device and collect data about your activity. Please review their details and accept them to load the content.Manage Preferences
---
Read More:
Taliban says it has taken control of parts of Kabul airport
UN prepared for up to 500,000 more Afghan refugees this year
Army Ranger Wing returns from emergency mission in Afghanistan
---
The attack on Thursday only injected further stress and tension into a situation already fraught with panic and despair for those wanting to leave and high risk for the US forces tasked with securing the operation.
The suicide bombing followed a chorus of warnings about an imminent threat and, as people gathered outside the airport today, the United States issued a fresh alert for US citizens to leave areas around the main gates "immediately".
In recent years, the so-called Islamic State's Afghanistan-Pakistan chapter has been responsible for some of the deadliest attacks in those countries - massacring civilians at mosques, shrines, public squares and even hospitals.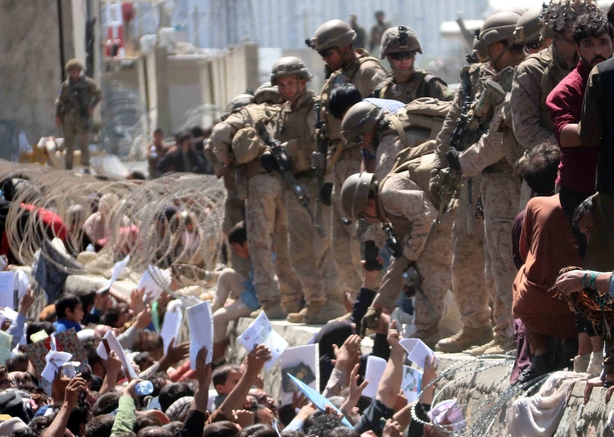 'Future attempts'
At the White House, Mr Biden's press secretary Jen Psaki earlier said US national security experts consider another attack is "likely" and the next few days will be "the most dangerous period to date".
Taliban spokesman Bilal Karimi said on Twitter that the group's fighters had already moved into parts of the military side of Kabul airport, but the Pentagon stressed that US forces retained control over the gates and airlift operations.
Racing to meet the Tuesday deadline for the US withdrawal has required close cooperation with the Taliban on evacuee movements and the IS threat.
The head of US forces at the airport, Rear Admiral Peter Vasely, is in constant contact with the Taliban official overseeing security around the airport.
And with the Taliban poised to take over when the last US plane leaves, discussions have begun on resuming normal flight operations.
Turkish officials have held initial talks with the Taliban in Kabul about helping get the airport back up and running.
President Recep Tayyip Erdogan said the Taliban offer was for them to oversee security at the airport, while Ankara runs logistical operations.
Refugee exodus
Under enormous criticism at home and abroad for his handling of the Afghan crisis and the US military withdrawal, Mr Biden has pledged to stick to the airlift deadline and to punish those responsible for the suicide blast.
About 109,000 people have been flown out of the country since 14 August, the day before the Taliban swept to power, according to the US government.
Some Western allies, including Britain and Spain, announced an end to their airlifts yesterday, following other nations such as Canada and Australia earlier in the week.
The United Nations said it was bracing for a "worst-case scenario" of up to half a million more refugees from Afghanistan by the end of 2021.
The Taliban have promised a softer brand of rule compared with their first stint in power from 1996 to 2001, which ended when the United States invaded Afghanistan following the 11 September attacks.
But many Afghans fear a repeat of their brutal interpretation of Islamic law, as well as reprisals against those working with foreign militaries, Western missions or the previous US-backed government.
The role that women will be allowed to play in society has been one of the biggest concerns, after women were banned from work and education and confined to their homes during the group's previous rule.
Taliban official Sher Mohammad Abbas Stanikzai, the former deputy chief negotiator of peace talks in Doha, said yesterday that women have "an innate right" to work.
"They can work, they can study, they can take part in politics and they can do business," he told a press conference.