The Army Ranger Wing has returned from its emergency operation in Afghanistan, assisting the evacuation of Irish citizens, visa holders and residents.
The special operations force assisted the Department of Foreign Affairs in evacuating Irish citizens and their dependants.
Earlier, the Minister for Foreign Affairs has said that all operations to evacuate civilians out of Kabul airport are now "effectively closed", but efforts will continue to assist another 75 people who want to return to Ireland.
A total of 36 Irish citizens and residents were evacuated from Afghanistan, as Ireland announced yesterday it was ending its emergency mission in Kabul.
Speaking on RTÉ's Morning Ireland, Simon Coveney said 60 Irish citizens and 15 Afghans who are normally resident in Ireland remain in Afghanistan.
Efforts to assist them to leave will be "ongoing in the days and weeks ahead".
Mission Complete…..
The ARW have successfully completed their deployment, supporting the @dfatirl ECAT operation in Kabul. Our highly trained operators provided security & assistance throughout this highly complex mission.@IRLDeptDefence #StrengthenTheNation 🇮🇪 pic.twitter.com/aS1CkArAkh

— Óglaigh na hÉireann (@defenceforces) August 27, 2021
He said most of these people are in Kabul and Irish diplomats are in contact with them and will remain in contact with them "for as long as it takes".
Mr Coveney said Ireland is effectively treating the Afghans who are normally resident here as Irish citizens.
He said that efforts to find ways for them to leave Afghanistan will be an international community effort.
Twenty-six Irish citizens left on two separate flights yesterday - some on a French flight and the others on a Finnish flight.
He said all but one Irish person working for Irish agencies in the country were evacuated.
Ireland has granted refugee status to about 250 people from Afghanistan and that number is expected to rise, the minister has said.
The Irish Government has advised its citizens not to go to Kabul airport and not to be in the vicinity of the airport.
---
Read More:
US braces for more attacks as 85 killed in Kabul bombs
UK enters final stages of Kabul evacuations
Biden: 'We will hunt you down and make you pay'
---
Minister Coveney said the Irish mission to Afghanistan will be reviewed but that the decisions that were made were the right ones and while it involved risk, it has paid off.
He praised the work of the 11-person mission sent to Kabul, saying they did "fantastic humanitarian, compassionate work getting everyone they possibly could" out of Kabul.
The initial decision not to deploy an Irish team was made on the back of advice over the last ten days that the partnerships on the ground were working and helping to evacuate Irish people, he added.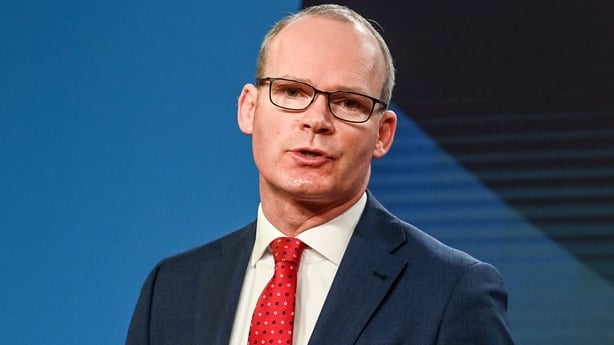 However, he said that situation became more complicated and dangerous in recent days and he decided "to get people on the ground to add value and take opportunities" to get Irish citizens out.
France, Finland, Germany, the Netherlands and the UK supported the Irish mission.
Meanwhile, DUP leader Jeffrey Donaldson said he will be raising the cases of Irish citizens from Northern Ireland who are believed still to be in Afghanistan with Taoiseach Micheál Martin.
He said: "I am aware of cases that fit that category and they remain in Afghanistan at this moment of time, including aid workers who work for an Irish aid agency, some of whom come from Northern Ireland.
"My understanding is that they have not yet been evacuated but I am seeking clarification on that and I will be raising this with the Irish Prime Minister today and giving him specific details of those cases."
Separately, Mr Coveney said there are questions about resourcing the Irish Defence Forces and about military capacity that will be addressed in a review due this year by the Commission on the Future of the Defence Forces.
He said that "for decades Ireland has made choices in terms of military spend around capacity and it is limited in many areas, so we are reviewing that".
The minister also said that Ireland is "doing a lot of good work" on the UN Security Council and will continue to when it takes over the presidency of the Security Council for the month of September.
Minister Coveney said that very direct conversations were had with French President Emmanuel Macron and his foreign minister yesterday about how to cooperate with France, as the only EU state that is a permanent member of the UN Security Council.
Mr Macron was in Dublin yesterday for his first official visit to Ireland.
Additional reporting PA