Irish woman Aoife MacManus has told RTÉ that the Taliban helped to escort her to the airport in Kabul last night.
Ms MacManus is now in Islamabad in Pakistan after getting a flight out of Afghanistan this morning.
She is one of three Irish citizens that have been successfully evacuated from the country, which has been taken over by the Talban in recent days.
Minister for Foreign Affairs Simon Coveney said Ireland is working to get 36 Irish citizens out of Afghanistan, including dependents and dual nationals.
The Department of Foreign Affairs has said there are a small number of Irish citizens in Kabul airport waiting for evacuation.
It also said a small number of Irish citizens who work for the United Nations and other international organisations currently plan to stay in Afghanistan.
Speaking this afternoon from Islamabad, Ms MacManus described how she left Afghanistan.
Aoife MacManus speaks to ?@rtenews? from Islamabad about how she feels now that she has safely left Afghanistan. More on tonight's 9 o'clock news pic.twitter.com/Gc42czirn0

— Laura Fletcher (@fletchl) August 19, 2021
The Co Meath woman said she got to the airport in Kabul last night with the help of the Taliban, who are giving escorts to foreign nationals leaving the country.
Ms MacManus said they got to the airport entrance, despite difficulties in doing so, and were admitted by US soldiers.
She said they were very thankful they succeeded and she then stayed overnight in the airport waiting for a flight.
Ms MacManus, who is a teacher, said they departed the airport this morning as soon it was bright enough to see the mountains.
"I'm quite happy to be safe, but (I have a) very heavy heart about what we're leaving behind," she said.
Ms MacManus said she will stay in Islamabad resting for a few days and will be home in Ireland soon.
Speaking on RTÉ's Drivetime, Ms MacManus' father Ray said that he "breathed a huge sigh of relief" when he found out last night that his daughter was able to flee Afghanistan.
He recalled how his daughter kept in contact by text messages right through the night.
"When Aoife told us she was on her way to the airport. And then the phone calls were coming in, 'we're in the airport, we are being processed,' different phone call - 'we're boarding the plane, we're going to be six-and-a-half hours on the plane on the runway, because the curfew, extends to planes as well'.
"And then this morning 5.30 Afghan time, which was two o'clock in the morning here - 'we're ready to take off', it was all texts ... I don't know how we got through the night."
Her mother Jenny spoke of the support they have received.
"With prayers and good wishes and candles… she could float at home on all the good wishes," she said.
They say she plans to continue her work remotely when she returns.
We need your consent to load this rte-player contentWe use rte-player to manage extra content that can set cookies on your device and collect data about your activity. Please review their details and accept them to load the content.Manage Preferences
---
Read more:
Several killed at independence Day rally in Afghanistan
Afghanistan situation a 'catastrophe and nightmare' - EU
---
Earlier, Minister Coveney said he could not reveal how Ms McManus got out or where she is as "we are trying to get many people out".
Ms MacManus had been in the Afghan city for two years working in the primary education sector.
Speaking on RTÉ's Today with Philip Boucher Hayes, Mr Coveney said with each day that passes there is a slight change in the number of Irish citizens seeking assistance.
He said most of them are working for international organisations or NGOs.
"We are working with EU partners, the UK and US to make sure there are places on flights leaving Kabul for them," the Fine Gael TD said.
Mr Coveney said all of these are military flights and added that the biggest obstacle is getting these people into the airport, with reports of chaotic scenes.
"It is very difficult to get people into the airport. It is difficult for some to get to Kabul from where they are as there are checks run by Taliban," he said.
Mr Coveney said all options are being considered with regard to evacuating Irish citizens from Afghanistan.
"Certainly the easiest way, in our view, to get Irish citizens out is to work in partnership with other countries who are trying to do the same for their own citizens."
He said many of the other countries across Europe have the capacity to send large aircraft to help evacuate citizens.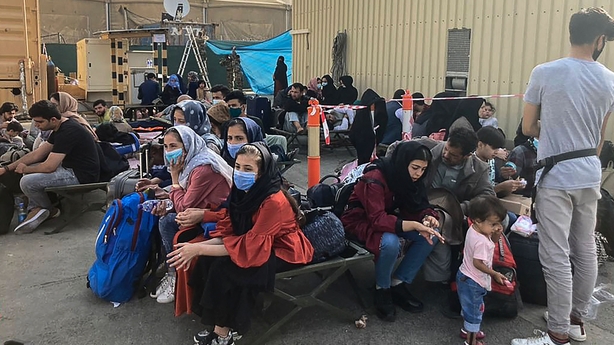 "We already have agreement with some of them that they would ensure there is space for Irish citizens as well," Mr Coveney said.
He said there is a significant military presence in Kabul airport and he does not think it would be helpful to send Ireland's military personnel into that mix, adding that it would "complicate rather than simplify things".
The minister said it is very clear EU countries are working together while also working with the UK, which has a significant presence in Afghanistan and knowledge of the country.
Mr Coveney said he does not want to focus on a blame game when dealing with the situation in Afghanistan, but instead to have a "practical communications channel" open to the people making decisions in Afghanistan and put pressure on them.
He said the EU has the tools to put pressure on the Taliban as it funds enormous amounts of humanitarian support in Afghanistan.
"If the Taliban want a relationship with the EU in terms of trade, access, humanitarian relief and so on we need to use those tools," the minister said.
He said he hopes Ireland will be able to accept more Afghans than the current figure of 150 committed already as part of the refugee resettlement programme.
Mr Coveney said he will be chairing the UN Security Council in September and there is an influential position to shaping the response to Afghanistan.
"I need to be realistic in terms of what a country like Ireland can do but we intend to use all the influence we can muster," he said.
He said Ireland wants to be generous with regard to accepting Afghan refugees into Ireland but in a way that has to be "structured".
The minister said questions need to be asked such as where these people would go if Ireland takes more Afghans in.
"We will be generous in terms of the numbers we can accommodate. There has to be a proper plan around that," added Mr Coveney.
Additional reporting Laura Fletcher and Ailbhe Ó Monacháin