The incidence of Covid-19 is rising across all ages groups and in all parts of the country, according to the Chair of the National Public Health Emergency Team's Epidemiological Modelling Advisory Group.
In a post on Twitter, Professor Philip Nolan said they are beginning to see an incidence in those aged 65 and older "albeit it from very low levels".
He said while the situation is "very different from January" and vaccination is preventing an enormous number of transmissions and reducing the severity of the disease, but added that the "rising incidence is a real concern".
His comments come as the Department of Health has been notified of 2,074 new cases of Covid-19.
The number of people in intensive care units is 43, unchanged from yesterday.
We need your consent to load this rte-player contentWe use rte-player to manage extra content that can set cookies on your device and collect data about your activity. Please review their details and accept them to load the content.Manage Preferences

There are 229 people being treated for the virus in hospitals.
Prof Nolan said that on 3 July there were 42 people in hospital with Covid-19 and 14 in ICU, with an average of seven admissions a day, compared to an average of 32 admissions per day currently, which he said is not sustainable.
He said: "The real concern is that there is an underlying established pattern of exponential growth, with cases growing at about 3.7% per day since 19 June, and numbers in hospital growing at a similar rate, 4% per day, since early July."
We have breached 2000 cases per day, 2074 cases today, the first time we have had more than 2000 cases since 21 January. We have had more than 2000 cases on only 21 of the 532 days since we reported the first case here. 1/9 pic.twitter.com/oNx9cz2H0x

— Professor Philip Nolan (@President_MU) August 14, 2021
Separately, the roll-out of Covid-19 vaccines to 12-to-15 year olds will continue this weekend.
The HSE has confirmed that the first vaccines were administered to this age cohort yesterday, after the opening of the registration portal earlier in the week.
Figures as of this morning showed that more than 75,000 people within this age group have registered for a vaccine.
Consent is required by a parent or legal guardian to receive a vaccine, and children in this age group will receive either a Pfizer-BioNTech or a Moderna vaccine.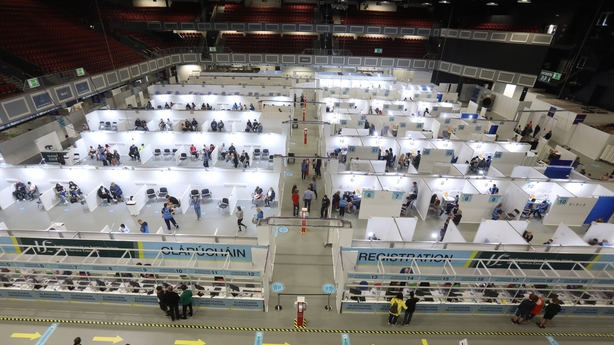 Fourteen-year-old Bill Shelley and his 12-year-old sister were among those who queued in the pouring rain outside the vaccine centre at Citywest in Dublin.
Afterwards their father Michael expressed his relief that his children had received their jabs.
"We're very pleased, I'm delighted they've got their first vaccine," he said.
"As parents, protecting them for their future health is one of the main reasons we're here and keeping schools open is really important too.
HSE Chief Executive Paul Reid said that over 10,000 12-15 year olds received a vaccine at their GP or a vaccination centre yesterday.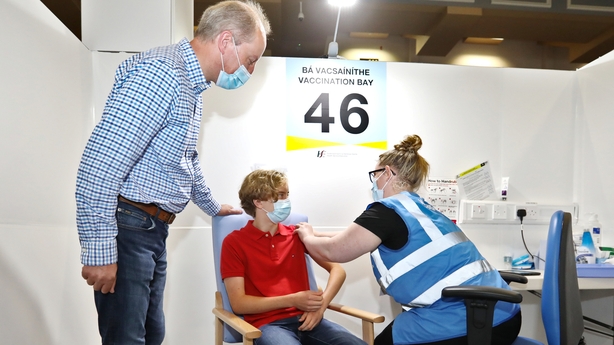 ---
---
Deputy Chief Medical Officer Dr Ronan Glynn said that vaccines are now preventing "at least 10,000 cases and about 500 hospital admissions every week".
He said that if "we didn't have vaccination, our current 14-day incidence rate would be approximately 1,000 per 100,000.
"We would be seeing up to 50 people admitted to hospital for every 1,000 cases reported. Instead we are seeing about 20 people admitted for every 1,000 cases.
"All of this is positive and demonstrates the effectiveness of these vaccines."
However, he also warned that Covid-19 rates are rising across Ireland and across all age groups, not just among those aged 16-29.
Keep yourself and your friends safe #ForUsAll.
COVID-19 is still here, so when meeting friends, keep to small groups to help stop the spread of #COVID19.
Let's get our lives back - safely. We can do this. pic.twitter.com/XeTYKT0asr

— HSE Ireland (@HSELive) August 14, 2021
In Northern Ireland, a further 1,437 new cases were reported today. Five deaths were also reported in the past 24 hours.
There are 359 patients hospitalised with Covid-19 in Northern Ireland, with 44 in ICU.
Additional reporting PA