Volpe Nera restaurant in Blackrock in Dublin is among the 25% of restaurants across Ireland that are not reopening for indoor service on Monday.
Earlier today, the Restaurants Association of Ireland said it expects that a quarter of Irish businesses will not reopen for indoor dining immediately, because they are unwilling to operate under the latest guidelines.
The measures include a requirement for customers to show Proof of Immunity as well as photo ID. All customers will have to give details for contact tracing.
Volpe Nera's general manager, Darren D'Arcy said they took the decision to keep just outdoor dining "a number of weeks ago".
He told RTÉ: "I think it's going to be very challenging and very difficult for restaurants for indoor dining at the moment."
Darren said the restaurant has had a "lot of requests for outdoor dining - the weather's been really good".
Asked what will happen when the weather is not so nice, the restaurant general manager replied: "We've been open since 9 June and we've had maybe three challenging days since then.
"We've had to make it work. Obviously, we call customers on the day to prepare them for when they come in but we do have some awnings and canopies so it's quite well protected."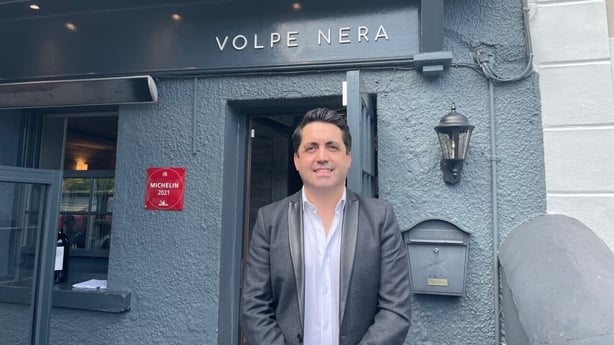 He does not think a lot of the new regulations are feasible. "It's going to take a bit of time for people to adapt."
Volpe Nera plans to maintain just outdoor dining until the end of August before reopening indoor dining in September.
"We're just going to see how everyone else adapts in the meantime," concluded Darren.
In contrast, Mulcahy's restaurant in Kenmare, Co Kerry plans to resume indoor dining from Monday, but is critical of the notice given.
Up to a quarter of Irish businesses will not reopen for indoor dining immediately, says RAI. Under the rules, expected to be signed off tomorrow by the Minister for Health, bars and restaurants are due to resume indoor service from Monday. | Read more: https://t.co/k9CFaAFXNO pic.twitter.com/3fr6GMcLrv

— RTÉ News (@rtenews) July 24, 2021
Proprietor Bruce Mulcahy, said: "We've had nine weeks of knowing that this was happening and yet we only received the information this morning.
"It's a minefield of information when you go into it and involves taking on extra staff to man the doors.
"I feel it's too short a time before opening up on Monday. When we're closing tonight we have to clean the place, change the menus, prepare everything, and then put all of these regulations into place."
Bruce pointed out that he'll have to "now employ two staff - where I'll get them I don't know - and then train them in for what they have to do at the front door. It's not going to happen in two days.
"It should have been done weeks ago to allow us to get ready in a safe manner," he added.