A road seldom seen for the past 60 years has become a tourist attraction after being exposed by lower water levels in a reservoir in Co Down.
The road in the Mourne Mountains dates back to the 1800s and used to link Hilltown and Kilkeel, but the area was flooded in the late 1950s when Spelga Dam was built.
Its mighty walls normally hold nearly three million cubic metres of water from the River Bann captive.
But the water level has dropped significantly in recent weeks due to the hot weather and lack of rainfall, exposing the old road and one of two small stone bridges.
Deer once roamed what was a meadow in the area that is now the reservoir.
This week, the unusual sight is attracting tourists as well as curious locals taking the opportunity to take a walk on this road to nowhere.
"I just came up to see the old road and the bridge, it's just fantastic," said a man this morning who travelled from Co Armagh with his wife and four young children.
"I think it's just amazing," said his wife. "It's lovely scenery and right on our doorstep. It's just magical."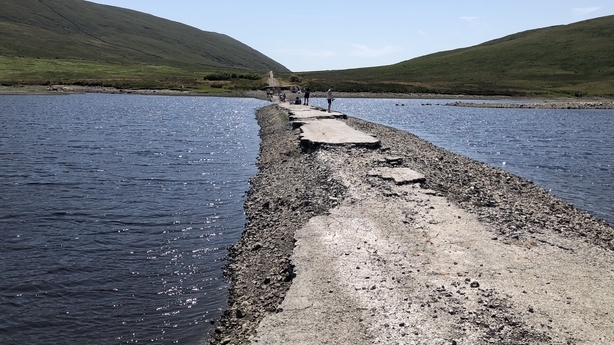 James and Helen visited today as part of their rehabilitation from Covid, which hit them hard earlier this year.
"We just came out today here for a wee bit of a dander just up around the mountains," said James.
"We used to do a lot of walking but then we both got Covid at the start of the year. We have been kind of struggling more with chest issues and trying to get back into the walking.
"We can definitely feel a difference since we started getting back out again. Hopefully, this is just the start and then we will keep increasing our distance and getting better."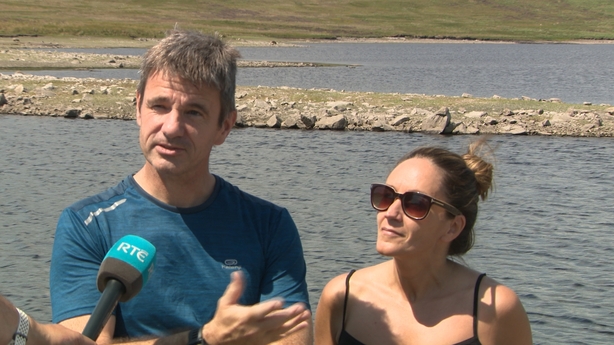 Thousands also flocked to beaches as Northern Ireland basked in temperatures of up to 31.3C.
But there was a highly unusual and unexpected sight on the roads of Co Down - gritters were out on roads.
Used in winter to spread grit to melt ice and snow, they were being used today to spread sand and dust to stop road surfaces melting in the blistering heat.
"As the man would say, you know it's summer time in Ireland when you see the gritter out," joked Vincent Auden, spreading the dust and sand mixture on major roads around the Mournes.
"The boss gave me a list of roads that are starting to bleed with the hot sun. We're out with a mixture of dust and sand to treat the roads, to try and keep them in some sort of shape."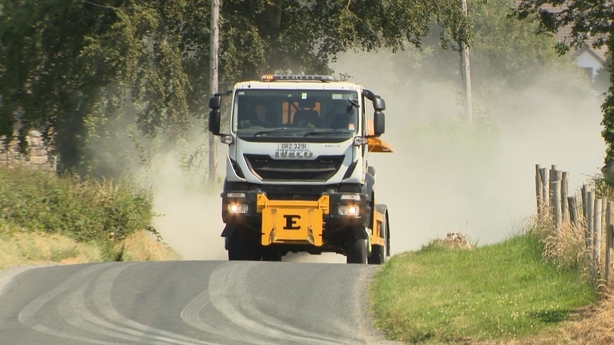 He said the sand and dust will melt into the road surface to give it a coating "to try and keep the actual bitmac from lifting out".
Vincent has been getting some strange looks from motorists. "It's wild," he laughed.
Northern Ireland Water has warned that a hosepipe ban may have to be introduced.
It has urged people to use water wisely or risk running dry.
There was an unexpected sight in Co Down today - gritters were out on roads. Used in winter to spread grit to melt ice and snow, they were being used today to spread sand and dust to stop road surfaces melting in the blistering heat. | Read more: https://t.co/IIw4br0SBL pic.twitter.com/YFkvz2iSoX

— RTÉ News (@rtenews) July 21, 2021