An organisation representing indoor entertainment businesses has said the Government has forgotten the industry, as the focus is on reopening indoor dining.
Chief Executive of Play Activity and Leisure Ireland (PALI) Tommy Gill said the focus of the media and the Government "has been around adult and alcohol-related activities", and that "there's no focus on getting kids back to play".
"We have nobody to talk to, even though we have asked to be at the table to talk about this."
Mr Gill said that when it came to reopening, PALI asked members to "operate within the guidelines".
PALI represents 130 businesses that run indoor and outdoor Family Entertainment Centres (FECs) throughout Ireland.
However, he said there was "certainly some confusion there", as many indoor activities, such as laser tag, roller disco and indoor trampoline parks, reopened on 7 June when cinemas and gyms were allowed to reopen.
Indoor Play Centres are in the same group as hospitality yet our customers are children. #CaughtInASituation #LetKidsPlay @LeoVaradkar @MichealMartinTD @Damien_English @lichamber @DonnellyStephen @BigDirtyFry @adriancummins @isme_ie @ClaireByrneLive @jesskellynt pic.twitter.com/aGDbz1Vi5Z

— Play, Activity & Leisure Ireland (@PALI_IRE) July 5, 2021
He said that last year when the country reopened in the summer, some of their industry was allowed to open before the pubs, but this year they have been associated with the reopening of indoor dining, which has been delayed.
Ronan Cunningham owns a virtual reality [VR] laser tag centre called Zero Latency in Sandyford in Dublin.
It reopened on 7 June in line with the reopening of cinemas.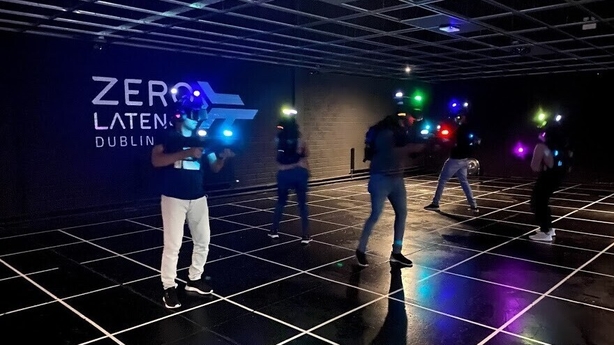 Mr Cunningham said that "reopening was guesswork" and the indoor VR experience is limited to groups of eight in private sessions where they briefly interact with one or two members of staff.
In Tullamore, Co Offaly, John Carroll was instructed to close his bowling alley, Cosmic Bowl, this week by gardaí.
"It looks like we have just been forgotten about, so I took the decision last week that the only way I am going to find out whether I am supposed to be open or closed is to open the doors, which we did on Saturday," he said.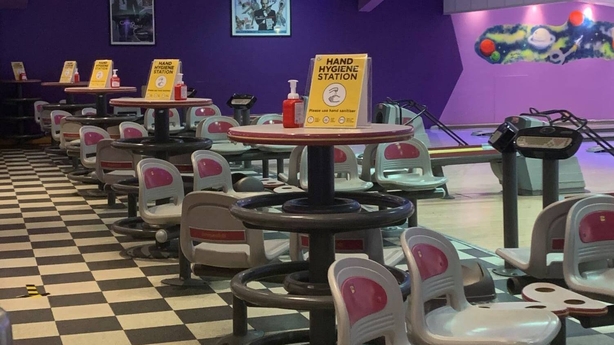 Mr Carroll said his business has only been open for ten weeks of the past 16 months.
"We are a niche industry that has been completely lost and neglected in all of this conversation," he said.
"Previously, we were always classified as entertainment like cinemas and swimming pools. Last year - that's when we opened."
Cosmic Bowl was operating at a reduced capacity with every second bowling lane closed, strict bubbles of a maximum of five people, and they closed onsite hospitality.
Bowlers were asked to wear their own shoes and they were assigned one bowling ball to be used by only that person for the entire one-hour session.
Mr Carroll said demand came from the minute the doors were opened, but that he received a visit from gardaí on Tuesday, who were following up a call from a member of the public.
After looking closely at the regulation in the Health Act, gardaí said he had to close again.
A garda spokesperson said that bowling alleys are included under Regulation 12 of the Health Act along with amusement arcades, soft play areas and other indoor children's play areas, and are not yet allowed to reopen.
Gardaí also said it is the responsibility of each business operator to ensure that they are operating in compliance with the current Public Health Regulations.
"Any information that I have seen or read, there's nothing to suggest that we shouldn't be open," Mr Carroll said.
Last year, Cosmic Bowl opened when cinemas were allowed to reopen in the summer, but this year Mr Carroll said there was "absolutely no clarity" as to when his specific business could reopen.
"All we hear about now is the plan for reopening hospitality and pubs."
When asked why many other leisure activity centres like laser tag, trampoline houses and roller rinks were operating since 7 June, he said: "We have no idea whatsoever ... and if it didn't specifically say bowling alleys in that legislation, then we would have been able to operate.
"They don't list laser tag, they don't list trampoline houses, and I am delighted for those businesses that are open. Any business should be allowed [to reopen]."
Mr Carroll voiced concerns about the vaccine passport protocol that may be introduced for indoor dining.
"Do we get lobbed in with that as well?" he asked. "We have a situation where 80% of our customers are under 20 years of age, and none of them will be vaccinated.
"Will I have to ask the children and teenagers for a vaccine passport when they can go to a cinema or swimming pool without it? It's gone beyond a joke at this stage."