It has been one of the most bruising weeks in the coronavirus crisis leaving people dazed and confused.
There was the timebomb of grim projections from NPHET, who also lit the touch-fuse with the recommendation that indoor hospitality opening be conditional on a vaccine passport for patrons.
It all served to expose the severe tensions between the Government and NPHET - and raised big questions about who knew what and when about the shock plans.
The 13-page NPHET letter setting out the detail of its advice only arrived to Government a relatively short time before the Cabinet Covid-19 Sub-Committee meeting last Monday night, although the CMO had provided a verbal post-NPHET briefing on what had emerged.
The Minister for Health, Stephen Donnelly, said yesterday that Cabinet was taken aback by NPHET's four scenarios of how cases and deaths could play out.
We know from NPHET now that it was working on four risk assessments for some time. Dr Tony Holohan has said that the prospect of vaccine passports for indoor dining being considered was known to some in Government as early as last weekend.
But none of the statements from various people in Government in the days leading up to the NPHET advice suggested this was on the cards, or that the predictions would be so dire. The public certainly had not been prepared for it.
However, Dr Holohan made the point at the NPHET briefing on Thursday that he had warned about a "dark cloud" on the horizon some weeks ago. Apparently, it's now here, right above us.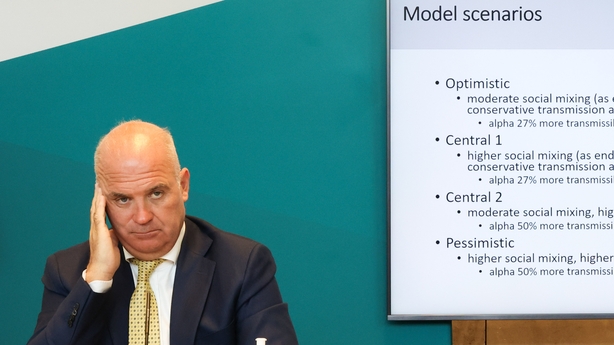 The possible Covid figures projected are truly stark and worth repeating here - the 'optimistic' scenario is that between July and August, there will be 81,000 Covid-19 cases and 250 deaths.
The 'pessimistic' scenario is that there will be 681,900 cases and 2,170 deaths. This is all driven by the Delta variant and a fourth wave that NPHET says is a matter of not if, but when.
At the end of September we will look back at these projections and see what actually came to pass. But unfortunately, doing nothing and seeing how it plays out is not an option. If at the end of September it looks nothing as bad as feared, those who made the projections will have questions to answer.
Experience also tells us that the publicising of a grim picture does make some people become more risk adverse. That in itself changes the course of events.
"Cold water has been poured over our collective hopes this week."
There has been controversy over what exactly Taoiseach Micheál Martin told Cabinet about whether NPHET had factored into its projections the latest vaccine changes recommended by the National Immunisation Advisory Committee (NIAC). Some have suggested the Taoiseach indicated the NIAC advice had been included, but the Taoiseach has declined to go into this detail citing Cabinet confidentiality.
In any event, Professor Philip Nolan said on Thursday that they did not have the NIAC advice but they had run different vaccine scenarios. In fact, 70 different scenarios were run. The bottom line from NPHET was that the NIAC recommendations would have made little difference in July and August, and perhaps had some impact on September. But overall, it makes little difference apparently.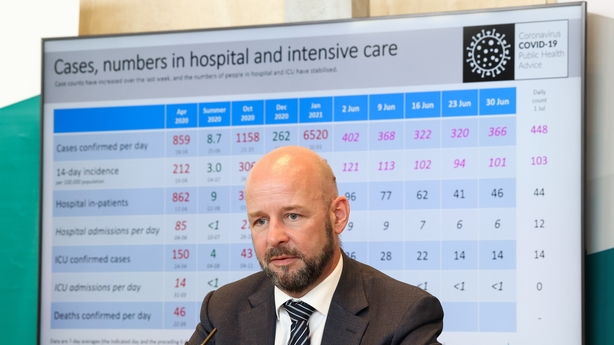 The key factors that NPHET took into account in modelling the future were: different levels of social contacts, how transmissible the Delta variant is versus the virus last summer (it is 2.4 times more transmissible), the likely spread of the virus through age groups and how effective vaccines are.
The latest Delta variant sequenced case numbers here are quite low at 220. Delta now accounts for 70% of all Covid-19 cases here.
At a HSE briefing this week, the Chief Clinical Officer, Dr Colm Henry, said there was some debate about how more transmissible Delta is, ranging from 30 to 90%. He said time will give us more information but inevitably we will see cases rise, as they have in parts of the EU and Britain.
For the public, and especially those who work in the hospitality industry, it has been a very testing week. For the vaccine passport, NPHET supports a system operated by indoor hospitality of clear proof of full vaccination, or evidence that someone has recovered from the virus.
The Government may also allow PCR testing, perhaps antigen testing, as part of this so as not to discriminate against people not vaccinated due to no fault on their part and to widen the options. But nothing is decided yet. If the EU Digital Cert can be adapted for use in the hospitality sector, that might offer a solution. But the industry has grave misgivings.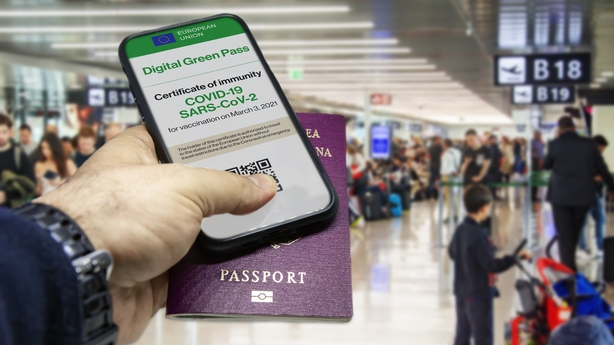 The process by which decisions around Covid are made during a time of crisis are also worth examining. For example, on vaccines, the Chief Medical Officer asks NIAC to consider allowing AstraZeneca vaccines for people under 40. NIAC meets and takes time to study the evidence and come to a conclusion. When it does, it writes to the CMO. The CMO then considers it and may or may not add in some of his own considerations, and then writes to the Minister for Health with the recommendation for Government.
The Minister takes this to Cabinet. Cabinet accepts or rejects it or may suggest changes. This is conveyed in writing to the Department of Health who then write to the HSE to implement whatever has been decided. The HSE has to develop a plan to implement it and submits that plan to the Department of Health/Minister for consideration. Then the Department either accepts the plan or seeks changes and then it instructs the HSE to implement it.
This process can take weeks and weeks and for that reason, it may seem archaic and contributing itself to delays in getting vaccines into arms.
NIAC was discussing allowing AstraZeneca vaccines for people under 40 back in May. We are now in July. The HSE submitted its new National Vaccination plan, Version 31, to the Minister on Thursday and it will take a while to implement.
"Are we facing a true fourth wave around the autumn and will we be out of this by Christmas?"
People will ask if there is a more efficient way to do all this - as every hour and every day that it takes to consider things delays people being vaccinated. And the prime directive now with the Delta variant threat is to get as many people fully vaccinated as possible.
The good news yesterday was that from Monday people aged 18-34, can book an appointment to get a Janssen single-dose vaccine from a participating pharmacy. From Friday 9 July, people aged 30-34 can begin to register with the HSE for an mRNA vaccine. But the speed at which the vaccination programme can be accelerated will always dependent on vaccine supply.
Meanwhile, NIAC is still debating issues such as mixing vaccines, vaccinating teenagers and whether booster vaccines will be needed.
As Paul Reid, the HSE chief noted on Wednesday, it has been a very difficult week. People have faced a sharp contrast between optimism and concern. While the vaccination programme is doing better, the Delta variant has cast a shadow on everything. Just when we think we are turning a corner, new obstacles emerge.
The question is, are we facing a true fourth wave around the autumn and will we be out of this by Christmas There are some signs that the rate of hospitalisation with the Delta variant is not as bad as the previous variants. The key metrics to watch here will be hospitalisations, cases in ICU and deaths. Currently they are all low.
The hospital cases linked to Covid-19 numbers here were reducing. They are now stable. Health authorities do not want to see them rise.
The warnings from NPHET and Government and experts this week will in themselves cause people to pause for thought.
Ireland has been lucky in recent weeks with glorious weather at the same time as the reopening of outdoor hospitality. But that looks like it may take a turn for the worst too over the next week and dampen some people's socialising plans.
Cold water has been poured over our collective hopes this week. Our familiar uninvited guest, uncertainty, is back for a visit. When will it leave for good?