The Government is set to buy one million Covid-19 vaccine doses from Romania, in what is seen as a major boost to the vaccination programme.
Taoiseach Micheál Martin held talks with the Romanian President Klaus Iohannis this morning, and it was agreed in principle to purchase one million Pfizer and Moderna vaccines - which are expected to arrive here as soon as possible.
Mr Martin described the development as "very good news for Ireland".
Romania will supply the Pfizer and Moderna vaccines "in a show of solidarity" with Ireland and the Irish people, where the uptake of vaccination has been much higher than in Romania, according to Micheál Martin.
"We have been seeking additional vaccines for the last while, engaging with my counterparts across Europe, and I had a good discussion this morning with the President of Romania, Klaus Iohannis, and he was very helpful," Mr Martin said this evening.
"In a show of solidarity with Ireland, and with the people of Ireland, Klaus is anxious to help, given the Delta variant, given the fact that we're in close proximity to the United Kingdom, and the impact on Northern Ireland and the fact that we have such a high uptake of vaccines in Ireland that we need additional supplies and in principle, we've reached an agreement that they'll supply us with a million mRNA vaccines.
"And obviously there's logistical issues to be gone through now but it's very good news, it's very welcome.
"I thank the Romanian president for this response to our situation and we're particularly, obviously, concerned with the Delta variant and the need to vaccinate as quickly as we possibly can and build strong protection over time to the impact of covid-19."
The Taoiseach pointed out that Romania's rate of vaccine uptake "has not been as significant as Ireland's, and that's been a feature of some European Union countries, that the uptake is at different levels".
He said some European leaders "are taken aback" by Ireland's high level of vaccine uptake.
The Government here is also "very pleased" with the response to this morning's announcement that 18-34 year-olds will be able to make appointments from next week with over 700 pharmacies nationwide to receive Janssen and AstraZeneca vaccines.
"There's a good engagement in Ireland from our people and that's very, very good. When you take a vaccine you protect yourself but you protect your neighbour and your family member as well. We're very focused on maintaining that high uptake in Ireland."
Asked if there will be sufficient supplies of vaccine to satisfy the demand from the 18-34 year-olds, he said: "There's limited supplies so far but we're working on trying to increase that supply, particularly of Janssen, but there will be about 175,000."
Meanwhile, he said the logistics of the Romanian deal and when the one million doses will arrive here "have to be worked out".
On RTÉ's Drivetime programme, HSE Chief Clinical Officer Dr Colm Henry said he is "confident" the HSE will be able to "deal with any additional stocks of vaccines" delivered to Ireland.
Dr Henry said it will remain the HSE's target to administer vaccines as soon as possible after they are delivered to the country, saying that "90% of vaccines are administered here within one week of delivery."
Accelerate and build up a 'vaccine wall' to protect against Delta surge
The Taoiseach earlier said the priority now is to accelerate and build-up a vaccine wall to protect people against an expected surge of the Covid-19 Delta variant in July and August.
Speaking in Co Limerick this afternoon, Mr Martin expressed concern over the impact that a wave of infection of the Delta variant could have, adding that: "Delta is real, and there will be a Delta wave across Europe."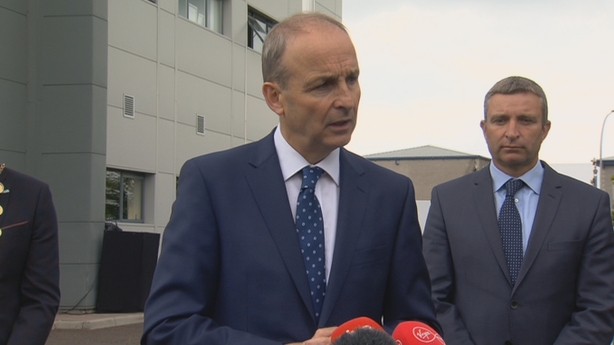 "The danger with high volumes of the Delta variant is that it can break through that wall. The challenge is to build up that wall, to build up that vaccine wall to protect us against that Delta wave... that's the agenda as we move forward in the coming weeks," the Taoiseach said.
"The issue now is the timeline and the degree to which we can delay it, but also vaccinate as many people as we possibly can in the intervening period."
The Taoiseach said he was worried over the spread potential for the variant, particularly when it gets to a certain threshold.
'Delta is real, there will be a Delta wave across Europe,' says Taoiseach Micheál Martin. The issue is timeline - whether we can delay it and vaccinate as many people as possible in the intervening period, he says. | Read: https://t.co/gD0F8Fq7hb pic.twitter.com/aEuuvKpEK5

— RTÉ News (@rtenews) July 2, 2021
The Government will get formal detail on Monday about the prevalence of Delta, but Mr Martin said he believes it will be above 55% of new cases, meaning it will spread rapidly, and as such, indoor congregation needed to be reduced as much as it could be.
Mr Martin said the key issue was the link between the high volumes of cases and hospitalisations adding that this will be determined with greater precision in the next number of weeks.
He said from the latter part of July, the country will to see numbers increase, hence the move earlier this week to pause some restrictions.
Given the vaccination programme is progressing fast, he said he was confident large numbers of hospitalisations could be avoided, adding that it was having a positive impact on vulnerable groups.
Potential danger of Delta variant 'very, very substantial'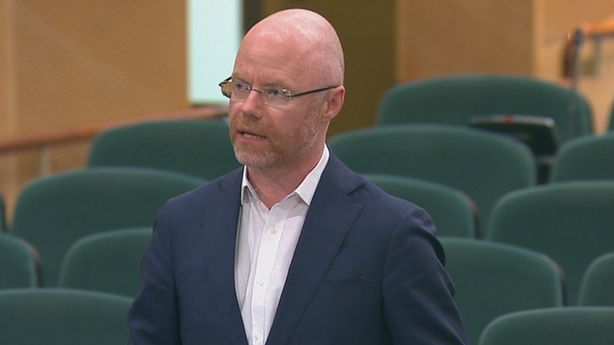 Meanwhile, Minister for Health Stephen Donnelly has told the Dáil that supplies of Janssen and AstraZeneca will be "somewhat limited during July" but that they should be able to accommodate a "significant number" of the 18 to 34 age group.
This morning Mr Donnelly announced an expansion of the vaccination roll-out programme to younger people.
It will see the 18-34 age group being able to 'opt in' for Janssen or AstraZeneca for earlier vaccination.
He said the estimates, as of this morning, are for 205,000 to 210,000 Janssen vaccines in July, and 100,000 AstraZeneca doses although "the company is committed to providing more doses than that".
The minister said the potential danger of the Delta variant is "very, very substantial".
He said: "We are seeing this huge surge in the UK and now in other European countries. In Scotland they are recording the highest ever case rate since the pandemic began, in spite of having a very large portion of their population vaccinated.
"This Delta variant, in spite of the progress made on vaccinations, is deadly serious," he said.
The minister said there is some analysis showing the Delta variant is about as severe as the Alpha variant in terms of the likelihood of hospitalisation.
But there is other analysis from the UK, he said, showing it could be two-and-a-half times more likely to lead to hospitalisation.
"So obviously accelerating and making the vaccines we have available to younger people in the face of that threat, I believe is very important," he said.
Without the changes permitted by NIAC, "we were going to be left with supplies of AstraZeneca and Janssen and we wouldn't have been able to use them because everyone over 40 would have been vaccinated, so the change from NIAC is incredibly welcome".
Additional reporting - Conor Kane