Minister for Health Stephen Donnelly has announced an expansion of the vaccination roll-out programme to younger people.
It will see the 18-34 age group being able to 'opt in' for Janssen or AstraZeneca for earlier vaccination.
Speaking on RTÉ's Morning Ireland programme, Mr Donnelly said this 'opt-in' system will run in parallel with the online portal registration, calling it a two-track approach in the vaccine roll-out.
From next Monday, 750 pharmacies can begin administering the Janssen vaccine to people in the 18-34 age groups, who have opted in.
From Monday 12 July, that age group can log on to the vaccine portal and choose whether they want the earlier AstraZeneca or Janssen vaccine.
We need your consent to load this rte-player contentWe use rte-player to manage extra content that can set cookies on your device and collect data about your activity. Please review their details and accept them to load the content.Manage Preferences
---
Read more:
Latest coronavirus stories
---
"From Monday 12 July, there will be an online option as well, so when you go to the online portal you now will be able to say yes I'm 18-34, I appreciate I will be getting an mRna vaccine in the future, but actually what I want to do is opt, mainly for AstraZeneca vaccine through the vaccine centre. There will be some Janssen as well, but mainly AstraZeneca through the vaccine centre," Mr Donnelly said.
"So they can be vaccinated earlier. 18s to 34s can now be vaccinated one to two months earlier which is a huge benefit for them and society in the face of this Delta surge."
From 9 July, the online vaccine portal for the 30-34 age group opens.
'As of Monday pharmacies, about 750 pharmacies around the country, will begin vaccinatiing people 18-34 with Janssen' Minister for Health Stephen Donnelly tells RTÉ's @MorningIreland | https://t.co/pugGDS67fr pic.twitter.com/l3Rw146BSo

— RTÉ News (@rtenews) July 2, 2021
Mr Donnelly also said they are "accelerating" the end of the second dose of AstraZeneca for those aged 60-69 and for all other cohorts that have had their first dose of this vaccine.
"So in the next 10 or 11 days everyone who has had the first dose will have had their second dose. We can do this because the NIAC advice has changed to four weeks," he said.
The IPU has consistently sought a greater role for pharmacists in the vaccination programme and worked hard with @DonnellyStephen & @HSELive to make it happen. After today's announcement, we're delighted that 18-34 yr olds can now get vaccinated in pharmacies as of Monday 5 July pic.twitter.com/Hs63WZZH88

— Irish Pharmacy Union (@IrishPharmacy) July 2, 2021
Today, Janssen (known as Johnson & Johnson outside of the EU) announced that its single-shot Covid-19 vaccine is effective against the highly contagious Delta variant.
It prompted an immune response lasting at least eight months, the company said.
The antibodies and immune system cells in the blood of eight people vaccinated with the J&J jab effectively neutralised the Delta strain, which was first identified in India, researchers found.
Yesterday afternoon, the Health Service Executive submitted the revised vaccine plan to Mr Donnelly.
Under the proposed changes, those between the ages of 16 and 49 should preferably be offered an mRNA vaccine - Pfizer or Moderna.
HSE Chief Executive Paul Reid described the plan as ambitious and said it was hoped to expedite its proposals quickly.
Deputy Chief Medical Officer Dr Ronan Glynn said one in two adults are currently still not adequately protected from Covid-19.
Speaking on the same programme, he said: "We have a new, much more transmissible variant, we don't have enough people fully vaccinated and we have very increased levels of social mixing, and all of that - if we are not careful - could combine for a fourth wave that could see not alone Ireland but the whole of western Europe in significant difficulty."
'You should not regard yourself as fully vaccinated until two weeks after that second dose of AstraZeneca', Deputy CMO Dr @ronan_glynn tells @MorningIreland, but adds it is important that people who are fully vaccinated get out and about, for their physical and mental health pic.twitter.com/k0Jf0T6qmC

— RTÉ News (@rtenews) July 2, 2021
He said the National Public Health Emergency Team (NPHET) was not taken by surprise by the latest modelling figures, but said it is "hard to get your head around the scale of the numbers in some of these scenarios".
Dr Glynn added that "when you look at the optimistic, the central case scenario you are talking abut 900 cases a day, which is not beyond the realms at all when you consider in Scotland yesterday they had 4,000 cases -their highest to date in the pandemic."
On concerns over a Delta wave of #Covid19, Deputy CMO Dr @ronan_glynn tells @MorningIreland in 'the optimistic to central case scenario, you're talking about 900 cases a day', noting Scotland had 4,000 cases yesterday, its highest daily figure to date. | https://t.co/pugGDS67fr pic.twitter.com/0RE6Y6Q3Ru

— RTÉ News (@rtenews) July 2, 2021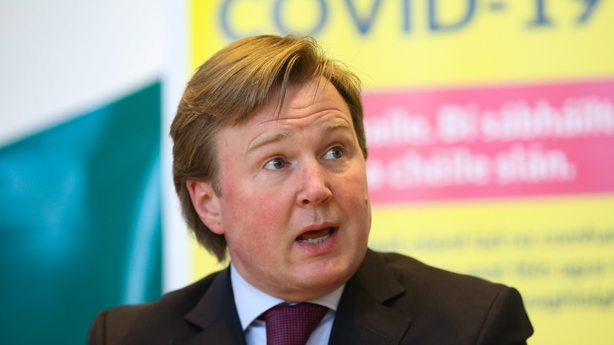 Link between infection and serious illness 'weakened'
Meanwhile, the Director of the National Virus Reference Laboratory has said if Ireland gets very high case numbers of the Delta variant, there will still be a proportion of people who will be admitted to hospital, ICU, or die.
Speaking on RTÉ's Today with Claire Byrne, Dr Cillian de Gascun, who is also a member of NPHET, said the time of year in Ireland will work to the country's favour, as will the protection of the vulnerable by vaccination.
"I think if people can remember what happened at Christmas, we're unfortunately back in a similar situation. There are two things in our favour. The time of the year because we can spend a lot more time outdoors and vaccinations.
"But on the flip side, we have a far more transmissible variant that is establishing itself here, and we're easing restrictions so there's going to be more socialisation."
Dr de Gascun said data shows that the first dose of a two-dose Covid-19 vaccine may not be as effective against the Delta variant as it would be against the Alpha variant.
"The level of protection is reported to be in or around 30% after the first dose. But, again the positive message here is the same, public health interventions that people have been practicing for the last 15/16 months are still effective against this virus.
"This virus hasn't acquired some new superpowers. It still needs to go from person to person, it still requires close contact, face-to-face interaction," he added.