The Cabinet Covid Committee is considering a proposal from the National Public Health Emergency Team to delay next week's reopening of indoor hospitality by several weeks.
Government sources said no decision had been made on the matter.
NPHET met earlier to consider the advice to give to the Government on the scheduled easing of restrictions that would see the return of indoor drinking and dining from 5 July.
The advice has been described as very sobering in regard to the potential impact of the Delta variant.
NPHET is also understood to have recommended that the numbers attending wedding celebrations indoors in July can increase from 25 to 50.
Taoiseach Micheál Martin, Tánaiste Leo Varadkar and Green Party leader Eamon Ryan held talks this evening, ahead of tonight's committee meeting.
Some of the modelling projections carried out by NPHET around the Delta variant are described as being "pessimistic".
Minister for Health Stephen Donnelly said the projected rise in Delta-related cases had to be taken very seriously.
NPHET presented a range of potential scenarios to Government - the most severe of which predicted hundreds of thousands of cases between July and September and more than 2,000 deaths.
There are fears too that the variant could potentially pose problems for the return of schools in September.
The advisory group also wants a system introduced that would effectively see only those who are vaccinated allowed to eat and drink inside restaurants and bars.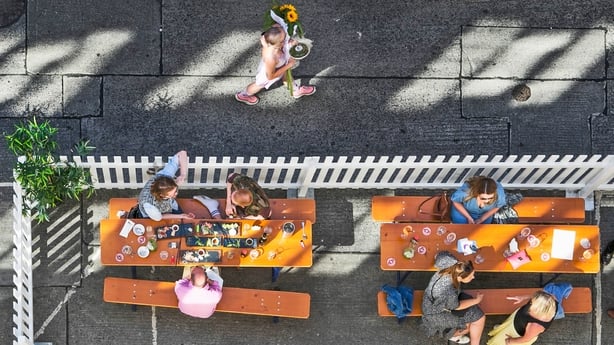 Earlier, the Tánaiste said the final decision on whether the next stage of reopening will go ahead as planned next Monday or not will be made tomorrow, but also said it would be "very difficult and unlikely" that the Government would go against the advice of NPHET.
Speaking on RTÉ's News at One, Leo Varadkar said the hospitality sector will have "total clarity" on whether it can reopen for indoor service after tomorrow's Cabinet meeting.
He said while it is not inevitable that the 5 July deadline will be pushed back for two weeks, a longer delay may also be necessary given NPHET's modelling advice.
It would be "very difficult and unlikely" that the Government would go against the recommendations of NPHET, he said, as the largely successful reopening this year to date was after engagement with its advice.
The Tánaiste said that if a more prolonged delay is necessary, it might make sense to make an exception for fully vaccinated people to gather indoors and this would also encourage people to continue vaccination.
He said the decision was "still very much up in the air" and allowing the vaccinated to follow more relaxed rules could pose problems for unvaccinated staff in business and services.
Mr Varadkar said any date set would still be an indicative date that will then be further reviewed in the week prior to consider the up-to-date situation.
---
---
"I know it is frustrating," he said, adding that the Government was moving sooner to allay the concerns for hospitality and tourism businesses in relation to staffing and supplies.
He said that a conversation needs to be had around what an acceptable level of risk for society to live with is, as "the world is full of viruses", but it is hard to "make the call at the moment", he said, as it is a dynamic and changing situation, but it is something that must be considered.
Mr Varadkar said that Covid-19 is an endemic virus that will remain with us and will always have new variants and that "we have to factor that into our thinking as well".
Tánaiste @LeoVaradkar says it's very unlikely that the Government will go against the advice from NPHET on the delayed reopening of indoor services from 5 July pic.twitter.com/amuiZ1qcZa

— RTÉ News (@rtenews) June 28, 2021
A leading immunologist has called on the Government to consider allowing people who are fully vaccinated to avail of indoor service in bars and restaurants as part of a vaccine dividend.
Professor Luke O'Neill, from the School of Biochemistry and Immunology at Trinity College in Dublin, said people who are fully vaccinated have a high level of protection against the Delta variant, with the "risk of hospitalisation dramatically lower."
He said: "The question is will that make a difference for people moving indoors, of course it will, it will be a big advantage."
Prof O'Neill also said if there are mitigation measures indoors, such as "good ventilation and good crowd control, that will also decrease the risk."
He said people who are not fully vaccinated are at a greater risk from Delta, so he "they might think twice about going into a certain setting where there might be an increased risk."
Prof O'Neill said: "The big question is, could the Government say look if you can prove you're fully vaccinated, you'll be allowed into setting or not. How feasible is that and I guess we don't really know at the moment."
"If it was possible to show you are fully vaccinated, then I don't see why you can't dine indoors," he added.
Earlier, Tánaiste Leo Varadkar noted the view of Professor Cathal Walsh who said that a short delay would reduce cases by 10%.
Speaking on RTÉ's Morning Ireland, Prof Walsh, who is a member of NPHET'S epidemiological modelling advisory group, said projections show there could be 1,000 cases a day by the end of July in certain scenarios.
He said modelling suggests this could reduce to 900 instead of 1,000 cases if reopening is delayed by two weeks and vaccination increases.
Prof Walsh, who is a professor of statistics at the University of Limerick, said that vaccination will mitigate the effects of the growth of cases.
He said that age cohort modelling has taken place to see where those cases could be, adding the majority will be among the unvaccinated, younger age groups.
Prof Walsh also said that modelling shows that hospitalisation from the Delta variant is less than in earlier waves.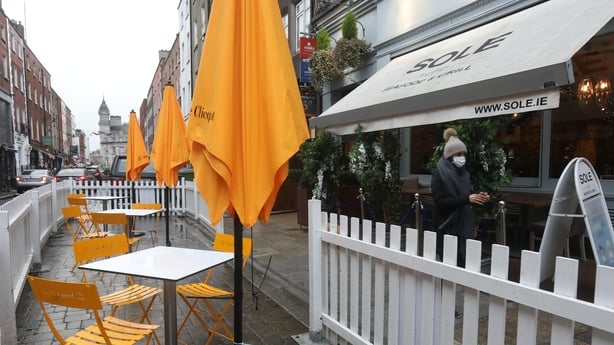 A specialist in infectious diseases said he believes a cautious reopening should go ahead on 5 July, but that a challenging public conversation about what constitutes "acceptable risk" is needed.
Professor Sam McConkey said if people choose to live with Covid-19, "at some stage we have to recognise that we have to get culture and hospitality back up and running".
Speaking on RTÉ's Today's with Claire Byrne, he said he believed a cautious reopening could result in around 200,000 and 400,000 cases of the Delta variant over the rest of the year, which could result in around 240 deaths.
If people are not willing to accept this risk, he said, then the only other option is a zero-Covid model, which is very difficult to implement because of the shared border with Northern Ireland.
Speaking on the same programme, the Director of Public Health, HSE South East, said she would like to see a greater proportion of the population vaccinated before a further reopening of the economy.
Dr Carmel Mullaney said she is concerned that a "large proportion" of those aged between 60 and 69 are yet to be fully vaccinated, which leaves Ireland in a "precarious situation" regarding the Delta variant.
She said there is an "inherent risk" when people dine and drink together, both indoors and outdoors.