Chief Medical Officer Dr Tony Holohan has said that the use of antigen testing is always being examined and was not aware of any good quality validation study in any part of the world to support the use of such tests for aviation.
Dr Holohan is appearing before the Oireachtas Committee on Transport and Communications Networks to face questions on antigen tests as Ireland continues to reopen.
He was responding to Fianna Fáil's James O'Connor who said Ireland has taken a lackadaisical approach to antigen testing.
The Cork TD mentioned several EU countries that are "actively looking at the areas of antigen testing" and how it can be used to reopen aviation.
He said that for the 140,000 whose livelihood depends on aviation, it was "ludicrous" that "we are not looking at this particular mechanism for the area of Covid-19 testing".
Committee Chair Kieran O'Donnell said that the committee was not saying that antigen testing should replace PCR testing, but rather it should complement it, and asked if antigen testing could be used to reopen an aviation route, on a pilot basis.
In response, Dr Holohan said "of course what you're suggesting is a good idea" and was the kind of validation study that should be done.
He said he believes the safest way to reopen activities such as international travel is through current public health measures and vaccinations.
Citing various studies, he said the use of rapid antigen testing, as a means to give people the "green light" to engage in certain activities, could pose several risks.
We need your consent to load this rte-player contentWe use rte-player to manage extra content that can set cookies on your device and collect data about your activity. Please review their details and accept them to load the content.Manage Preferences
Dr Holohan said rapid antigen testing is useful in higher-risk environments, such as meat processing plants or in high-prevalence settings, where the probability of being infected is high.
In such high-prevalence settings, he said he believes that rapid testing can support PCR testing, by providing early identification of cases.
Committee chairperson Kieran O'Donnell says he is not suggesting antigen tests replace PCR tests. He suggests antigen tests could be used within an hour before going on a plane. | Live updates: https://t.co/4OK6Ul3DqJ pic.twitter.com/NtZF0KjGmj

— RTÉ News (@rtenews) June 16, 2021
Deputy Chief Medical Officer Dr Ronan Glynn said there was a perception that the National Public Health Emergency Team "just weren't bothered" when it came to examining the use of rapid antigen tests in the context of aviation.
"It's not as simple as turning up to the airport with a couple of thousand antigen tests and handing them out and seeing what they show," he told the committee.
Professor Mary Keogan, Consultant Immunologist and National Clinical Lead for Pathology, said rapid antigen tests can be quite labour intensive.
She said that a test concert in Barcelona required 80 nurses to work 12-hour days to get 5,000 people tested.
Explaining why "self-testing" isn't appropriate in NPHET's view, Professor Keogan showed the committee a rapid antigen test device. She told politicians that she was able to produce a negative test by putting butter on it.
She explained that a PCR result would produce an invalid result, in such a situation, as it can detect if RNA is present.
Professor Keogan showed the committee another rapid antigen test device and explained that she was able to produce a positive result by putting tonic water on it.
Committee Chair Kieran O'Donnell said that nobody was talking about self-administering tests.
Labour's Duncan Smith said there was clearly a "distrust of people here" and that if he was taking an antigen test, he would want to know if he was infectious.
Deputy Smith criticised the witnesses for their demonstration, telling the Committee that he was "very concerned in terms of what we've just seen there, and I'll leave it at that".
Dr Holohan interjected to tell members that validation studies have shown that when an asymptomatic person takes an antigen test, it is effectively a "coin toss".
Mr O'Donnell however took issue with the comments, pointing out that the committee was advocating the use of antigen tests in conjunction with PCR tests.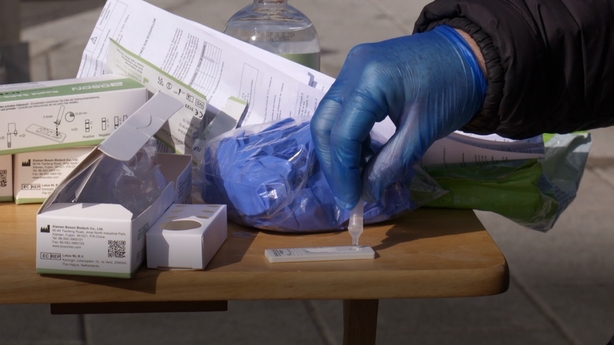 The Deputy Chief Medical Officer, Dr Ronan Glynn took issue with a reference by Senator Gerry Buttimer to a Lancet peer review of air passengers who used antigen testing.
"This is precisely the issue that we're talking about. That is a simulation study, it's a modelling study. It's people sitting at a computer and estimating what might happen if we do this in this type of setting, it's not real-world evidence of real-world utility and that's what we need," Dr Glynn asserted.
Senator Buttimer said that he referenced the study because he wanted to have a debate on the findings.
NPHET concerns over epidemiological situation in the UK
Dr Tony Holohan told the committee that the epidemiological situation in the UK is the most worrying across Europe.
He said that the disease is spreading quickly and NPHET is genuinely concerned about it.
In that context, he said that it was too early to say if travel restrictions within Common Travel Area will be eased on 19 July.
A role for antigen testing 'as part of a comprehensive public health response'
Separately, HSE Chief Clinical Officer Dr Colm Henry there is a role for antigen testing as part of "a comprehensive public health response" but concerns about its use as a standalone test remain.
Speaking on RTE's Today with Philip Boucher-Hayes, Dr Henry said that the tests are being used to test asymptomatic workers in meat plants and that it is "particularly valuable in outbreak settings or in areas of high [virus] prevalence".
He added that a positive antigen test is "a good red light" and "it tells you, you are probably actively infectious".
However, he said that a negative antigen test is not "a green light" that means you can ignore other public health measures.
Dr Henry also said that the quality of the rapid antigen test result has a direct correlation with where and how the test was taken and is best taken by a healthcare professional.
Meanwhile, Minister for Finance Paschal Donohoe has said Ireland will see broader use of antigen testing this year.
Speaking to reporters in Dublin today, he said the Government has been guided by the view of the Chief Medical Officer and medical experts on the issue.
He added that while there were a variety of views on antigen testing, they will "always take very seriously the view of the CMO".
Minister Donohoe said: "As we move through the year, we will see broader use of antigen testing. It is already being used in workplaces across the country.
"But I think at this point it is not likely that antigen testing will fully replace PCR testing."
Additional reporting by David Murphy