A 44-year-old woman who suffocated her three children has been found not guilty of murder by reason of insanity.
Deirdre Morley killed nine-year-old Conor, seven-year-old Darragh and three-year-old Carla McGinley at their home on 24 January 2020.
She was suffering from a severe psychotic depressive illness at the time and believed the children had been irreparably damaged by her illness and her parenting.
The jurors had been told by Mr Justice Paul Coffey that the evidence was all one way. He said there was no contest about what the verdict should be in what he described as a "sad and tragic case."
Before they reached their verdicts, the ten men and two women were told they must be satisfied on the balance of probabilities that Ms Morley was suffering from a mental disorder at the time of the killings.
They also had to be satisfied that she did not know the nature and quality of what she was doing, or did not know what she was doing was wrong or was unable to stop.
He said if they were satisfied that any one of those three grounds was fulfilled, that would be enough to find her not guilty by reason of insanity.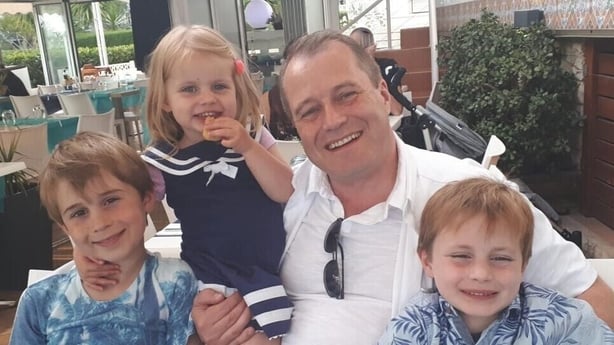 The expert witnesses called on behalf of the prosecution and defence were unanimous that Ms Morley was legally insane when she smothered and killed her three children.
There was no dispute between the sides the judge said, and therefore nothing to set against the doctors' opinion that insanity applied to all three counts.
We need your consent to load this rte-player contentWe use rte-player to manage extra content that can set cookies on your device and collect data about your activity. Please review their details and accept them to load the content.Manage Preferences
Unusually, he said, there was no controversy and both prosecution and defence agreed that Ms Morley should be found not guilty by reason of insanity on all three counts.
The trial heard evidence that Ms Morley wanted to take her own life and decided to take the children with her.
She believed she had irreparably damaged them because of her mental health problems and believed she was a bad mother.
She had first told psychiatrists she was concerned her mental health issues would affect her children in late 2018 and continued to express such thoughts during the following year as her depressive illness became more severe and psychotic.
The court also heard that Ms Morley had masked her symptoms from her husband and others who were close to her, to the extent that they did not know how seriously ill she was in January 2020.
Consultant psychiatrist Dr Brenda Wright said Ms Morley's depression was severe at that stage, and her thinking was dominated by hopelessness, helplessness and a sense that life was unbearable.
She came to believe the implementation of her plan to kill her children and herself was necessary and urgent and could not identify an alternative.
She told gardaí and doctors afterwards that she had decided to kill her children around three or four days before 24 January.
She had made an unsuccessful attempt on the night of 23 January while her husband was away for work, and put drugs in her children's food and drink to sedate them. But the children tasted the medication, spat it out and were unharmed.
The following morning, after an argument with seven-year-old Darragh about screentime, she said something clicked and she decided she could go ahead with her plan. She suffocated Darragh, followed by his three-year old sister, Carla and brought their bodies upstairs.
She then collected her nine-year-old son, Conor from school before suffocating him also. Ms Morley then attempted to take her own life.
When her husband, Andrew McGinley, returned from work he found her unconscious outside the house being attended to by paramedics. He rang the children's childminder to see where they were before discovering their bodies inside their home.
The court heard that after she woke up from a coma in Tallaght Hospital, Ms Morley expressed regret and remorse and said she wished she had a time machine.
She told gardaí, in an interview, she just wanted her children back.
The jury deliberated for four hours and 23 minutes.
Ms Morley will return to the Central Mental Hospital where she is being treated.
Her case returns to court at the end of the month for further formal orders to be made.
Call for 'inclusive investigation' into treatment
Mr McGinley was in court for the short trial as well as members of Ms Morley's family.
In a statement, he thanked everyone who supported the family over the past year.
"Today's verdict is probably the right verdict. Everyone who knows Deirdre, knows how much she
loved our children and how devoted she was to them," he said.
Mr McGinley also called for an "inclusive investigation into Deirdre's diagnosis, treatment and medication prior to this tragedy. We ask for this to be conducted as a matter of urgency.
"This will help us understand the insanity that took the lives of our beloved Conor, Darragh and Carla," he added.
"I will continue to celebrate the all too short lives of Conor, Darragh and Carla to ensure that they are
never forgotten."
If you have been affected by any of the issues raised in this article, visit rte.ie/helplines.