The Immigrant Council of Ireland said travel for family reunification purposes should be deemed essential and called on the Government to change its policy on the issue.
It comes as one young mother said being kept apart from her husband and children was "torture".
The council said it has been dealing with hundreds of cases of immigrant workers in Ireland whose families have not been able to join them here since the state suspended the issuing of visas for non-essential travel in January.
Pamela Chiwara is a lab scientist in a Dublin hospital. The 30-year-old came from Zimbabwe to Ireland in January 2020 on a critical skills work permit.
Her two young children, aged 8 and 9, and her husband were due to follow a few months later but the pandemic delayed those plans.
Recently they received permission to join her here but the Government's decision in January of this year to suspend issuing visas for non-essential travel has left the family in limbo.
Pamela said that, as a scientist who has been working in the health services, she understands the need for travel restrictions to prevent the spread of Covid-19 variants here.
But she has saved the money for her children and husband to enter Mandatory Hotel Quarantine on their arrival and she thinks family reunification should be deemed essential travel.
We need your consent to load this rte-player contentWe use rte-player to manage extra content that can set cookies on your device and collect data about your activity. Please review their details and accept them to load the content.Manage Preferences
"The visa that I applied for, it was with the understanding that I will be contributing to the healthcare system here, which I'm very happy to do, and that I will be able to bring my family, my children, with me here.
"[The Irish Government is] not keeping their word, and no one really cares to be honest. To me, this has been torture.
"And sometimes when I try to think back on this whole year, I cannot believe that it's really happening. I've missed two birthdays and Christmas. My younger child is only eight and I've missed 10% of her life and that's time I'm never going to get back."
Pamela's situation in not unique. The Immigration Council said it has been inundated with similar cases since Ireland suspended issuing new visas for non-essential travel in 29 January 2021.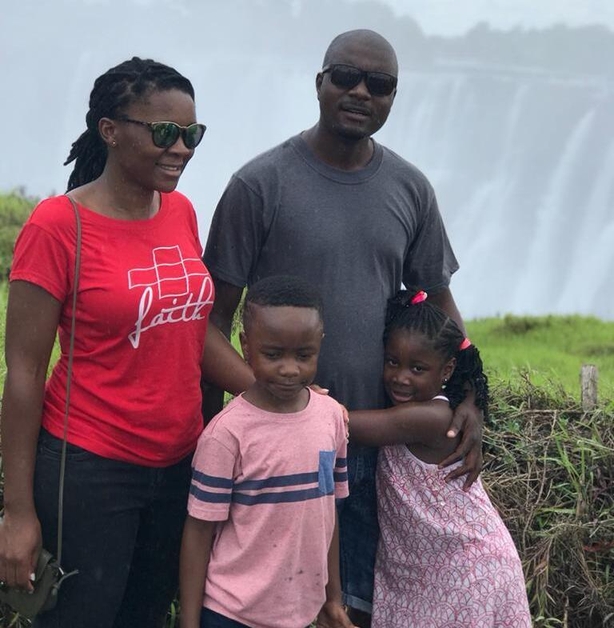 Colin Lenihan, Information and Support Service Co-ordinator with the Immigrant Council of Ireland, said family reunification should be deemed essential travel.
"Our organisation has spoken to hundreds of families who have been affected by this ongoing visa ban to Ireland.
"On a daily basis I'm hearing from family members of EU citizens, families of those who are refugees here in Ireland who have been affected by this ban, who are desperate to have their family come and live with them.
"Some of these families here in Ireland have very strong legal rights to be here and they're consistently told the system is closed to them and the borders are closed to their families.
"We fundamentally believe that families being reunited is an essential part of any family life and a visa ban is disproportionate considering that there is a mandatory hotel quarantine system in place."
The Immigrant Council is calling on the Government to change its policy on the issue.
"It's having a tragic effect on numerous families here. Embassies across the world are saying that missing your loved ones isn't justifiable grounds for them to be reunited.
"We fundamentally disagree with that premise. Having families together is such an important thing for everybody.
"Even here in Ireland right now, we are allowed to travel across the country to visit our own families, yet migrants are now faced with situation where the border is closed to them for their families and it's having a really bad effect on people's mental health and stress."
In a statement, the Department of Justice said its Immigration Service intends to resume accepting applications "as soon as safety concerns abate".
The Minister of State at the Department, James Browne, said he appreciates how difficult family separation is at this time but he said these measures were introduced on public health grounds for the safety of all.
He said the measures will continue to be kept under ongoing review in consultation with public health authorities in the coming weeks.