A further two Covid-related deaths and 514 new cases of the disease have been notified to the Department of Health.
The total number of people who have died with coronavirus in Ireland is 4,921 while the cumulative number of confirmed cases since the pandemic began is 252,809.
The number of Covid positive patients in ICU is 31, two fewer than yesterday. There are 116 people with the the virus in hospitals with 11 additional hospitalisations in the past 24 hours.
Of the cases notified today 259 are men, 248 are women and 75% are under 45 years of age. The median age is 28 years old.
As of 7 May, 1,799,190 doses of Covid-19 vaccine have been administered in Ireland. 1,305,178 people have received their first dose while 494,012 people are fully vaccinated with a second dose.
Ireland also hit a new record day for vaccinations, with 52,000 jabs administered last Friday.
Professor Brian MacCraith, Chair of the National Vaccines Taskforce, said over 220,000 jabs were distributed last week - the highest weekly number to date.
Positive news from vaccine rollout:

>1.8m doses administered to date

>0.5m people now fully vaccinated

Highest daily total to date: ~50k (Fri)

>40k doses administered on each of Wed, Thurs & Fri this week

This week's total will be highest to date: >220k#BrighterDaysAhead

— Brian MacCraith (@muirtheimhne) May 9, 2021
It comes as Taoiseach Micheál Martin received his Covid-19 vaccine at City Hall in Cork and confirmed that Ireland will join the EU's digital green certificate system, opening up the prospect of foreign travel by the end of the summer.
Northern Ireland reported no further deaths from coronavirus alongside 98 new cases of the disease.
Also today, Minister for Health Stephen Donnelly said if people can continue to adhere to public health measures as the phased reopening of society begins tomorrow, people can look forward to "the kind of summer the country needs".
Speaking on RTÉ's This Week programme, Mr Donnelly said "it is a time for hope", adding that despite the reopening – which he said is happening a lot quicker than people expected – the R number and various other metrics remain steady.
"What's happening is that as we're opening up, people are sticking with the basic measures, they're keeping their distance from people, and its having a big effect," he said, adding that the vaccine roll-out on was also having an impact.
He said tomorrow will be a big day, as will Monday week when the full reopening of non-essential retail takes place, adding there would be "an awful lot more social interaction".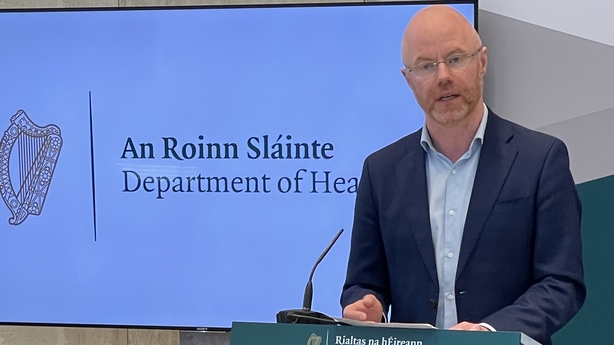 Mr Donnelly said the target for the coming week in terms of vaccine administration will be around "250,000 or higher", adding that it appears the "230,000 mark" will be reached this week.
He said he believed they would reach maximum capacity of around 450,000 doses administered per week "in June", adding that it would be a combination of vaccination centres and GPs, with pharmacists taking a more prominent role.
Mr Donnelly said the roll-out would be moving to the 40-50 age cohort "very shortly", adding they were "really moving" through the age cohorts, which today opens for those aged 54.
"In the coming weeks we will open up for 45-49, 40-44 and so forth," he said.
Asked which vaccines the under-50s would receive, and whether under-50s could receive the Johnson and Johnson vaccine against NIAC advice, he said there were talks ongoing between himself, the Department of Health, the Chief Medical Officer and NIAC to come to a solution.
He also said there will be a short period of time where the country will potentially have excess vaccines.
"For a short period of time we potentially have an excess of vaccines which is something we don't want, and so we're working it through," he said.
He said it is an ongoing conversation with NIAC, adding that he hopes to be able to bring a recommendation to Government later this week on the issue.
"We want to make sure we're moving the vaccine programme as quickly as possible," he said.
Asked what would happen with the excess vaccines, Mr Donnelly said there was "a broader conversation to be had" about what is done with them.
"When we come to August-September, we're going to have a very large amount of vaccine. We're working through it. One thing I'd like us to be doing is donating them to parts of the world that don't have vaccines available to them," he said.
---
---
Asked if there were younger people who insisted on having a vaccine which NIAC may not have recommended be given to their age cohort, and were willing to sign a waiver to do so, Mr Donnelly said: "Its a conversation we're having with NIAC at the moment", adding that a decision would be made in the coming week.
Mr Donnelly also told the programme he has not yet responded to the letter received from Northern Ireland Health Minister Robin Swann, about the risk of non-essential cross border travel, adding that he believed the island is doing well at the moment, both North and South, in the fight against Covid-19.
He said additional walk-in centres have been opened in Donegal, pointing out that the incidence rates in the county have dropped in the past week, despite high rates in two local electorate areas.
Asked about the return of spectators to sports this summer, Mr Donnelly said he believed it was possible for fans to return to Croke Park to watch an All-Ireland final, adding that he wouldn't make a definitive statement on it right now.
He said no decision has been made yet on whether proof of vaccination would be needed to gain entry to such events.
'Getting out of the woods'
The President of the Royal College of Physicians Ireland and NPHET member Professor Mary Horgan has said she believes the country is "getting out of the woods" and is "absolutely going in the right direction", as the number of people in hospital for Covid-19 is at its lowest levels since September.
Speaking on RTÉ's Brendan O'Connor programme, Prof Horgan said it was "possible" case numbers could bump upward in early July, but that by Christmas they would be near, if not at, zero.
The phased reopening of non-essential retail begins tomorrow, as part of a further easing of restrictions.
Intercounty travel for non-essential reasons can also return under the measures announced by Government.
A maximum of three households, or up to six people from individual households, can meet outdoors, including in private gardens. Children aged 12 and under are not included in the limits.
Meanwhile, Austria, Italy and Ukraine are among 11 countries that have been removed from the mandatory hotel quarantine list.
The Department of Health also announced that Nepal and Anguilla are being added to the list of designated states for mandatory hotel quarantine.