The Chief Medical Officer, Dr Tony Holohan, has said "now is the right time for us to move on" but said that Ireland had to remain cautious.
The epidemiological situation has "changed since the spring", he said, which was largely due to the "high level of public adherence".
He described the easing of restrictions announced by the Government yesterday as "ambitious but cautious".
The measures are focused on outdoor activity, he said, and are relatively low risk.
Dr Holohan added that Ireland should be in a position to "move on" to the next stage of measures in early June as a substantially greater number of people will be vaccinated by then.
He said: "We can't know that with certainty, so there is uncertainty on this. The message therefore is that it is in our collective hands."
Today, the Department of Health was notified of four further Covid-19 related deaths and 545 new cases of the disease.
The number of coronavirus patients in intensive care units is unchanged since yesterday at 44.
There are 139 people with the disease in hospital with eight additional hospitalisations in the past 24 hours.
The Chief Medical Officer said the incidence of the virus around the country varies with some areas in a more precarious position than others, highlighting Donegal as a particular concern.
We need your consent to load this Datawrapper contentWe use Datawrapper to manage extra content that can set cookies on your device and collect data about your activity. Please review their details and accept them to load the content.Manage Preferences
"For example, while the national incidence rate is 125 per 100,000, Donegal currently stands at 295 per 100,000. This is extremely concerning for public health doctors locally."
There are "clear examples of non-compliance across many parts of society (in Donegal) ... it is a concerning level of compliance compared to the rest of the country," he said.
On the new path out of restrictions announced yesterday, CMO Dr Tony Holohan says NPHET felt it was time to move on in an 'ambitious but cautious' way. There is a four-week interval between the new measures so we can see the effect of each phase. | Read: https://t.co/ojWhHCCE87 pic.twitter.com/URqSxMchAK

— RTÉ News (@rtenews) April 30, 2021
Dr Holohan also said he does not think it is possible to move any faster in terms of easing restrictions.
He said he hoped the National Public Health Emergency Team (NPHET) would never have to recommend Level 5 restrictions again but "we can never say never".
The CMO said the Department of Health is considering different options in relation to the vaccine programme.
He said 12 months ago he would not have believed Ireland would be in a position today where it has four different vaccines.
"We're in a really good situation. The vaccines are all effective," he said.
Dr Tony Holohan says the burden of restrictions that applied to the whole of the population needed to be examined as more people get vaccinated. It was important to focus first on lower risk activities, he says. | Read more: https://t.co/ojWhHCCE87 pic.twitter.com/aaVBquABxe

— RTÉ News (@rtenews) April 30, 2021
Dr Holohan also highlighted the "vaccine bonus" for those who have received a dose under which they can meet up with unvaccinated people provided they are in a low-risk group.
He said a practical example of this is vaccinated grandparents meeting grandchildren, provided nobody in the household of the children is high risk.
He said someone with a laboratory-confirmed case of the disease within the last six months also receives the "vaccine bonus" whether or not they have been vaccinated.
---
---
The chair of NPHET's Epidemiological Modelling Advisory Group said the population needs to "be exceptionally careful about how much we do and how we go about doing it".
However, Professor Philip Nolan said: "There is a broadly positive outlook" in the epidemiological data for Covid-19 and the background level of disease in Ireland is "relatively stable".
"We are seeing an increase in incidence. We were seeing declining case numbers, we're now back into a position where case numbers are at best stable, and perhaps increasing. The estimated growth rate is somewhere between 0-2% per day," he said.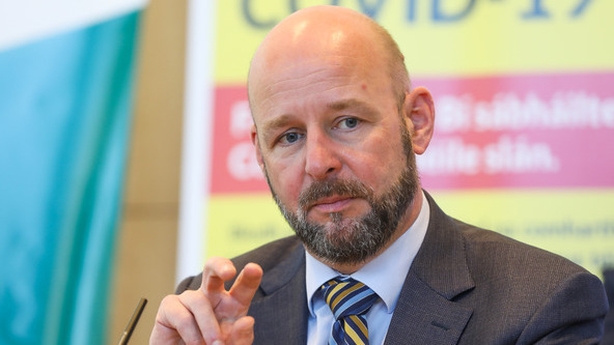 Prof Nolan also said the number of close contacts per adult confirmed case remained stable, while the estimated reproduction number is just above 1, having been between 1 and 1.2.
He said NPHET will be "watching carefully over next week to two weeks" to see if the rise in cases is a "transient increase or if we are looking at something more serious".
There is also concern about increased presence in workplaces and a decrease in the home, and he urged people to continue to work from home where possible.
There is some concern that there is an increased presence in workplaces and decreased presence in the home, says Prof Philip Nolan. Working from home where possible is still a requirement, he says. But the message on outdoor activity is getting through. | https://t.co/ojWhHCCE87 pic.twitter.com/VhTvvylSsf

— RTÉ News (@rtenews) April 30, 2021
Prof Nolan said modelling, with the help of University of Limerick, shows that from 10 May the reproduction number could rise to 1.25, and from 7 June to 1.5.
He said this produces some increase in case numbers on average, but there is a widening range of uncertainty.
"Most of that uncertainty is how effective will the vaccines be in preventing onward infection.
"If all of us strictly adhere to the restrictions that remain in place and the broader public health advice, we think that the next few weeks are low to medium risk."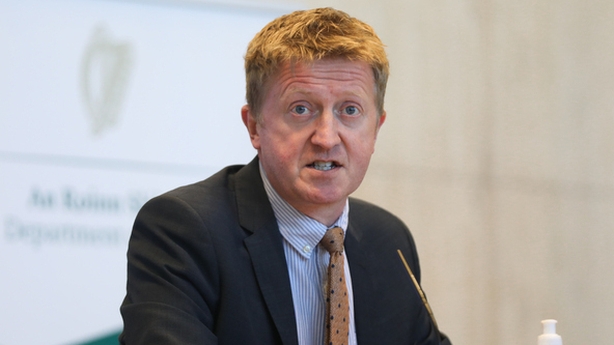 Professor Pete Lunn, head of the Behavioural Research Unit at the ESRI, told the briefing that there has been a "marked decline" in the degree of self-reported compliance with Covid-19 restrictions between January and April of this year.
He said people are "pushing the boundaries more as the year has gone on" but "there still is a very high level of compliance".
People have been pushing the boundaries more with their compliance to the restrictions as the year has gone on, says Prof Pete Lunn of the ESRI. | Read more: https://t.co/ojWhHCCE87 pic.twitter.com/Im8OkuAS3Z

— RTÉ News (@rtenews) April 30, 2021
A total of 4,903 people have died with Covid-19 in Ireland while the cumulative number of cases since the pandemic began is 248,870.
Of the cases notified today 294 are men, 244 are women and 77% are under 45 years of age.
There were 264 cases in Dublin, 58 in Kildare, 50 in Cork, 29 in Donegal, 28 in Galway and the remaining 116 cases are spread across 21 other counties.
As of 28 April, 1,487,043 doses of Covid vaccines have been administered in Ireland. 1,067,378 people have received their first dose while 419,665 are fully vaccinated with both doses.
Dr Glynn said there were 22 outbreaks reported in childcare facilities up to last Saturday, and 12 outbreaks reported this week.
He said the majority of the outbreaks (11) had less than 10 cases linked to them.
Prof Nolan said the number of outbreaks in schools remains small.
The number of cases associated with school outbreaks remains small, says Prof Philip Nolan. 'Overall we're not seeing many large outbreaks in schools.' | Read: https://t.co/ojWhHCCE87 pic.twitter.com/I1ele531q5

— RTÉ News (@rtenews) April 30, 2021
Dr Holohan said younger people are still at risk, adding that "nobody is immune from the severe effects of this disease".
Dr Glynn said the message to younger people is to "keep doing what you're doing".
He said the stable rate of close contacts at 2.6 is a good indicator that young people have listened and internalised the public health messaging.
Prof Nolan said it is important the disease does not "get out of control" in young people.
He said if there were 500 cases per day in people under 40 in six-to-eight weeks' time, there would be six-to-eight hospitalisaitons every day and a death every 10 days.
"We do need to keep it under control in that cohort or we will be in trouble later in the summer," Prof Nolan added.