Housing charities have called for a new six-month extension to the Government's Covid-19 eviction ban amid fears more than 1,000 renters are at immediate risk of becoming homeless.
Threshold issued the warning today as the eviction ban comes to an end after a 10-day grace period, despite Minister for Housing Darragh O'Brien saying there will be "no cliff edge", as new protections mean people who have lost income financially due to Covid-19 will still be protected until 12 July.
The most recent eviction ban was introduced last autumn after previous versions at the start of the pandemic, and meant that evictions and rent increases were banned as long as the 5km distance restriction rule was in place.
However, with the 5km rule now removed, the protection is no longer there.
Speaking to RTÉ's Morning Ireland, Threshold housing charity chair Aideen Hayden said the removal of the ban is "very premature" and should not be happening while the pandemic still exists.
Noting the fact Threshold is aware of a backlog of more than 1,000 people who received paused eviction notices last year alone, she said the Government should extend the current ban by six months to help those at real risk of homelessness.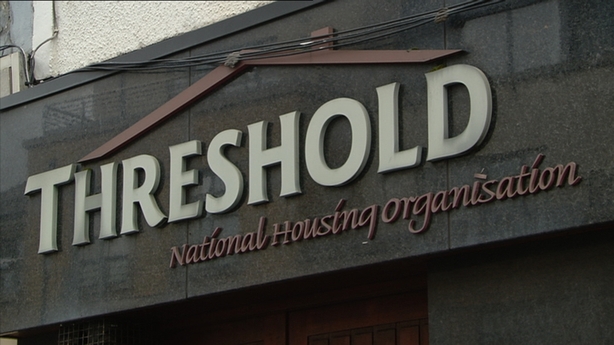 "We'd all accept we're far from over the Covid crisis, I don't think there's a day that goes by we don't hear the minister for health or another minister telling us.
"Ending the eviction ban is incredibly disappointing and very premature, it will put a lot of people at immediate risk of losing their homes.
"We are looking at Threshold alone at a thousand cases we have over from 2020 not including the cases that we're now dealing with in 2021.
"We would like to see an extension of at least six months, because we believe it's going to take a minimum of six months for any kind of normality to come back," Ms Hayden said.
'It's essential that the market is allowed to return to some normality'
Margaret McCormick of landlords group, the Irish Property Owners Association, disagreed, telling the same programme there is a need for "normality" to return to the rental system as some landlords are in financial distress due to the evictions ban.
"It's essential that the market is allowed to return to some normality. We have landlords in financial distress because existing tenants' notices have been paused.
"People with children who may need to move back into homes haven't been able to do so, we also have tenants in rent arrears prior to Covid and landlords at their wits end under huge financial strain," Ms McCormick said.
'I have to look the girls in the eyes and tell them, and that's not going to be easy'
One tenant who is affected by what is happening is "John", who asked RTÉ to use an alias to protect his identity.
In his 40s and with two daughters, he said he will have to move out of his home of eight years after his landlord told him he needed to sell the property last year.
"It was January 2020, my landlord said he wants to sell the property due to Covid, we've had a certain amount of reprieve but because of all the fears about it the rental market around this area has crashed altogether.
"You see all the things that you took for granted when you were in a house with stability, you see the TV, the kitchen utensils, the kids' toys, and you know you can't fit them into the boot of your car.
"I'm at the point where I'm trying to pick out the most valuable things to us as a family and seeing if I can fit them into the boot of the car, because that's the only room I'm gonna have. I have to look the girls in the eyes and tell them, and that's not going to be easy."
In a different part of the country, Tony Geraghty - a 64-year-old stroke survivor - told a similar but different story.
Tony currently lives at the St Helen's Court complex in Dún Laoghaire in Dublin.
The complex has been the subject of a long-lasting dispute between tenants and its owners, Donegal firm Mill Street Projects, over re-development plans which would see them told to leave.
The situation means tenants have in recent days been contacted and told they must move out by Friday 23 April.
"We don't really know what's going to happen on the Friday," Tony explained.
"There's two elderly people who are really sick, I personally had a stroke three years ago, a lot of people here they're really worried, really scared, we go out that gate with our bags in this present moment we're living on the streets."
Mill Street Projects did not respond to requests for comment.
But in a statement, the local authority in the area, Dún Laoghaire Rathdown County Council, said: "The housing department of Dún Laoghaire Rathdown County Council provides social housing supports to eligible households in a number of ways depending on the particular circumstances of the household.
"The Housing Assistance Payment (HAP) is available to fund housing in the private rental market. In addition, Dún Laoghaire Rathdown County Council has a Place Finders service to assist those who need to find alternative rental accommodation.
"All local authority and approve housing body stock is allocated in line with our housing allocation scheme to eligible households."
Richard Boyd Barrett is the local Solidarity-People Before Profit TD for Dún Laoghaire, and has campaigned on the St Helen's Court issue for a number of years.
He told RTÉ News: "The tenants, the individuals, the families in St Helen's Court, they are now facing the very real possibility of all being made all homeless when they have done nothing wrong, they have paid their rent, they are good tenants.
"They already received letters a number of weeks ago saying within 10 days of the 5km restriction being lifted, they had to leave."
Speaking to RTÉ's Morning Ireland, Sinn Féin's housing spokesperson and TD for Dublin Mid West, Eoin Ó Broin, said while the wider evictions ban issue is a complex situation, he believes the ban should be extended until the end of the year for homelessness and Covid-19 reasons.
"The fear many of us have is over a number of months you will see an incremental increase in the number of families presenting as homeless, those families will be put at increased risk of contracting Covid-19 because they'll be out looking for properties.
"We want the general ban on evictions and rent increases to be extended until the end of the year. What I'd say to landlords is work with your tenants, and what I'd say to Government is work with landlords to get forbearance on their mortgages. There are better solutions than simply lifting the blanket ban on evictions," he said.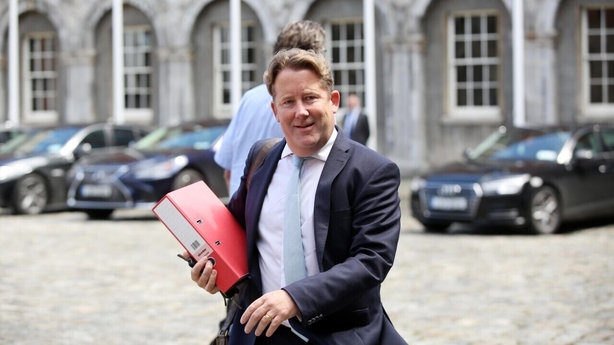 However, speaking to the same programme, Minister for Housing Darragh O'Brien said competing demands mean that all factors need to be taken into account, adding there will be "no cliff edge".
"Effectively since March 2020 there have been very strong additional rental protections, that's over a year now.
"Less than 2% of tenancies end up in any kind of dispute, but in those where there's difficulties and particularly in difficulties in people paying their rent because of Covid they're going to be protected until 12 July.
"I've got to balance the rights of tenants with the rights of property owners, and let's remember, nearly nine out of 10 of every landlord are normal people who own one or two properties. I'm making sure there's no cliff edge here," he said.
The eviction ban has been in place in its most recent form since last autumn, and meant no one could be evicted from a property except in exceptional circumstances while the 5km Covid-19 restriction was in place.
In addition, no rent increases could occur during that time.
The ban ended last week, but allowed for a 10-day grace period, which ends on Friday, 23 April.
Minister O'Brien has recently introduced new rules which will allow tenants who are "economically impacted" by Covid-19, are in rent arrears and are at risk of losing their homes to be protected from eviction or rent increases for a further three months, until 12 July.
Individuals who believe they meet this criteria and wish to be protected by it are asked to make a self-declaration under the Planning and Development, and Residential Tenancies Act 2020.
Threshold: freephone 1800 454 454 www.threshold.ie
Simon Communities: 01 6711606 www.simon.ie