Loud cheers erupted from the crowds that had gathered outside Hennepin County Courthouse in downtown Minneapolis when the verdict was announced.
"Say his name - George Floyd!" they chanted as armed National Guard troops looked on from behind barbed wire fences and concrete barricades.
People hugged, cried and danced. Passing drivers beeped their horns. The sounds of celebration drowned out the noises of nearby sirens and the helicopters overhead.
The smell of cooking filled the air as a group of men prepared burgers and hotdogs on a large barbeque. Music played from speakers. Vendors sold 'Black Lives Matter' t-shirts and flags from stalls.
On the surface, it looked like a street party but many of those who had gathered said it was a bittersweet moment. They spoke about hope, but also of a difficult road ahead in the struggle for racial justice.
"This has only cranked the car up for the very long journey that we have to take," Devante Hill told me.
"America has to finally acknowledge what it has done to people of colour. This wasn't the be-all and end-all, but it was a step in the right direction to dismantle systems of oppression that Black people have been living under," he said.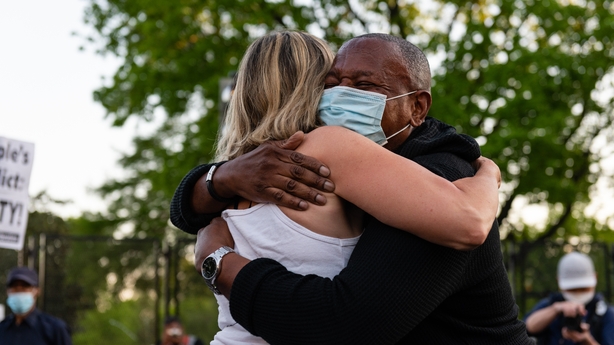 Micaiah Shannon spoke about the other African-American people who had suffered at the hands of law enforcement.
"We are ecstatic and the whole thing feels surreal, but this is just the first stepping stone on the way to getting justice for Daunte Wright and all the other black people who have been disenfranchised by the police," she said.
Many of those I spoke to were not expecting guilty verdicts, highlighting the fact that convictions of police officers are rare.
Anthony Martin told me he felt an enormous sense of relief when he heard the news of the verdict.
"I just cried tears of joy, I looked up to the sky and thanked God. We have been going through so much," he said.